Note:  AfricAid TZ is now known as Girls Livelihood and Mentorship Initiative, or GLAMI.
This blog is intended to help people gain a greater understanding of what AfricAid's Kisa Project and Binti Shupavu Scholars face when going to school.  What does it take for them to get there in the first place?  AfricAid staff members have contributed their views and I have also drawn upon my experiences of the last three years working with school populations in East Africa as an AVI volunteer.  (Australian Volunteers International was founded in 1951 and is a non-profit organization that recruits skilled professionals from Australia to work with partner organizations in Asia, the Pacific, Asia and the Middle East.)  This is a general summary and it is important to note that there are many instances where people have different experiences.
AfricAid works in two Regions of Tanzania – Kilimanjaro and Arusha and I will focus more on these areas. These Regions have a very high level of educational reach. Children in more impoverished areas around the country have very different experiences and outcomes. There is a big gulf in the quality of education and opportunities for rural and urban young people. Despite many problems though, the Tanzanian education system is improving. A hopeful statistic is that completion rates in primary school increased from 55% in 2000 to 80% in 2012. (Source:  World Bank Report, 2016, Tanzania-Education)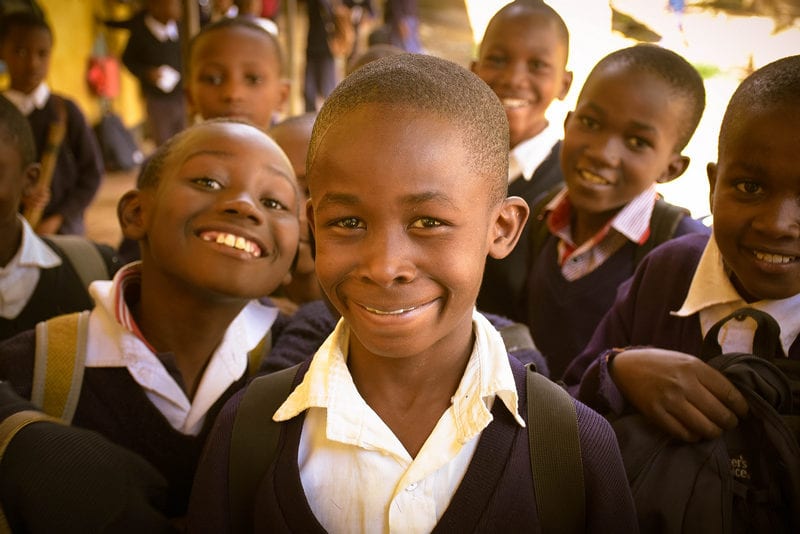 Basic Structure
School in Tanzania lasts for 13 years and is based on the British system of education.
Primary level (Standard 1 to 7)
Secondary level has two categories: Ordinary Level (Form 1 to Form 4)

The Binti Shupavu program is aimed at these girls with the primary goal of keeping them in school and advancing to A-Level.

Advanced Level (Form 5 and 6)

The Kisa Project is leadership oriented and prepares these young women to apply to university and capably enter the workforce.
It is compulsory for every child who has reached age seven to be enrolled for primary education. Large populations of Standard 7 students leave school and do not go further, and many others do not  complete their primary education.
Many students in Tanzania leave secondary school at Form 4 or earlier for a variety of issues. If a young person becomes pregnant, they must leave school and Tanzanian law says that they may not return. Some of the reasons are family and cultural pressure to stay at home and care for siblings or work in the shamba (field), lack of school fees, and a system that does not support all levels of accomplishment.
For those who do go on, there is a large time gap lasting 9 months between the end of Form 4 and the start of Form 5.  Students are awaiting the results of national exams and placement in schools. This a very vulnerable time for girls.  During this time, there are many young people looking for work. Vocational school participants are often kids who have left after Form 4. Some students who have resources have private tutoring during this break called pre-Form 5 Prep. Many seek out private computer courses to keep busy and relevant. Others try to start small business or seek some type of work experience.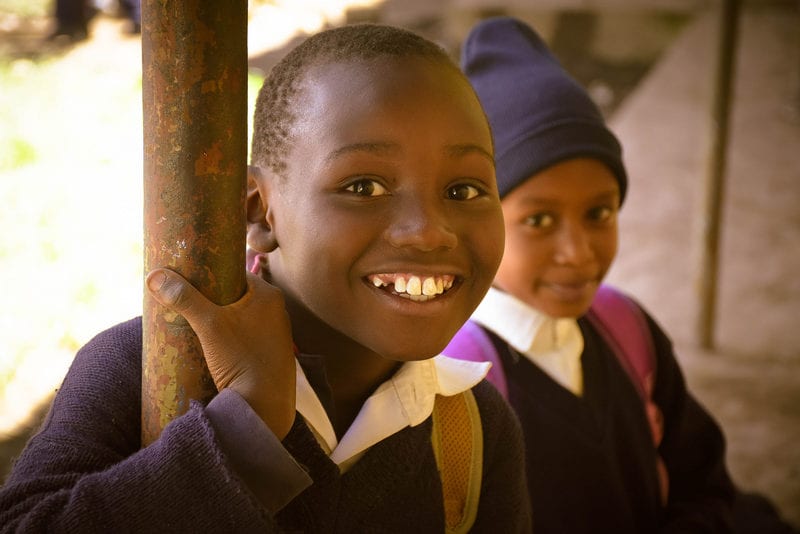 Instruction Language
Public primary schools are taught in kiSwahili and private primary schools can be taught in either English or kiSwahili.   There is an advantage to be introduced to English early because students will be better prepared for secondary school, which is taught in English. There are some Mentors at AfricAid who were introduced to English when they were well into their school journey. They have overcome language barriers and have succeeded in becoming functionally bilingual.  One Kisa Alumna who is now a Binti Shupavu Mentor said:
"I received a scholarship to go to private school when I was in Form 3. Everyone in my new school spoke English. The teachers made us speak English even out of classes. I was lost. I didn't know what they were asking me. But this made me learn quickly. Even today, I can be shy to speak English to a group. But at AfricAid, I practice and build my confidence. I am proud of myself."

National Exams
NECTA (National Examination Council of Tanzania) runs country-wide exams at the end of Standard 7 and Forms 2, 4 and 6.  The "Leaving Exams" at the end of Standard 7 and Form 4 are a milestone and big hurdle for further education. Many young people are left behind if they do not perform and have limited educational avenues. The results of these exams, which require a lot of memorization, will determine what school they can enter, if indeed they get a position at all. If you have performed poorly in Form 4 for example, you are assigned a lower priority school, or do not get a school placement. If your family is able and willing, the only option in this case is to pay for private school.
Repeating a level at school is common and it is not unusual for students to repeat multiple times until they get the marks that allow them to go on. This results in a wide range of ages in a particular classroom. For example, in Form 6, ages can range from 17 to 21 years.
A score of Division 1 is the highest, followed by Division 2, 3 and 4. Division 0 is failure. A student is awarded a Division score at the end of Form 4 and Form 6. Those who earn Division 1 in Form 4 will most probably be allotted a spot in a prestigious school in a large city. Many private elite schools will also be options.  Similarly, if a student gets a Division 1 in Form 6, they will have a greater choice of university and course selections.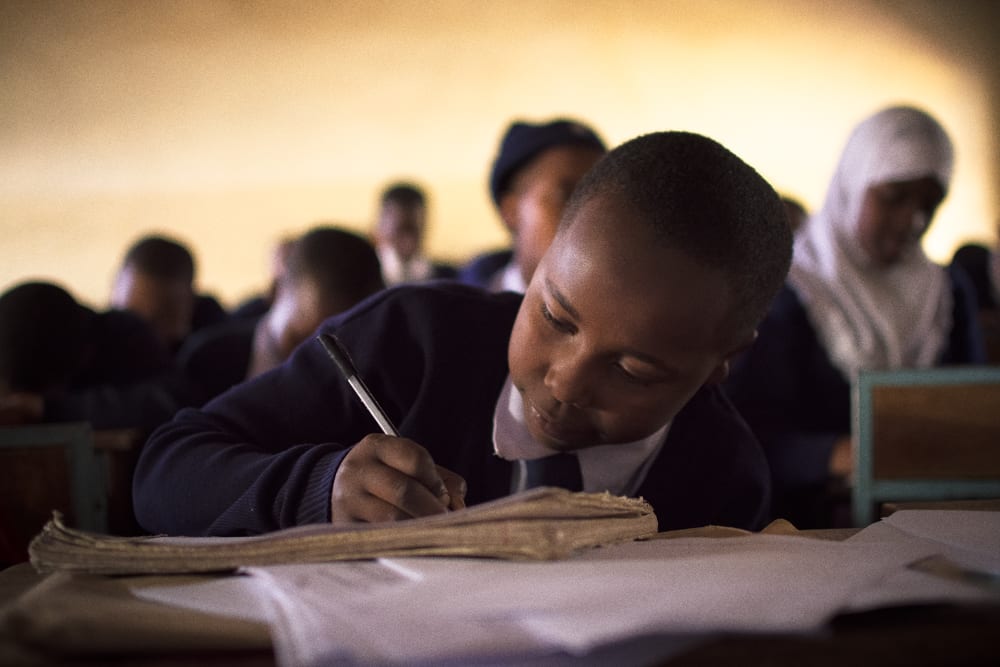 Paying for Education
Public education is free in Tanzania in terms of school fees. However, families must pay for uniforms, books and other expenses (sanitary supplies, for instance) which often is a heavy burden for then. Families who have the resources generally support children to go to private schools.
Some students have scholarships. There are many educational NGOs in the Kilimanjaro and Arusha Districts that support students with scholarships, some based on academic merit and some directed at those who are most vulnerable. These scholarships are competitive and insufficient to address the need. AfricAid has an emergency fund for girls who need assistance to remain in school. These scholarships are based on need and our social worker is involved in assessing and assisting such cases.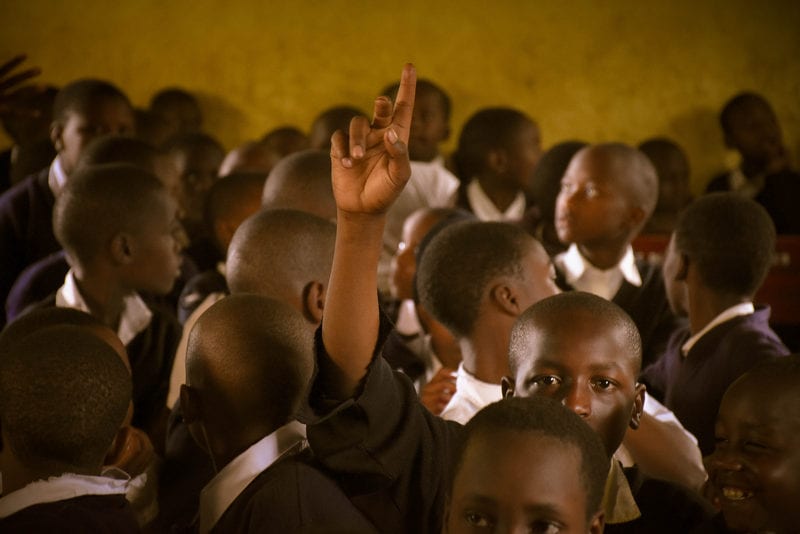 Boarding vs. Day Schools
Boarding schools and day schools, public and private, are for both primary and secondary students. In the public system, it is most common to see Advanced Level boarding schools for young people who have strong Form 4 results. Many of the Partner Schools in the Kisa Project are in this category.
AfricAid staff indicates that the big advantage of boarding school for girls is uninterrupted time to study and removing the burden of household chores such as getting water or looking after younger children. Boarding school also allows for more time to study as long-distance commuting has been taken out of the equation. These schools also have a culture of study and facilities conducive to study like libraries with electricity. Many people believe that boarding school can protect young people from dangers and chaotic environments. Another Kisa Alumna and Binti Shupavu Mentor shared:
"I repeated Form 6 three times. My father supported me because he really wanted me to go to university. The first two times I didn't study as much as I should. I had lots of work around the home and sometimes I missed school. I was not serious and I was young. On my last attempt, my father and my older sister paid for boarding school. All I did was study when I was there and finally I did well enough to go to university."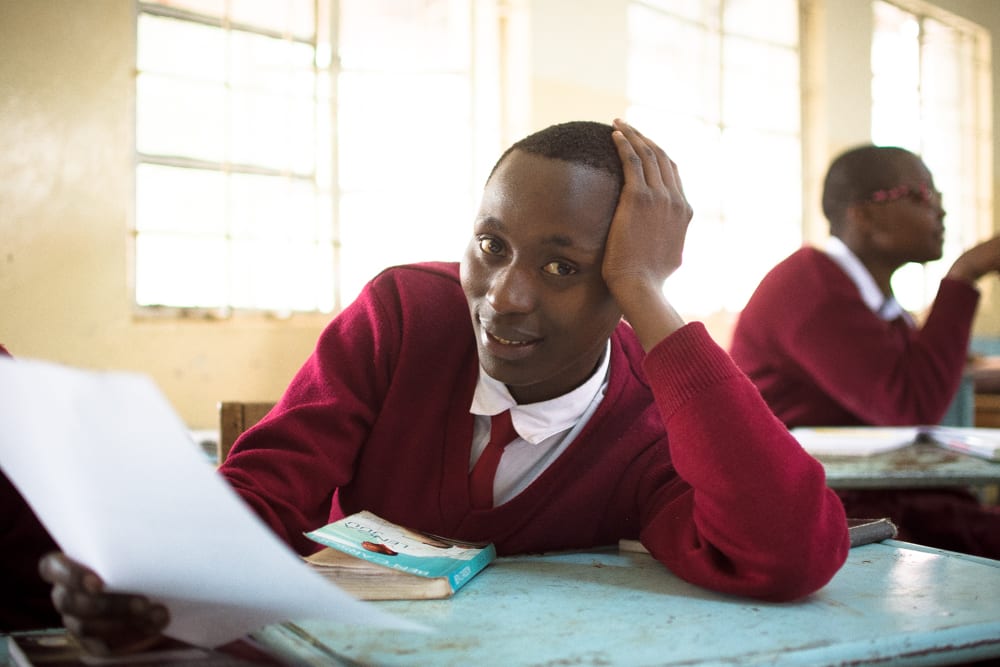 Subjects Studied
Mandatory subjects in Ordinary Level include kiSwahili, English, Civics, Biology and Math. Mandatory subjects in Advanced Classes include General Studies. In the advanced years, there are "combinations" of three topics studied. Some are science based (for instance, PCB which stands for Physics, Chemistry and Biology), and others are arts based.  Students choose them depending on their strengths and the field of study they want to pursue after school.
AfricAid spends time talking with Scholars about the various career paths that may be available for different combinations.  These may be jobs that the Scholars have never heard of or considered.  Contrast this with Binti Shupavu Project Manager, Asimwe Suedi's experience when she finished secondary school in 2006.
"I chose HGL (History, Geography, Languages). Back then, there was no guidance about subjects to choose. I didn't have any goals. I just chose the subjects my friends chose. At Form 5 I decided I wanted to be a geologist because I liked geology. But really, I didn't know what that would mean. I didn't know what university to apply to. My family didn't know about these things. I nearly went down a different path to study procurement, just to get a job. When I was applying, my friend's mother said I should do a BA in project planning and community development and that ended up being a good topic for me. In the Kisa Project, they talk with Scholars about careers and goals. My career started by chance."
There are religious schools that also have religious studies. It is not uncommon to see people of all different religions going to specific religious schools as there is high level of religious tolerance in Tanzania.
Computer subjects are seen as very important, though many schools do not have computer labs, or students have little access to a computer so they have limited practical experience. This can be a great barrier to employment, so many youths leave school and seek out work experience to gain and practice computer skills. Indeed, some Kisa Alumnae volunteer in AfricAid's two Tanzania offices to enter data as a way of getting computer experience.
AfricAid's lessons supplement the education our girls get in their schools' established curriculum. Many important topics we introduce are not touched upon at school. This includes health and menstrual hygiene, leadership development, communication issues, budgeting and entrepreneurship etc. We also introduce engaging teaching techniques that are a departure from the usual didactic and rote learning methods that are common in the school setting.
For additional information about Tanzania's educational system, read the overview written by AfricAid's Director of Programs, Devotha Mlay.
Learn how potential careers are determined.
Learn about extra-curricular activities.
Photo credit for these wonderful photos of primary and secondary school girls: David Wilfred, Director of Photography, Skystudios Africa.