This is a question that comes up a lot in the girls' education arena.  If the status quo about the value of girls in society is to be challenged and improved, shouldn't boys be involved as well?  How can the attitudes of boys and men be changed?
The two leadership and life skills programs run by Girls Livelihood and Mentorship Initiative (GLAMI) in Northern Tanzania, Kisa Project and Binti Shupavu, are intended for secondary school girls.  However, the majority of the 23 Partner Schools that GLAMI operates in are co-ed, so there are boys often lingering just outside the doors and windows of the classroom.  While they may pretend otherwise, they are listening to what the girls learn in class.  In this blog, we present evidence that Binti Shupavu is also impacting boys.  Prepare to be surprised!
The Boy Who Joined Binti
There are a handful of boys who have been accepted by the girls into their Binti Shupavu classes, program-wide. It takes an especially brave (and sensible!) young man to take this bold step.  Binti Mentor Felister Mndasha, introduces one of them, Ombeni.  (He is in the front row in the photo at the top of the blog.)
It was on a Tuesday afternoon at Kifaru Secondary School when I saw him and his friend looking in to a classroom with so many girls keenly listening to a Binti Shupavu Mentor at the front of a class.  Ombeni is a seventeen-year-old boy in Form Two.  He decided to stay behind to listen to what was going on in the Binti session.  It was not an easy decision for Ombeni, the other boys laughed at him and teased him about it.
Having a male Scholar in my class has changed the environment in a positive way.  Through him, it has been easy to demonstrative activities concerning the way people think about girls.  It has been interesting and helpful to the girls to have a different opinion directly from the boy.  Because the girls have agreed to allow this particular young man into their class, they may feel shy in front of him at the beginning, but they adapt and become comfortable expressing themselves.
When I was in Form One, I used to take everything as a joke.  I thought those in the Binti program were just wasting their time.  This suddenly changed the day I decided to stay in class and listen.
I am really happy that I stayed behind that day because ever since I never wished to miss even a single session.  Other boys are still teasing me and discouraging me, but I am not paying attention to them because I know I am benefitting from the Binti sessions. 
I feel happy and at peace in the class.  I like mingling and connecting with different people to exchange ideas and learn new things or skills that may help me later.  Binti Shupavu has made me confident in front of people, especially girls. 
I shared with the other boys what I learned. I have shared with them how to be confident, how to choose and make good friends, the negative effects of sex at a young age, studying skills, and a lot more.  I remember teaching my best friend that looking at a person straight in the eyes is one way of showing that you are confident.  He was happy to learn that and wanted to join Binti as well, but he was too shy. 
The Binti lessons prepared me well for my Form Two national exams – I learned not to let anything discourage me from my studies as well as ways to prepare for exams by using pictures and videos.  I passed them with flying colours!
Madam Felister has made a great contribution to my growth by accepting me to be in her class and taught me so many things that have been helpful in my life.  I would like to appreciate the founder of the program and the Binti Shupavu Mentors.
I feel much comfort in my heart because my own mom did not get the chance to go past primary school as my grandfather did not prioritize girls' education.  I believe women are very capable when given the chance.
A Program Liaison's Views – Courage to be Daring
Each of the 23 Binti Shupavu Partner Schools has a teacher or administrative staff person who aids in successful delivery of the program.  Some of these Liaisons are men.  Having Binti Shupavu in their schools for nearly five years now (the program piloted in 2017 and has expanded from 2018 to 2021) is naturally changing their views too!
Mr. Kanyika from TPC Secondary School shares what he has learned and observed by engaging with Binti Shupavu.
Education is important to girls because it empowers their mindset.  It helps girls to have self-awareness, confidence, and courage to be daring.  I have seen many girls who are participating in Binti Shupavu start to understand what they are learning in class, have the courage to be daring and know who they are and what they want.  Even those who seemed to be getting off track in school are getting focused and doing great.  Binti gives them an opportunity to showcase what they have learned.
Most of the girls are coming from less fortunate backgrounds and without the skills they gain in the Binti Shupavu program, we might lose most of them.  Being close to other students as friends helps them share different obstacles they are facing.  They can be scared to explain their challenges to teachers.
Through the Binti Shupavu program, I have learned how to better understand students so they are able to unleash their potential.  Being a teacher is not only about giving instructions, but engaging students in coming up with solutions to their challenges. 
Scholars Share Knowledge with Others – Girls AND Boys
A key component of the GLAMI mission is a giving mindset.  As part of giving back to their communities Binti Shupavu Scholars share what they learn from their Binti classes with their male friends and relatives at school and at home.  Mentor Evaline Saitoti gathered examples from several of the girls and they were consistent in the information that they share.  The girls are building resilience and they are also helping boys to not lose hope or be discouraged.
I share with my male friends what I learn from Binti Shupavu and educate them on how to respect women because we both have equal rights.  I share how to be strong enough to face challenges and how to plan and achieve our goals.    – Anna
We share quite a lot of things with boys, such as maintaining cleanliness during puberty, how to create a timetable, how to study, and a lot more.   – Suzy
We learn a lot of good things in our Binti classes and I always share them with my male friends and relatives so we can learn together since they don't attend our classes.  I have shared lessons on health and wellness (including effects of having unprotected sex, such as HIV), study skills, confidence, how to overcome challenges, and how to achieve one's goals. – Edna
---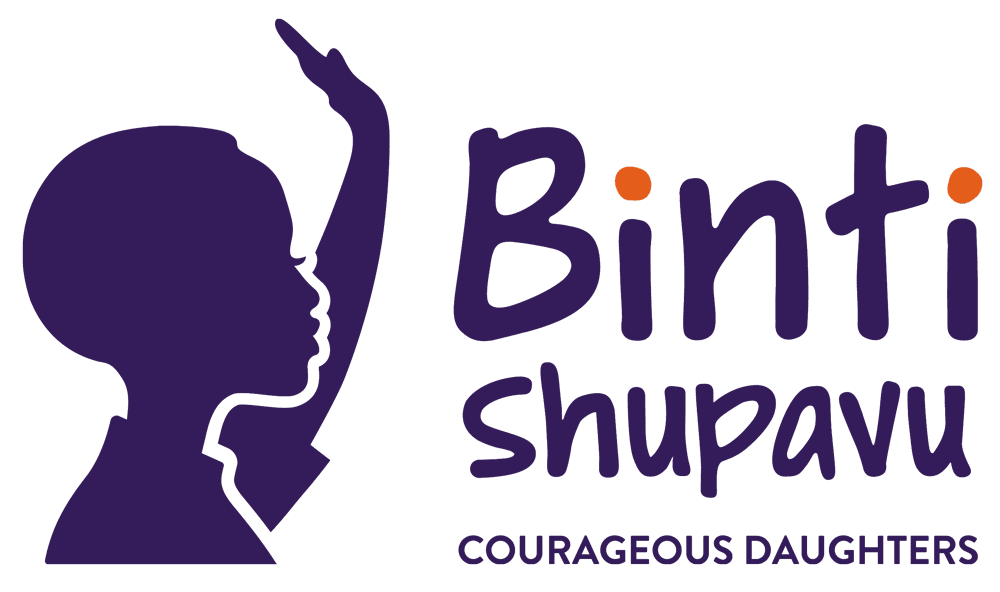 Binti Shupavu is a four-year life skills course for lower secondary school girls covering topics such as study skills, personal leadership, health and self-confidence with the goal of increasing graduation rates for vulnerable girls.