"I have two hands – one for helping myself
and another one to help other people in society."

Wivini Mtende, Kisa Alumna
The concept of volunteerism has not been a cultural practice in Tanzania where AfricAid delivers its extra-curricular leadership and life skills programs to over 6,000 girls.  But this is not the case with Kisa Scholars and Kisa Alumnae.  These young women are eager to improve their society by volunteering their time, talent and newfound knowledge gained through the Kisa Project.  Through hands-on activities such as the Year One Presentation and 2 Day Challenge, the girls understand the real impact they can make volunteering in their communities and that they have the power to affect change.  Kisa does more than transform Scholars individually, it transforms their entire communities.
Meet Wivini Mtende, a 2015 Kisa graduate from Cornerstone Leadership Academy in Arusha who earned a bachelor's degree in special education from the University of Dodoma in 2018.  Wivini is committed to helping others and this blog gives her a platform to share her story of volunteering with three different development organizations.  We are proud of Wivini and her remarkable record of continually supporting those less fortunate through mentoring and sharing essential knowledge.
Wivini's Story
As I was about to finish my university studies, I knew I wanted to commit myself to give back to my community, but I wasn't sure exactly how.
I did know I was passionate about youth empowerment.  And, though Kisa, I had learned about the power of mentoring.  Mentors truly bring hope to the hopeless and help to the helpless.  Sometimes we all just need someone who we can share our thoughts with and to look up to.  My Kisa Mentor and role model, Gladys, had an inspiring story she shared with us.  She was a mother of two who had dropped out of school, but later found her way back to complete her education.  Through Gladys, I learned how important it is to share what I have with others.
My favorite lesson as a Kisa Scholar was "Personal Development and Powerful Relationships."  That lesson served me best because I did not have much self-confidence at that time.  Now, I am more of an extrovert, but still lack the courage to do certain things I want to do.  I am still working on that confidence, but also recognize how far I have come.  Kisa taught me how to interact and communicate with various groups of people as well as recognize and treasure the difference and uniqueness of each person I have met and continue to meet.
After graduation, I started by volunteering with Raleigh International.  It is based in the UK and works in remote, rural areas of Central America, Nepal, and Tanzania to improve access to safe water and sanitation, build community resilience, sustainably manage natural resources, and protect vulnerable environments.  I learned a lot from the team I was working with.  We went to a rural community called Sole in Morogoro and worked with more than 300 villagers.  The most exciting moment I had was teaching the girls there about menstrual hygiene management.  The goal was to reduce school dropouts and truancy due to lack of knowledge and to build confidence and a sense of purpose.
That experience led to another volunteer opportunity with Disability Repro-Light in Kilimanjaro. This organization aims to bring about awareness, services, justice, and employment opportunities to people with disabilities, focusing on sexual and reproductive health care to disabled women and youth.  Disabled people in Africa have had the fewest rights and lowest respect in society.  This includes albino people, who are simply born without pigment in their skin, but may also experience blindness.  This job was a perfect match for my degree.  Again, I worked to empower and motivate girls by providing information on menstrual hygiene.  I learned how inspirational stories can bring about massive change.
And that opportunity led to where I am today, which is volunteering with Counsenuth. This is another Tanzanian NGO that is committed to achieving optimal nutrition and quality of life for children, women, and other vulnerable groups.  Specifically, I am working on a project called "Kijana Jiongeze" in Tunduru.  Kinjana Jiongeze means that "youth should not just wait for things to happen, they have to do something."  In other words, take action!  I am not salaried by them, but I do receive a stipend for meals and accommodations.  Girls' education in Tunduru is very discouraging with high rates of dropouts, truancy, and early pregnancy.  There is a great opportunity for me to impact this community and support the girls.  I have been counseling individual students, providing life skills education to both boys and girls, and following up on dropouts, truants, and poor performance cases.  It has definitely not been easy, but my experience with Kisa has been of great help to me.  I know exactly how it feels to have a mentor in life and that gives me the energy to keep going.  Bit by bit, I see the girls becoming more confident and raising their self-esteem.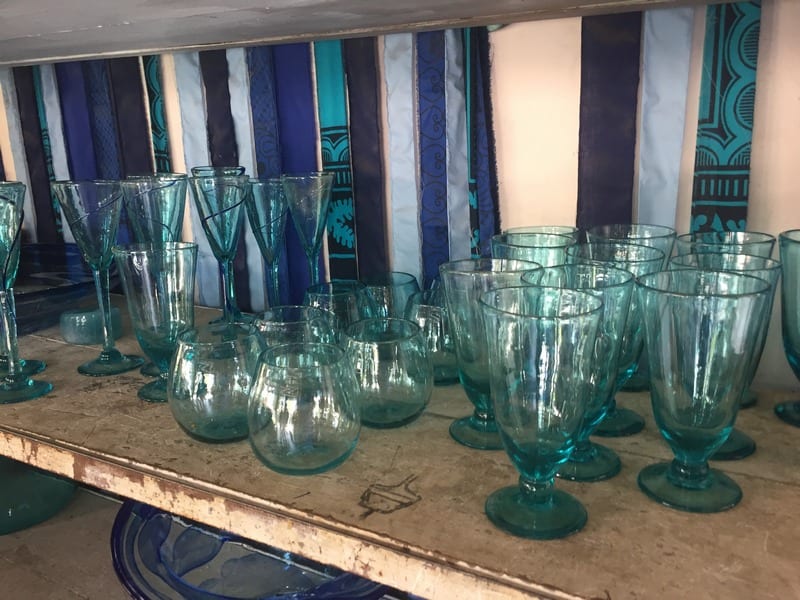 AfricAid has been a strong supporter of another organization that employs people with disabilities.  Jewelry, glassware, and home wares are created from recycled materials in Shanga's Arusha workshop, which is open to the public for tours.  Lovely Shanga jewelry is brought from Tanzania to be auctioned at AfricAid's annual Art & Soul fundraising event.
Kisa Project is a two-year leadership course that prepares girls in their last two years of secondary school to attend university and create positive social change in their communities.