It's Thursday morning and a crush of Mentors piles into the chairs in the meeting room.  They grab their rich smelling Tanzanian coffee or tea on the way in and greet each other with laughter and enthusiastic chatter.  It is time for another Peer Training session!
In the 18 years since its founding, AfricAid has grown into an impressive learning organization with ongoing professional and personal development.  The organization has implemented rigorous training that supports the learning of all staff members in different and engaging ways. (Learn How)
The Mentors teach life skills and other valuable lessons to the Kisa Project and Binti Shupavu Scholars every day – but did you know that the Mentors also teach each other?
Peer Training sessions on a variety of topics are held twice a month in both the Kilimanjaro and Arusha offices, and there is also a training component to quarterly all-staff meetings.  Managers create a list of topics that augment the Kisa and Binti Shupavu Curriculums and enable to Mentors to be more effective interacting with individual Scholars and in their jobs overall.  If staff members attend conferences or meetings, such as She's the First (a partner of AfricAid) Summit or East Africa Girls Leadership Summit, this is an opportunity to share what they learned away from the office from other organizations doing similar work.  As the year progresses, Mentors begin to choose their own areas of interest.
There are numerous personal and professional benefits to the Peer Training approach:
Transfer knowledge and skills from knowledgeable and experienced team members to less skilled or new employees.
Improve English speaking and writing skills.
Build confidence in public speaking.
Learn to research topics and organize ideas into a memorable presentation.
Create a non-stressful and fun learning environment.
Learn to give and receive constructive feedback.
Strengthens the team as everyone must be an active member.
Feel appreciated by your teammates.
All of these add up to making AfricAid's staff more productive in their current jobs and strong candidates for future positions outside of the organization.  (Mentor contracts are generally 1-2 years.  Past Mentors have moved on to many other worthwhile jobs.)
Two of the topics that Mentors have enjoyed the most are: being proactive and creating/maintaining a positive public image for yourself and the entire organization.  Creative problem solving was another favorite with Mentors as they shared different problems that their Scholars face and together brainstormed creative solutions.  Here is list of 22 topics that are on the Peer Training schedule for 2019.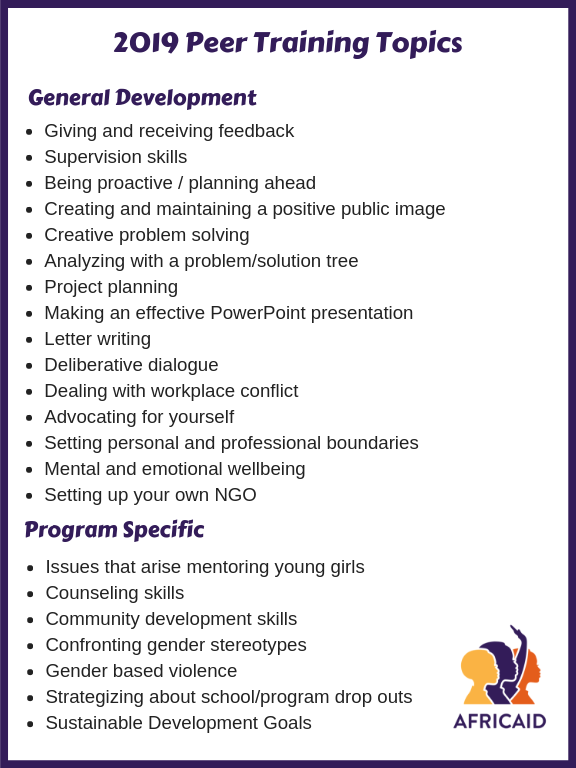 Mentors Share their Thoughts about Peer Training
"Before I did my Peer Training, I was feeling nervous and panicky.  But, after I did it, I realized that it's a platform for improvement.  I made note of the things I'm good at and the areas that didn't go as well.  I will practice more and more."  Dainess
"I love these sessions!  I learn new things at every Peer Training and it helps me with my own presentation skills.  When one of my colleagues is presenting her topic, it actually helps me to prepare for other presentations that I have to do later on. I improve each time I have to present something."  Deborah
"Peer Training is a platform for Mentors to grow and develop in their careers.  I think that if a Mentor is assigned a topic and researches it and presents it, she will move from one stage to another in her career.    We get to test our public speaking skills and we benefit from the constructive feedback we get from managers and fellow Mentors."  Zulpha