Being a lawyer, a teacher, an engineer, a doctor or many other professions in Tanzania is a long journey through different levels of education. From Kindergarten to University level, there are major decisions to be made along the way about a particular path one would like to take. This blog explains the academic pathways of our Kisa Scholars (and other Tanzanian students).
In Secondary School Education in Tanzania there are two levels of education: Ordinary Level (Form 1 to Form 4) and Advanced Level (Form 5 and 6). At Ordinary Level students study not less than seven subjects and, at the end of Form 4, they complete a national examination. The results of this examination will determine whether one can join Advanced Level, the caliber of the school and the subjects that can be studied at that level. Most of the students who get the required grades have gone to good primary and O-Level schools, either private schools or some government schools in urban areas.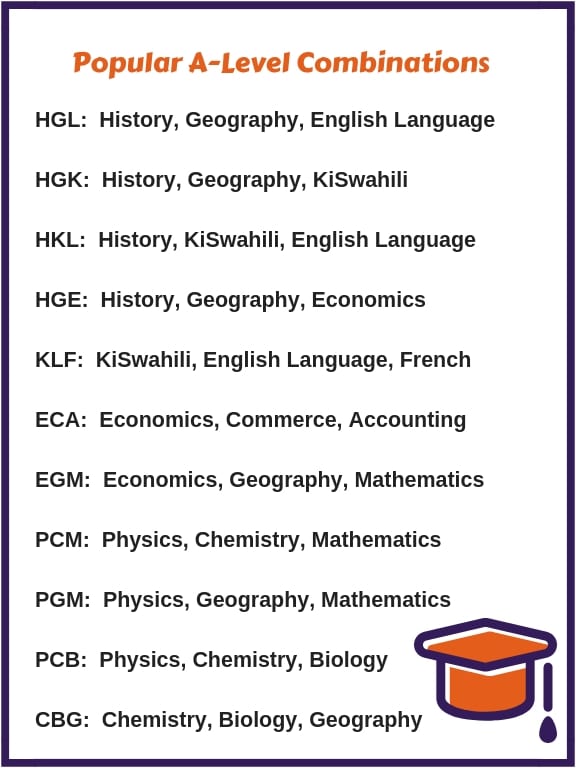 In Advanced Level of education, a student chooses three subjects called a "combination" from three broad streams, Arts, Business and Science. Some combination examples are listed in this chart.
Along with studying the three subjects as combinations, there are other subjects which are compulsory.  Those studying science subjects in their combinations must take Basic Applied Mathematics and all students in Advanced Level are required to take General Studies.
To choose a particular combination, a Form 5 candidate has to have passed the three subjects at Ordinary Level. Students also choose combinations based on what they want to be in the future, so they study subjects which are prerequisites for their chosen fields. The National Examination Council is responsible for the whole process of allocating students to different combinations for government schools and also provides guidelines on the recruitment of Advanced Level youth to private schools.
Sometimes the subjects assigned to a student by the National Examination Council do not correspond with the aspirations a young person may have.  A Kisa Scholar, Rose, whose dream is to be a doctor was instead assigned to a government school to study History, Geography and English Language (HGL).   She had to go to a private school to study her preferred combination of Chemistry, Biology and Geography (CBG). And when one decides to do so, it requires extra funding as private schools are expensive compared to government schools.  This will involve a much bigger sacrifice and commitment on the part of the family and many simply cannot afford it.  Rose says,  "I have decided to come to Makumira Secondary School (Private) because it has always been my dream to study science subjects. I am glad that there was the alternative of going to a private school to take the combination I want otherwise, I would have been at Kilakala, a government school, studying what I did not want in the first place."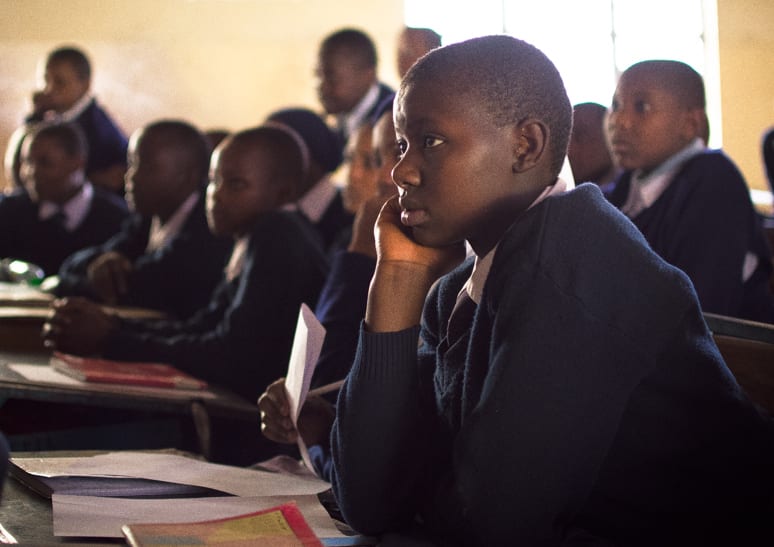 Mary, another Kisa Scholar, did not have the option of going to a private school – her marks in Ordinary Level set her course.  "I am studying History Geography and English language (HGL) because these are the only subjects I passed and have qualified to study in Advanced Level. My choice was Chemistry, Biology and Geography, (CBG) but I did not pass them."
Maika knew what she wanted to do from an early age. She performed well in many subjects in Ordinary Level, so she had many options going into Advanced Level. Even though she was stronger in the science subjects, she knew what she wanted to do after school. Maika says,  "My mother inspired me and I have always had a passion for business. I studied Economics, Commerce, and Accountancy (ECA). I was good at O Level Math and this is good for business too."
Diana loved calculations more than words and followed her strengths. She explains, "I did Economics, Geography and Advanced Math (EGM). I studied Accountancy and this was the subject for me. I knew I wanted Math and since I also did well in Geography, I did EGM. Economics was a new subject for me. With these subjects I could go into a field that was about numbers."
Kisa Scholars generally have more support than many others in career choices. AfricAid helps them in two targeted ways.
Frequent contact with Mentors helps acquaint and guide them regarding different careers that they can pursue in relation to the subjects they are studying. Mentors are happy to talk of their own experiences and run sessions on life aspirations. Often girls do not have family members who have been to university so this advice is very valuable to them.
AfricAid's big event called "Career Day" is an amazing opportunity too! On that day, Scholars have the chance to meet dozens of different professionals face-to-face and get a realistic view of what it means to pursue a particular field of study. Career Day is all about planning, practical advice and dreams and can have a big impact on what they really want to be in the future.
Some people are clear about which road to take, but for those at a crossroads, AfricAid is here to provide support to navigate these big life decisions.
Read a general summary of Tanzania's educational system, including the school experiences of some of AfricAid's Mentors.