In 2020, the Binti Shupavu program will reach about 4,800 vulnerable secondary school girls in Tanzania, empowering them with the confidence they need to continue their education.  In addition, the Binti team expects to promote girls' eduation with 2,000 parents and guardians through Parent Engagement Meetings, doing just what it is called – more deeply engaging adults in the future positive outcomes of their daughters.
There are countless more people in Tanzania who could benefit from this important information.  Here's one way that is happening:  Binti Shupavu Mentor, Siberaster Evaristo, has been taking on public speaking engagements during time when school is not in session.  She goes to where the people are.  Organized religion has a very big role in Tanzanian society, so large gatherings of people can be found in churches and mosques.  They represent an opportunity to teach parenting skills, which are a key aspect of Binti's program.  In this way, Siberaster is creating a huge ripple effect, widening the organization's impact far beyond its 22 Partner Schools.
"I am so happy to see how Siberaster is very determined to grow her career.  Her community has identified her potential and is fully utilizing it."  Asimwe Suedi, Binti Shupavu Project Manager
Our organization is developing a reputation for being subject matter experts.   And, the experience our 22 Binti Shupavu Mentors gain through delivering the after-school life skills curriculum also poises them to be great public speakers.  As word spreads that Mentors are available to speak, we expect to see more of this type of outreach throughout the country.  This blog recounts Siberaster's experience in August and December, 2019.  She already has speaking engagements lined up for April and June, 2020.
---
On August 25th, there was a great, four-day crusade at our church, Canaan Mission Christian Center, in Moshi Region.  The guest preacher of the crusade came from Dar Es Salaam and his name is Evangelist Winford Malema.  He chose a few members of the congregation, including me, to follow up with new members of the church.  He asked me about my career.  I explained that I am a Binti Shupavu Mentor.
In this role, I support young secondary school girls, helping them to be aware of where they are from, where they are, where they are going, and what they supposed to do in order to utilize their full potential and overcome challenges they face both at home and at school.  The overall goal is for them to become resilient, and stay in school to complete their lower secondary education.  It was Pastor Malema's first time hearing about Binti Shupavu and I described the give units of the curriculum.  He was very interested and it made me proud when he listened so attentively to my career story.
Pastor Malema asked, "Do you ever talk to parents about the challenges that young children face at this age?"
"Well, yes, as a matter of fact, we do!" I told him.  We conduct annual Parent Engagement Meetings for both mothers and fathers of our Scholars.
This conversation was the start of an incredible opportunity for me when he invited me to join him at his ministry's seminars for teachers and parents.  His ministry mainly works with boys and girls age 9-20 and he was interested in recruiting a confident woman teacher to explain sensitive issues to the girls, especially about their bodies.
Just a week later, Pastor Malema was invited to conduct a parent/teacher seminar, drawing from several different churches in the Tanga Region (North Coast of Tanzania, along the Indian Ocean).  He mentioned bringing me along as another facilitator who would speak about the challenges facing young children and responding to those challenges with good parenting so that they can grow happy and peaceful.  They said, "Thank you, but will she be able to cope with our environment?"  They were talking about their food, a place to sleep etc.  They did not know me, or what I am capable of!
Since Pastor Malema had not heard me speak before, he asked me to first rehearse my presentation with him.  Three minutes into the lesson he said, "Stop.  Well done.  You are clearly confident, and I like the flow of the material."  He asked for my photo in order to design the seminar advertisement.
On a Tuesday, I traveled from Moshi to Korgwe, about a four-hour bus ride.  It was my first time ever traveling there and the church covered my fare there and back.  I brought some bites (snacks) in my pocket as a gift.  When I reached there, I took a bajaji (i.e. rickshaw taxi, also known as Tuk Tuk) for 2,000 Tsh (less than $1) to the church.  A nice member of the church who lived nearby hosted me all three days of the seminar, where I gave three two-hour morning sessions.
I started by introducing the AfricAid organization and myself, so that they would know our mission, and that I am a product of this organization. They had so many questions about our work, including "Why only girls?"  Through my own religious faith and upbringing, I was able to draw from passages in the Bible about the role of a parent.  For example, Proverb 22:6 says "Train a child in the way he should go, and when he is old he will not turn from it."
Day 1 and 2:  I focused on the challenges facing youth during puberty, such as changing behavior and peer pressure.  Together, we discussed typical aspects of puberty:  looking for an identity, feeling over-sensitive, self-conscious, and uncertain, conflicting thoughts, and mood swings.  The parents began to understand that their children act this way because they are in puberty, not because they are unwilling.
Day 3:  Following the format we use for Binti Shupavu Parent Engagement Meetings, I assigned the parents to smaller groups to discuss their roles and responsibilities for supporting their children.  A designated representative presented for the group, giving real examples of the consequences of lack of parenting.  They agreed that they can best support their children's potential by: loving them, creating a friendly environment, believing and listening to them, fulfilling their promises, protecting them from risks.   One parent admitted, "I was strict for no reason and now I have better awareness of how to handle children." Another said, "I have learned the importance of being close to your children, helping, and listening to them.  There are some weaknesses, but I'm trying my best.  I would like to see this program brought to all the villages."
"I have three girls, and I now better understand the challenges they are facing and how I can be helpful to them.  One day, I heard a mother complaining about her daughter.  I told her 'Don't be shocked, those are just normal puberty stages that your daughter is passing through.  She is in a situation where she wants to fit in.  Communicate with love and take time with her to share your experiences.  That will help her to be aware and not affected by bad peer pressure.'"  Esther Wilfred Malema
The parents were free to ask more questions, and I thank God that he helped me to answer them.  Before leaving, I had extra time to have one-on-one sessions with those who had very sensitive issues.  They shared their own stories about how their parents had a bad effect on their whole lives.
The way you are raised forms the foundation for how you treat your own children.  Like poverty in general, knowledge helps break a cycle of poor parenting.  The audience seemed so appreciative that I was there.  Some said they had never heard this information anywhere before and that they were going to put it into action so that their children can become extraordinary.
It is such a great feeling to go out and help communities in my country this way.  It made me realize that I am an important person in different places.  I am thankful to many people for making this possible.  This includes by biological and spiritual parents, who helped me to build confidence standing in front of people, the people of Tanga for their great hospitality, and my Binti Shupavu Managers, Asimwe Suedi and Mary Maika, and the whole Binti team for supporting me to fulfill my goal of sharing the skills I gained through AfricAid with other communities.  I am determined to become a better inspirational speaker and positively impact huge audiences.  I would encourage everyone to seize opportunities to utilize their potential to help others.
---
Again joining Pastor Malema, Siberaster also spoke to more than 300 youth in the Dodoma Region on December 11, 2019.  She held three sessions to make sure that all the children received this information, plus held one extra session in the evening with just young girls.
The organizers said, "The education you have shared with our children is very new to us and we have not heard it anywhere else.  Most people feel shy to talk about the body, but you are very open and it will help young people to understand what is happening to them, especially during puberty."
In the Spring, she is making plans to speak to parents and kids in the Rombo District (where we have a Partner School) and in the Iringa Region (which is where Siberaster grew up).
Get to know Siberaster. She is an impressive representative of our organization!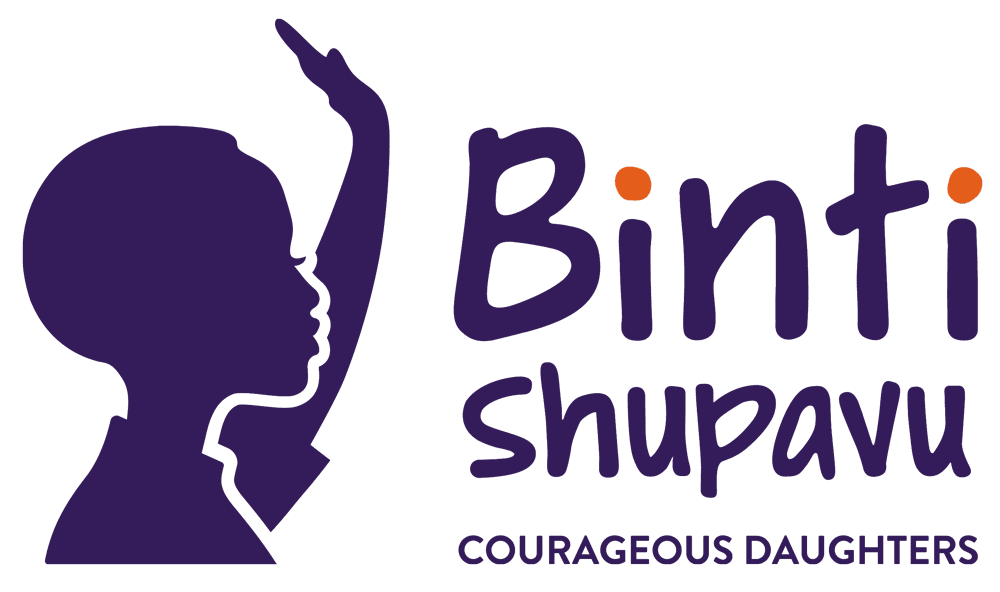 Binti Shupavu is a four-year life skills course for lower secondary school girls covering topics such as study skills, personal leadership, health and self-confidence with the goal of increasing graduation rates for vulnerable girls.