Why do we share stories about our Kisa Scholars?  To give voice to people who are not normally heard.  A story puts an individual face to the girls' education movement.  We all know Malala, of course, but how about a girl like Doreen?
Doreen is a great example of a girl in East Africa fighting for her education and to be somebody.  Her story has some common characteristics with many others that we hear.
An educational journey is not necessarily a straight path, and if they do graduate, they may be older than you'd expect. Many girls experience interruptions in their schooling, as they must stay home to care for younger siblings, or perform household chores.  Finding the funds to pay for secondary school tuition, and even uniforms and school supplies, is a huge hurdle for many families.
Many kids in Africa are not raised by their parents, but by members of their extended family. The kids with the highest potential are moved around based on who has the resources to care for them and send them to school.
Girls who are truly motivated to become educated often become young entrepreneurs, sometimes having several different projects going at once. Since jobs are not available, they create their own income producing schemes to support their schooling.  An enrichment program such as the Kisa Project provides young women with more skills (project planning, budgeting, communication etc.) to enhance this natural tendency.
Kisa Mentor, Agatha Chaima, interviewed this ambitious Year Two Kisa Scholar to learn her story.  And, might we add that Agatha has purchased the pretty sandals made by Doreen, as have other Mentors in the AfricAid office!
What was your life like growing up?
I am the fourth born in a family of ten children and I love my family. I was so young, but I remember the kind of life that we had.  Both of my parents depended on farming activities, and some days, we ate only once per day.  When I was just five years old, I left my family and went to live with my cousin.  She did not have her own children and she helped my parents by taking me in at her place in Namanga, which is in the Arusha Region.  I started a new, happy life there, with my cousin loving me and treating me as her own child.  Living with her was the starting point to fulfilling my dreams, as my parents were not in a position to send me to school.  I could not be where I am today without my cousin and I thank her and love her so much.  I consider it a blessing that other people have supported me academically, and in life in general.  I will be 20 years old in 2020.
I began Lutheran Namanga Primary School in 2006.  I continued to Ordinary Level secondary school in 2014 and was elected Head Prefect in Form Three.  While waiting for my Form Four national exam results, I was sponsored by Compassion International to learn entrepreneurship skills from the Vocational Education and Training Authority (VETA).  I practiced what I learned immediately by selling baobab nuts.  After VETA, I went back to Namanga to learn computer skills and gave back to my community by teaching children aged 3-5.
What has your experience as a Kisa Scholar been like?  Tell us about your Kisa Mentor.
When my Form Four results came in, my grades were good and I joined Magadini High School.  This is where I learned about the Kisa Project.  I really never knew if I could reach Advanced Level or be part of a leadership program, but here I am, a Kisa Scholar, studying HGL (History, Geography, Language).  My efforts, plus advice from different people, plus guidance from God, made me who I am now.
I thank God that I have leadership spirit in me.  Wherever I go, people choose me to be their leader.  I was elected to be General Secretary of student government and, when I joined Kisa, my fellow Scholars nominated me to be their Class Captain.  I was so happy.
My Mentor, Sarafina Kifaru, said "Doreen was ready to help from the first time she entered the class as an observer.  She was prepared to be a class representative and the whole class agreed on that."
I never had a mentor before, but now I am proud to have Madam Sarafina as my mentor.  She is always there for her Scholars and has made a contribution to my life.  I really love her.
I love everything about Kisa and I thank God for this golden chance to be part of the Kisa family.  It adds something of value to my life every day.
Which Kisa lesson(s) were most impactful for you?
I feel that I have always been a leader, and yet there are always new things to learn about leadership.  Kisa provides the best techniques and skills on leadership, and life skills in general.  It has prepared me to be a more confident person in front of people.  Apart from leadership, Kisa also teaches us study skills, which is something I never knew before.  Kisa has opened my eyes as to more effective ways to study so that I can improve my exam scores.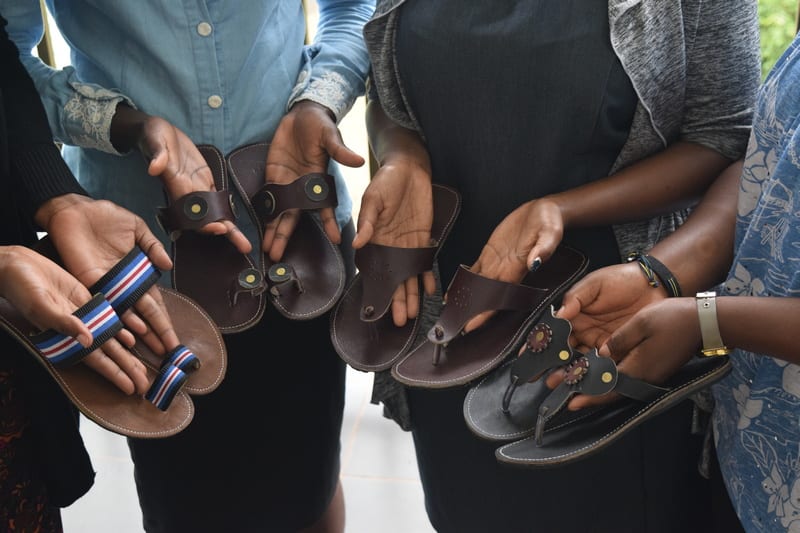 Entrepreneurship is in my heart and my biggest wish is to become a great entrepreneur.  I have a few projects going right now.  I started a business of selling Maasai sandals.  At first, I bought ready made shoes from other people and sold them.  Then, I learned to make them myself.  I started with capital of 50,000 Tsh (about $22 USD), which was from my savings and a bit of help from my cousin.
In addition, I have taught a small group of people at school how to make and sell liquid soap.  These businesses have helped me to live and send money back to my mother.  I want to be an independent girl with a good life.  After my A-Level studies, I plan to continue with my sandal and soap businesses during holidays, so that can have a strong foundation for starting university.
My advice to youth, especially young girls, is to be resilient no matter what challenges they face.  I had a lot of challenges due to the low economic status of my family and I have worked to overcome them.  Work hard and generate a habit of saving.  Do not save what you have left, but spend what you have left after saving.  This is my mantra!
Kisa Project is a two-year leadership course that prepares girls in their last two years of secondary school to attend university and create positive social change in their communities.