International Women's Day is a major day of global celebration, and for AfricAid staff who work daily to empower young women, it was also a day of special significance. We celebrate and feel solidarity with women all over the world!
AfricAid participated in various activities to commemorate the day. Some of us took photos indicative of the theme for International Women's Day 2018, which was #PressforProgress.
Mentors in the Moshi office joined the call to action to encourage all those in their sphere of influence to think, act and be gender inclusive.  They uploaded their photos to Instagram with inspirational messages, and posed in such a way to call for greater movement and push for gender equality.
Members of the AfricAid Arusha office joined in more organized activities and accepted the invitation to march with over 100 local women on International Women's Day.   The aim was to raise awareness for the need to push for change for the women of Tanzania. The group walked from the headquarters of the East African Community to a large local hospital called Mt Meru. Once there, the women in the march interacted with women in the maternity wards, giving them encouragement and practical gifts of clothes and toiletries.
AfricAid was also a part of a Women's Day celebration that was hosted by a local NGO called Sidai. Since 2015, AfricAid has joined with this NGO as well as 10 or so other NGOs working in the field of women's rights. Three speakers were invited to talk about topics of interest to the group. Hadija Hassan, Kisa Project Manager, was invited to talk about Youth Empowerment and presented to the group of about 50 people. Hadija, an expert on this subject, presented a practical talk on tips that individuals can use to empower youth and help them overcome challenges.  "I was very proud that AfricAid's work and contribution towards girls' empowerment is seen as valuable, and that we were invited to help other NGOs empower the youth around them," commented Hadija after her presentation.
International Women's Day was certainly a day of celebration for AfricAid staff who each and every day continue to push for recognition and respect for women and girls.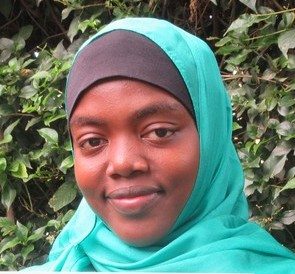 Contributed by: Salma Mohammedy, Kisa Mentor & Alumna