Deliberate and targeted engagement with men and boys is increasingly recognized as critical to advancing gender equity and equality in education. It is necessary not only for the empowerment of girls and women, but also to transform the social and gender norms that reinforce patriarchy and inequality and harm both girls and boys. The education sector is a particularly salient area in which to conduct engagement work with men and boys for gender equality, but despite this potential for transformation, it remains underutilized as a platform for meaningful male engagement in women's empowerment. 
Founded in 2000, Project Zawadi is committed to ensuring Tanzanian children and youth have access to a quality education. Working from their homebase in the northwestern village community of Nyamuswa, in the Mara region, Project Zawadi pursues their goal and supports their mission through student sponsorship, teachers' professional development, and model schools. In December 2018, GLAMI and Zawadi Project jointly conducted the first ever Annual Life Skills Camp that brought together all-girl beneficiaries from their Student Sponsorship Program. The primary objective of the one-week intensive training was to equip lower-secondary school girls with skills which will enable them to successfully complete their secondary education, make well-informed decisions, and take charge of their future. The intervention was a big success: Zawadi Project recorded a significant increase in graduation rate as well as transition rate from lower-secondary school to high school and/or university. Building on the lessons learned from the 2018 intervention, GLAMI and Project Zawadi jointly decided to conduct another Annual Life Skills Camp, but this time including boys at the center of the program:
Inviting boys to trainings targeting girls:
This strategy helps mitigate the jealousy that projects solely targeting girls may sometimes trigger for boys' family members. It can lead to a better understanding and recognition of their female family members' educational potential. It can also encourage boys to see the benefit of educating girls for the benefit of the household as a whole, and thus trigger their active support for women siblings.
Capacity building activities:
Capacity building activities were useful tools in encouraging boys to adopt positive masculinities. These were in the form of trainings, focus groups, and discussion groups, and their main aim was to trigger behavioral change so that boys become more supportive of girls. Such activities were created with a focus on a range of issues, including gender attitudes, gender-based violence, division of household chores and caretaking, relationships and sexual health, etc. 
Combining single-sex and mixed activities:
Interventions have used single-sex discussion groups for certain topics, such as menstrual hygiene or study skills, thus creating a safe space in which men and women can express their concerns freely. In order to encourage better communication and shared decision-making between household members, mixed sessions have also been used and have shown positive results.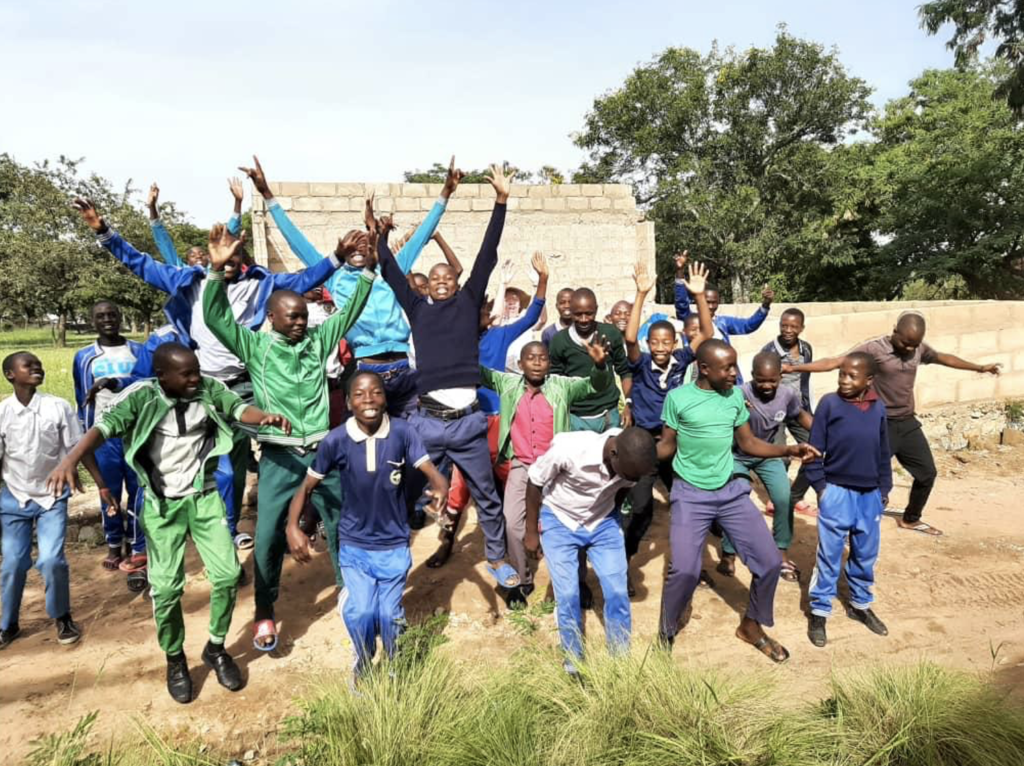 The purpose of this collaboration was to produce reliable evidence of these programs' effectiveness, and to assess the impact of involving boys in initiatives that are aimed at empowering girls, by answering questions such as:
What is the understanding of boys about girls' empowerment?

To what extent are boys willing to support girls' empowerment in their communities? 

To what extent has Binti Shupavu's approach improved girls' enrolment, attendance, and learning? 

To what extent are Binti Shupavu interventions addressing key barriers to girls' empowerment and with what effects? 

What are the future prospects of girls compared to boys? 
At the baseline, all participants agreed that girls can be as smart as boys in school and have the same performance. However, many boys still believed that girls and women are weaker compared to their male counterparts and that's why they are not given chances to speak and most decisions are made by men. The baseline findings showed that 40% of the boys understood the importance of educating girls. At the end of the training, 68% of the boys both understood the importance of girls' education and were willing to support girls through their secondary education. Additionally, the acceptance of girls as leaders and the readiness to be led by girls was as low as 41% at the baseline, but after a week of training, 52% of boys said they would be willing to be led by girls. 98% agreed that good and productive friendships between boys and girls are important in empowering girls, and also that girls' clubs should include boys.
Most of the boys involved grew up in communities that do not believe in women leadership, which tends to affect their perception towards girls being leaders. At the end of the camp, however, the boys were willing to be led by women or girls in their communities, and most came to the agreement that women are as good of leaders as boys or even better. We also learned that boys were excited about being included in girls' clubs and initiatives.
"I am grateful for having you with us in this camp. This community has been a victim of girls' dropout of secondary schools as a result of childhood pregnancies or loss of interest. This camp has made a difference, the students enjoy their stay here and are open about the challenges they are going through in their lives, something they wouldn't do before."
Project Zawadi Social Worker
It is also important to note that during the focus group discussions, boys opened up about their perceptions, beliefs, and knowledge about menstruation. Some thought that menstruation is a disease, some thought that it is some sort of a disability, and some of the boys were not interested to know about menstruation at all. After sessions about health and wellbeing, which included menstruation, boys were eager to speak about how menstrual hygiene knowledge has helped them, specifically how it has changed the perception and attitude they have towards menstruation.
"I once thought that menstruation was a disease that girls suffer from each month. I was even scared to touch or speak to girls, simply because we learned that they tend to be moody at such times, so I would make sure to avoid even sitting next to them. But I was wrong- menstruation is a normal biological process, and I am now willing to support girls if they need help with spreading awareness to the community about menstruation".
Male Project Zawadi Participant
"I used to bully girls when I noticed they were on their periods. I regret it now, but I am going to be supportive from now on".
Male Project Zawadi Participant
"If I grow up and have a family, I will make sure I support my wife and daughters and provide them with knowledge about menstruation. I will also make sure that they are safe from menstrual stigma."
Male Project Zawadi Participant
When asked, all male and female participants were eager to complete their secondary school education. When asked about their future plans, 40% of girls foresaw being married and either becoming employed in the private sector or starting their own businesses. More than 50% foresaw advanced secondary education, self-employment, and higher learning possibilities. Teenage girls showed different views on combining marriage and full-time employment or self-employment. On the other hand, none of the boy participants indicated their readiness to get married or start a family in the near future. Almost 89% foresaw either a transition to further studies or starting their own business. This analysis seems to support the argument that social location and division continue to influence individuals' lives- not at the level of group or class, but at the level of the individual.
"I think engaging boys in girls' education programs could be a game-changer going forward because it shows that if boys understand the importance of educating a girl, not only will it increase girls' confidence to participate in cross-gender discussions, it will also give boys the courage to provide girls with the support they need to overcome both the societal and structural barriers that prevent them from having the same education-related life choices as their brothers."
MaryRehema Mkumbo, GLAMI MEL Coordinator
The outcomes of this collaboration between Project Zawadi and GLAMI makes one thing very clear: feminism and girls' rights advocacy is for everyone, and is most effective when men and women join together to work towards a society where there is equal opportunity for all.