In December, 2018, six of AfricAid's Binti Shupavu and Kisa Project Scholars, along with three of their Mentors, had an experience of a lifetime.  They were among just 60 girls from Rwanda, Kenya, Tanzania, Uganda, South Sudan, Burundi, and Ethiopia invited to attend the 5th annual East African Girls' Leadership Summit (EAGLS) in Nairobi, Kenya. This is a unique 5-day participatory creative workshop designed for the next generation of African women leaders.
How did this wonderful opportunity come about?  Part 1 of this three-part blog series tells the story!
Getting Ready to Travel
As you might imagine, making arrangements to leave the country for a group of girls who had never traveled before was not exactly easy.  Binti Shupavu Assistant Project Manager, Mary Maika, did the legwork and displayed much persistence during the process.  As her manager, Asimwe Suedi said, "To me, the hustle during the process of seeking the permissions had a double impact:  developing the girls' potential and changing parents' and some community members' attitudes about girls' abilities at the same time."
Here, Mary recounts how she acquired the necessary paperwork, how the Scholars were selected to participate and her memory of the parents' send off.
I said a little affirmation to myself as I entered the Regional Migration Office in Moshi.  "I'm so strong and whatever challenges I encounter during the follow-up for the Scholars traveling permits to Nairobi, I will not be worried, because I will make it!" With newfound confidence, I went directly to the reception desk and asked for more information on what documents were needed for students under 18 years old to be granted a temporary traveling permit within East Africa. That was day one. For a whole week, I made daily visits to the Migration Office, sometimes staying the whole day. I knew that I would feel very proud of myself the day our Scholars were given permission to represent Kisa and Binti Shupavu at the East African Girls' Leadership Summit in our neighboring country, Kenya.
As difficult as this process was, it was not the most difficult thing I had to do. We had to choose only six Scholars to attend and represent all the other Kisa and Binti Shupavu Scholars (about 4,000 of them at the time) at the Summit. I felt like every girl deserved this special opportunity, but that could not be possible. It was a team effort for Mentors to select Scholars from both the Arusha and Kilimanjaro Regions who are the most passionate about giving back to the community and who are particularly interested in mentoring. We wanted to choose those who would cooperate well with others, flourish in a diverse group, and make the most of the opportunity.  On top of this, we needed parents and school administrators who were on board with our plans as well. So much arranging!
Parents and guardians who gave permission for their girls to attend also had to visit the Migration Office to fill out some papers for more verification.  Asimwe explains, "it is common for parents, and people in general to be a bit apprehensive or reluctant about traveling opportunities, especially for girls."  She and Hadija Hassan, Kisa Project Manager, had a conversation about this and wondered how their own parents would have reacted in this situation.  "Hadija said her father would have 100% supported her, but her mother was very protective and might have said no.  For me, I don't know what kind of persuasion I would have used to convince my mother to let me travel to another country when I was a young girl."
In the end, we had a Kisa Scholar from Weruweru Secondary School and one from Makumira Secondary School, and four Binti Shupavu Scholars from Ilkiding'a, Kipok, and Mawenzi Secondary Schools. Knowing all these Scholars were going to travel to Kenya for the summit was the best moment for me. It was worth all our efforts so they could have a chance of a lifetime.
Finally, on December 9th, we were on our way to Nairobi. I met all the Scholars' parents before the journey started. They blessed us with prayers and encouraging words. One of the parents said, "I always enjoyed listening to my daughter speak about her Mentor as her role model and a sister she looks up to. Mentoring girls is a passion done with so much love."  As the bus took off, I couldn't stop noticing the beautiful smiles on their faces as they waved goodbye to us.
From the first day, everyone was her sister's keeper and by the time we got back, we felt like a big family.  Our girls really benefited and listening to them was so inspiring. The Summit will forever remain memorable for our girls. They are now part of a big network of empowered young girls from different countries who will continuously bring positive change from one heart to another and finally the whole world.
The Advance Team
Kisa Mentors Magdalena Kitinya and Subira Manyama rode the bus to Nairobi on December 8th, the day before Mary took the same trip with the Scholars.  They had each been to the summit in 2017, would be playing a critical role in facilitating small groups, and thus were expected to participate in sessions one day before and after the summit.
Their description of the trip is so wonderful, you will feel like you are traveling right along with them!
It was an early morning before sunrise.  Subira and I woke up, prepared ourselves and took our luggage to the station to board the bus in Moshi. Our eyes were swollen due to lack of enough sleep, so we both fell asleep the moment we got onto the bus until we reached Arusha, two hours away. We were off to the East Africa Girls' Leadership Summit in Nairobi. It is an annual event for girls, about girls, and driven by girls. We had both been to the summit the previous year and were even more excited this time because we were going to share the experience with some of our Kisa and Binti Scholars.
As we traveled to from Tanzania to Kenya on the bus, we began to see beautiful landscapes and even a giraffe majestically crossing the road. We were so happy and laughed out loud.  Other beautiful moments that caught Subira's attention were the local people.  "It was good to see Maasai culture along the road, including people dressed in traditional clothes attending cattle, Maasai houses, and little boys running along the road shouting in harmony. It reminds us of our country's traditional cultures."
We crossed the border into Kenya and, as we started to reach the outskirts of Nairobi, we began to experience terrible traffic jams and see large crowds of people.  Curiously, we saw women with short dresses, miniskirts and different hair color, which is unusual for us back at home. We loved to see how they expressed their creativity with this bold fashion. Our final destination was the Brackenhurst Hotel in Limuru, in the northwest part of Nairobi.
The following day, Mary, our Mentor Colleague from Moshi, took the same route with our six girls who were from both of AfricAid's programs (Binti Shupavu and the Kisa Project) and from both regions (Kilimanjaro and Arusha). The six girls were chosen to represent their fellows because they are especially hardworking and have a passion to give back to their community.  Their school administrations were very supportive helping with the final details, as were the parents of the girls. It was a fantastic opportunity for the girls – for most of them, it was their first time leaving Tanzania to travel to a new country. Staying in such a beautiful hotel and meeting other girls from around the region was truly a dream come true.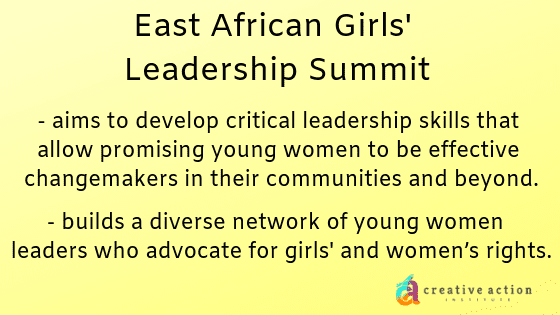 Part 2 of the blog describes the experiences the girls and Mentors had at the conference.
Part 3 of the blog shares the girls' lasting impressions of EAGLS, six months later.