"Parents used to tell girls what to do after they finished school.  Instead, they should listen to their children about what they want to pursue in life.  In Binti Shupavu, we are helping parents understand this."
Sophia Belela, Binti Shupavu Mentor
Parents are the backbone of the Binti Shupavu program.  Each year, we hold meetings for the Scholars' parents and guardians so that they can know what their girls are learning in the program and become further engaged in their education.  This year, Parent Engagement Meetings (PEM) were conducted in the Arusha and Kilimanjaro Regions that reached 1,557 parents at 21 Partner Schools.  Meetings were held on Saturdays from April to August, 2019 and included snacks and drinks.
The Binti Shupavu team worked hard at each location to get the word out about the PEM.  Girls were sent home with invitation letters describing the purpose of the event, which were then followed up with phone calls.  Early in the morning the day of the event, a text was sent as a reminder.  The promotion effort clearly worked – despite parents' work schedules and travel distances, we were impressed with the very large turnout.  Parents who could not make it sent a representative, like an uncle, aunt, or friend.  Some parents with daughters enrolled in Binti Shupavu have attended the meeting three consecutive years since the program's founding.
The attendance more than doubled from 629 parents in 2018, which indicates a sincere interest in their girls' education, along with general growth of the program (the number of Scholars participating rose from 2,585 in 2018 to 4,300 in 2019).  In addition, there was a large proportion of men in attendance.  This signifies a shift in attitudes in Tanzanian society, where men have the final say in the family.  In previous years, some parents thought that the PEM only involved women.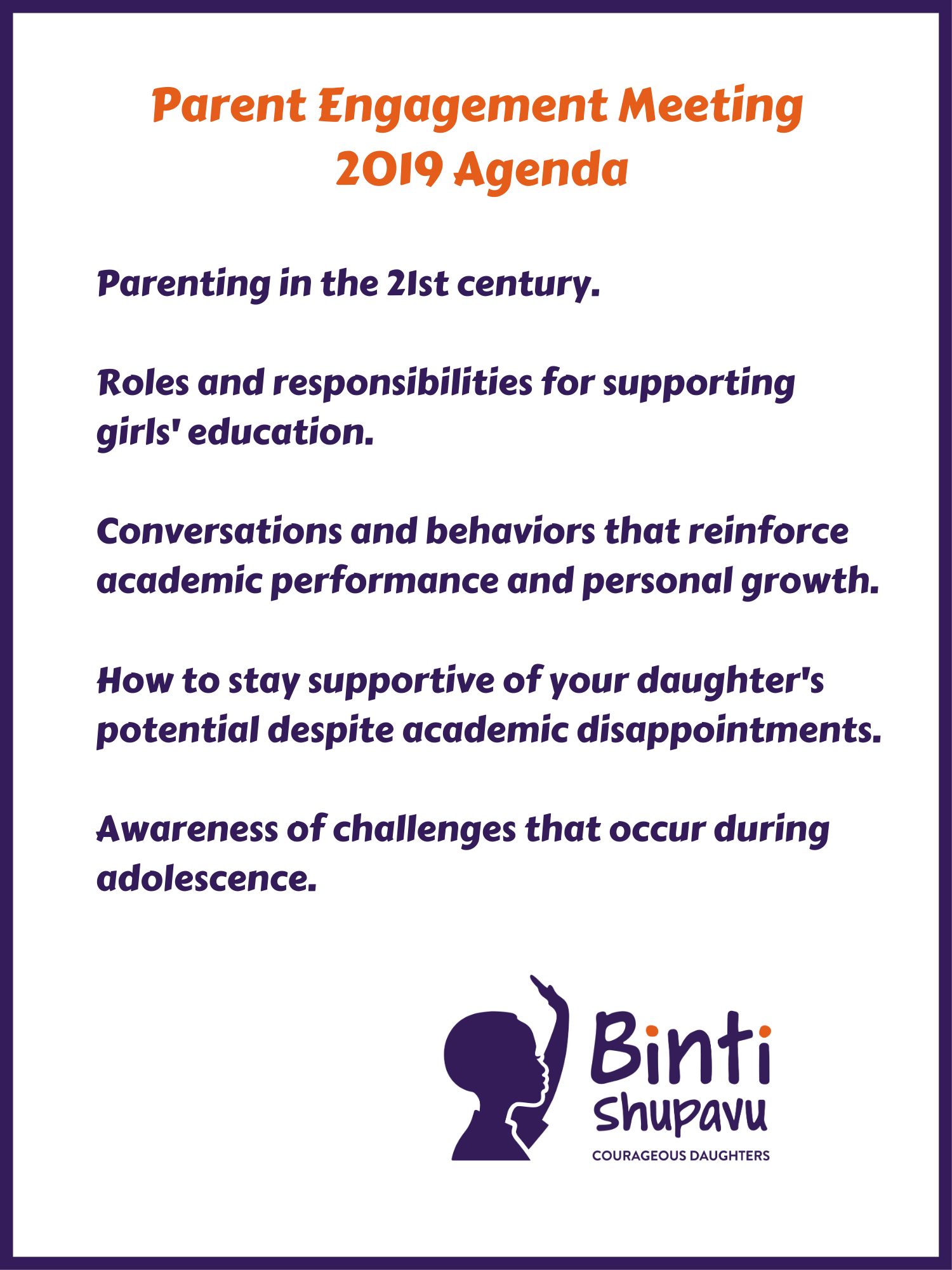 To acquaint first timers and as a refresher for returning parents, the meeting began with a general introduction to AfricAid and Binti Shupavu, and how the organization supports young girls by providing mentors and lessons on leadership and life skills.
We discussed with parents the challenges young girls face, especially those naturally brought about by puberty.  For instance, during her menstrual cycle, she may feel more emotional, sensitive, and self-conscious, resulting in greater conflicts between parents and their children.  That is ok and to be expected.
Mothers everywhere want a better future for their daughters.  Several shared testimonials about their daughters' growth and thanked AfricAid and Binti Shupavu.
"I am so relieved that my daughter has self-awareness and that her exam performance has improved.  She told me, 'I don't want to work as cheap labor like you, mother.  I want to have a good career."
Mother Tokoloshe
"I have learned in the Parent Engagement Meeting that parents should be close to their children and teach them about the challenges of life.  I asked my daughter if she wants to sell buns like me and stay in a rented house forever and she answered, 'No, mother.'  I can see my daughter's improvement academically."
Mother Sikudhani
Binti Shupavu Mentors and Scholars also had the opportunity to share their educational journeys.
"I learned the importance of sharing my story with my parents.  If their children fail in their academics, they should not give up on them, but continue to support them.  If my parents did not support me when I first failed my Form Four national exams, I would not be in the place that I am today."
Felister Mndasha, Binti Shupavu Mentor
"My mother always encourages me to continue to do my best in school, even if I fail an exam."
Tuzo, Binti Shupavu Scholar
Group Discussions
We believe that the responsibility for Scholars' good academic performance comes from more than just the student herself.  Parents, teachers, and society are also part of the equation.  To that end, the parents were split into small groups and given one aspect to discuss.  In addition, one group discussed possible reasons for poor academic performance.  One member of the group then presented so that the entire room could benefit. Here are the results of the parents' brainstorming sessions.
Causes of Poor Academic Performance
Poor relationship between parents and teachers.
Bad peer groups.
Alcohol and drug abuse.
Sexual harassment.
Truancy or tardiness.
Lack of self-awareness, self-esteem, and self-confidence.
Fear of asking questions of teachers.
Binti Shupavu addresses these issues by providing girls with the tools for good decision making, while the parent/teacher relationship is brought up at the PEM.
Student Responsibility
Have big dreams and work toward them.
Study hard.
Be disciplined.
Participate fully in exercises and activities assigned by teachers (including Binti Shupavu Mentors).
Ask God for help in her studies.
Parent Responsibility
Prepare breakfast before their student goes to school.
Make sure a student has the necessary school materials.
Create a friendly environment at home for studying.
Minimize house chores.
Give their daughters chances to speak with them about what is going on in their lives.
Maintain a strong relationship with teachers.
Teacher Responsibility
Know the ability of the students.
Give the student a good quality education.
Follow-up on assignments made to students.
Create a friendly environment for the student at school.
Maintain a strong relationship with parents.
Responsibility of Society / the Community
Believe that all children have a right to an education.
Build good school facilities.
Hold students to a high standard.
Protect a student from early or forced marriage.
Report to school if a student is found in a dangerous area or situation.
Provide education about the risks of sex, alcohol, and drugs.
A Dad Goes the Extra Mile
If a parent misses their PEM, we hope that they will obtain the information from friends who have attended or material that we hand out to the Scholars.  One parent really surprised us this year with his commitment to his daughter's education when he traveled all the way to our office in Moshi to find out what he had missed.  We told him what had been discussed and he thanked all the Mentors for their positive influence on his daughter, Joyce, who is a Year Three Scholar at J.K. Secondary.  Joyce was so glad to hear that her father had made this extra effort.
"I have seen changes in my daughter's behavior because of the Binti program. She is now confident, a leader, clean, and she gets up early in the morning to do her responsibilities.  She needs support especially because I am not her father, but her guardian.  Binti Shupavu educates girls about how to overcome temptations, stay true to themselves, and about the reality of life.  That's why I decided to come to the office to get more information."  David John
The annual PEM will continue to be an important part of Binti Shupavu as it is an opportunity to learn and acts as a reminder to parents about how they can support their children to achieve their dreams.
There were so many wonderful photos captured at the events this year, which the Scholars also attended.  Enjoy this slide show, which provides great insight as to how the girls' parents look and dress, as well as what the school grounds and landscape look like, and finally, Binti Shupavu Mentors in action!
[cq_vc_metrocarousel images="8625,8626,8627,8628,8629,8630,8631,8632,8633,8634,8635,8636″ carouselheight="400″][vc_empty_space][vc_row row_type="row" text_align="left" css_animation=""][vc_column][vc_column_text]
2018 Parent Engagement Meetings
2017 Parent Engagement Meetings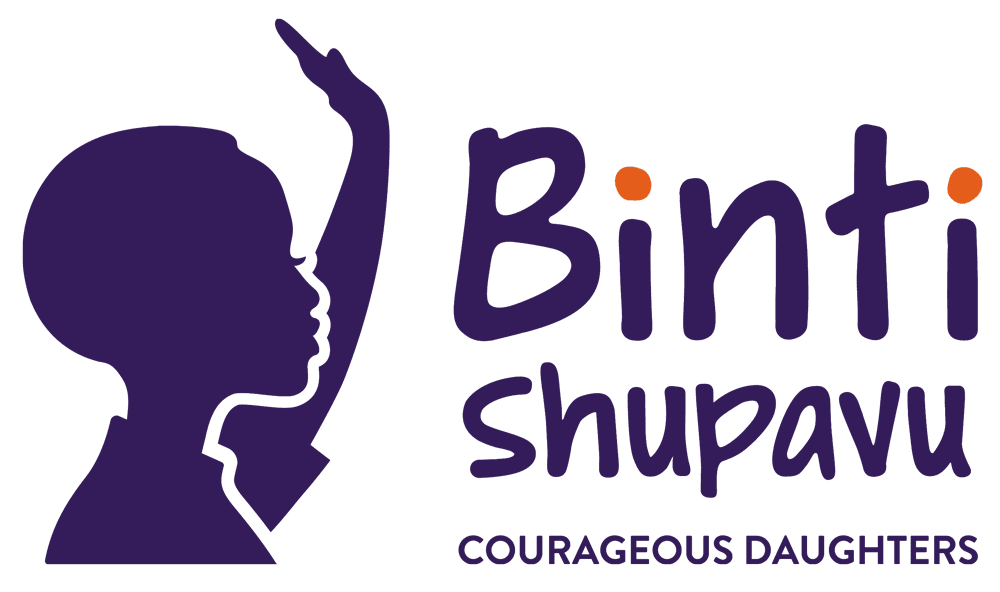 Binti Shupavu is a four-year life skills course for lower secondary school girls covering topics such as study skills, personal leadership, health and self-confidence with the goal of increasing graduation rates for vulnerable girls.