One of the key ingredients that help girls to stay in and finish school is parental support. Unfortunately, most girls in Tanzania do not have this. A number of academics have noted how important parental advocacy and encouragement is, something which was also identified in AfricAid's Participatory Need Assessment.  A girl who has a supportive, enabling and engaged parent(s) or guardian is much more likely to stay and finish school.
AfricAid conducts annual Parent Engagement Meetings (PEM) as a program strategy for supporting girls' education by involving Binti Shupavu Scholars' parents from each Binti Shupavu Partner School. Events are combined for Partner Schools that are close to each other, while for Partner Schools that are far apart there are separate events held at each school. The events in 2018 aimed to involve parents from all 20 Binti Shupavu Partner Schools in both the Kilimanjaro and Arusha Regions, with a goal of attracting at least 20 parents or guardians from each Partner School.  So far, 629 parents or guardians from 19 Binti Shupavu Partner Schools have attended the events. (This is an average of 33 parents per school.)  Given that most parents work 6 days per week, and go to church or the mosque and take care of chores at home on the seventh day, we were really pleased that so many parents attended.
Parents and guardians who attended were introduced to AfricAid and Binti Shupavu and how the Personal Leadership and Life Skills curriculum is designed to support young girls to remain in school.
The agenda included:
Roles and responsibilities for supporting girls' education
Conversations and behaviors that reinforce academic performance and personal growth
How to stay supportive of their daughter's potential despite academic disappointments
These topics were intended to engage parents in an open discussion where everyone would brainstorm why and how parental support is very important for girls' education.   At each meeting, small group discussions were part of the program.  To see the many worthwhile ideas these focus groups came up with, scroll down to the bottom of this blog.
It is important to recognize that parents and guardians have different level of education, understanding, exposure, and perceptions. So when they are brought together through Parent Engagement Meetings, they learn from, inspire, and encourage each other and develop a sense of being part of a movement bigger than themselves.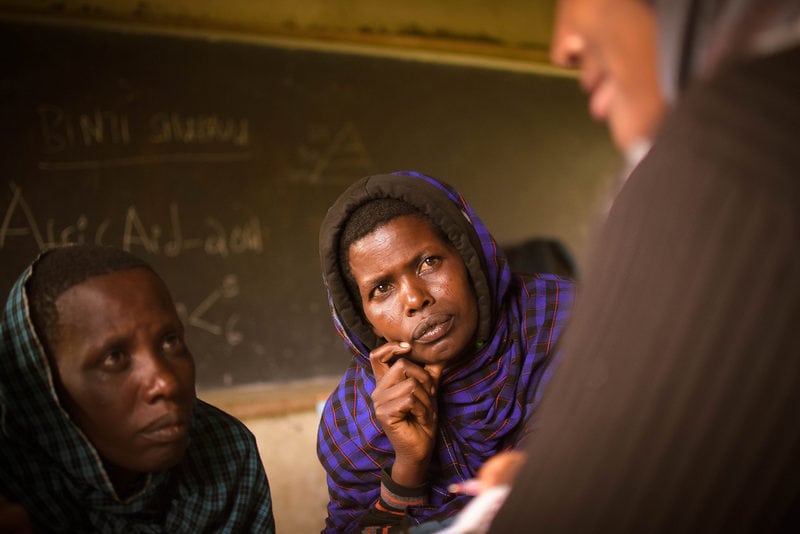 A male parent from Karenga Secondary School told us, ''When I received an invitation letter with the words Binti Shupavu ''Courageous Daughter'' in it, I thought it is none of my business as a father. Then one of you called and insisted how important it is for me to attend despite my gender and I decided to come. At the beginning of this meeting I felt awkward that it is a very young lady standing in front there who wants to tell me what are my roles are as a parent.  Now the meeting has come to an end and I don't want it to end because I have learned so much from you despite the fact you are young lady. I now wish one day to see my daughter confident and knowledgeable as you are. Thank you so much."
A side benefit of AfricAid's approach to using young women as facilitators during the events is that parents' attitudes about the capability and abilities of women has been positively impacted.
''My daughter is very excited about your program. She tells me everything she learns from Binti Shupavu class. I don't have knowledge about most of the topics she tells me about. She even insisted so much that I attend this meeting. Now I am glad I listened to her because I have learnt so many things that are going to be helpful to all my children,'' expressed a female parent from Mbokomu Secondary School.
''Madam, my father came back home and told us everything you discussed during the meeting. Now I spend less time watching television because of your meeting!'' complained one of the Year Three Scholars at Mawenzi Secondary School. Distractions by technology is one of the topics, so that parents can develop alternatives to use at home to make sure girls have more time for personal academic revisions and relaxation.
Not all parents have an understanding how adolescence poses unqiue challenges for teenagers. At the end of the events, some parents often seek guidance from event facilitators on how they can overcome these challenges and remain supportive to their daughter's education. Some have continued to stay in touch with AfricAid's Social Worker and Community Liaison.  (Meet Veronica Kilala.)
Many of the parents thanked AfricAid for developing Binti Shupavu, and pledged to support their daughters' educational endeavors as best as they can. We were also encouraged by their words of support: "I would like to thank AfricAid for coming up with this wonderful project and helping our children succeed,'' said a parent from Mukulat Secondary School.
It is clear that we achieved our objective of having parents take home constructive ideas from the Parent Engagement Meetings.  In addition, AfricAid continues to learn how we can better support girls' education through parents' questions, discussions and suggestions.  A major challenge we have identified is that we assume that the parents who don't show up for the events are the parents who actually need the discussions the most.  Therefore, we are considering how this valuable information can reach parents and guardians who have not attended the events.