For many people, a new year means a fresh outlook, ambitious goals, and a new set of expectations.  Individual expectations for Binti Shupavu, AfricAid's 4-year life skills program for Ordinary Level secondary school girls in Tanzania, come from all corners of the program:  Managers, Partner Schools, Mentors, and, of course, the Scholars themselves.  People participating in the program shared their expectations for 2019 in a variety of ways.  Sharing expectations was a key part of Binti Shupavu staff and classroom meetings.  AfricAid's offices were buzzing with conversations as the year began, and some team members were asked directly and specifically about their expectations.  One Head of School, as you will learn, even created a specific plan to meet his expectations.
To set the stage, let's review the expectations that have been shared with Partner Schools for the program as a whole.
2019 Outlook for Binti Shupavu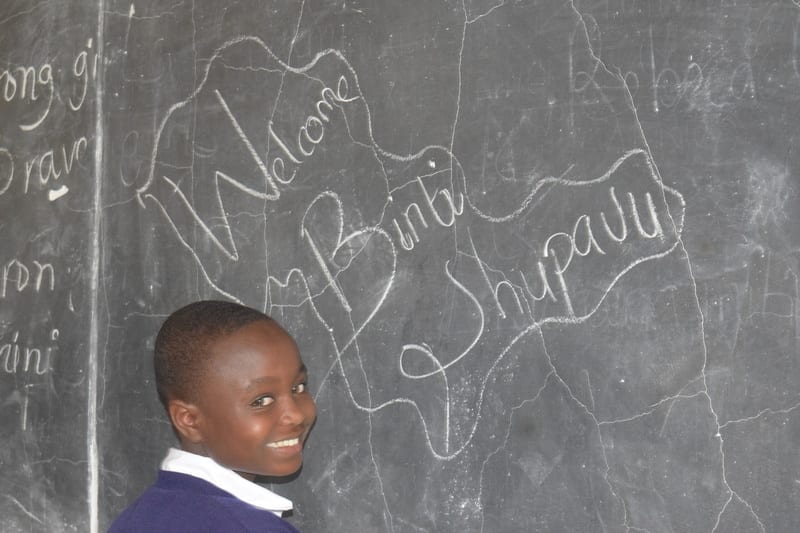 There will be 4,300 girls served by the program's supportive environment at 22 Partner Schools. This includes recruiting 1,300 new Year One Scholars and 500 new Year Three Scholars.
Year One, Two and Three classes from 2018 will advance to Year Two, Three and Four, respectively.
Year Four classes will graduate from Ordinary Level, perform well in exams and advance to Advanced Level (final two years of high school, and potentially be eligible to participate in the Kisa Project if their school offers it).
More parents and guardians will be engaged in Parent Engagement Meetings in 2019. (Read about how we engaged last year's parents.)
The impact of the program will continue to be monitored by meeting with school administrators, as well as girls who are not participating in Binti Shupavu. (Learn other ways we measure our success.)
Binti Shupavu Family
When Binti Shupavu managers visited Mkuu Secondary School to share our 2019 expectations, the Head of School, Mr. Mashimba, joyfully shared his own observations:
''I have noticed how girls who are participating in your program behave differently and they are a good example to refer to at our school. Therefore, I am expecting to see more girls benefiting from the program by letting girls who have already better mastered the skills and knowledge of the program support those girls who still need more guidance to understand the value of the program.'' 
Mr. Mashimba is not just talk – he is action!  He took the discussion a step further by gathering all the Binti Shupavu Scholars together to brainstorm the benefits they had each gained from the program so far.  He then introduced an interesting concept he called "Binti Shupavu Family."  Within all four levels of Binti Shupavu classes we are running at Mkuu, each Scholar will have a Binti Shupavu family member in the other three class levels.  They can ask these "sisters" for any kind of support and make each other responsible in case one strays from their family goal.
Mr. Mashimba believes that this approach will help all girls in the program be more supportive to each other, increase responsibility as they will hold each other accountable, and enhance cooperation and love among the girls.  In short, increasing the possibility of achieving expectations.  We can't wait to see how it works out. It is not only heartwarming to see a school administrator so invested in a successful outcome for his students – it is a sign of true change occurring.

We strive to continuously improve our program based on what we learn from experience in previous years.  For example, in 2018 some of the classes were not able to complete the entire Binti Shupavu Curriculum.  Therefore, for 2019, we made some adjustments to the Curriculum to make it more realistic timewise.  We always seek the best strategies that will benefit the girls.  We are all excited to make an impact on young girls' lives with Binti Shupavu and ready learn even more from our experience in 2019.
Individual Expectations
Binti Shupavu Scholars
The expectations of the girls who have just joined Binti Shupavu clearly show that they understand the program's purpose and are committed to being active participants in the classroom.
I expect through the knowledge and skills I get from Binti Shupavu I will be able to complete my schooling up to the fourth year of secondary school." Year One Scholar, Kifaru Secondary School
''I have a plan of being a teacher and am sure being in the Binti Shupavu project I will gain skills to reach my plan.'' Year One Scholar, Nanja Secondary School
''I believe I will learn new things in Binti Shupavu project and be able to use that knowledge to educate society so that it can change.'' Year One Scholar, Nanja Secondary School
 "As a Binti Shupavu Scholar, I will teach others the education I am given."  Year One Scholar, Kifaru Secondary School
Binti Shupavu Mentors
A whole new team of Binti Shupavu Mentors has joined the organization in the new year and it was important to hear their expectations as part of their orientation.  The contracts of some Mentors from 2018 were extended to provide continuity in the organization.  These Mentors will help guide the new employees.
 ''To help build a sense of community among my Scholars so that they can start giving back to their communities with what they are learning from Binti Shupavu.'' Leticia, new Binti Shupavu Mentor
''To build good relationships with my Scholars so that they to open up easily.'' Naomi, new Binti Shupavu Mentor
''Learn creative ways of delivering the curriculum so that Scholars do not lose interest in attending Binti Classes.'' Hosiana, new Binti Shupavu Mentor
''To assist new Mentors with important information about the program from 2018 and deliver the best possible Binti Shupavu curriculum to the Scholars.'' Rachel, Binti Shupavu Mentor
Binti Shupavu Partner School Liaison
''I expect the program to help girls in my school have self-awareness and realize their role in the community, increase their abilities to do well academically, and overcome challenges they come across.  The program also encourages developing good values.  Madam Diana, Binti Shupavu Liaison, Mabogini Secondary School
AfricAid Social Worker
''To fully support Binti Shupavu Scholars, including providing psycho-social support to certain identified Scholars, increasing their resilience level, and helping them understand their full potential through counseling. Increase parents' awareness on how supporting their children with proper nutrition and other school necessities affects their school performance. Help my fellow employees, and other associates (especially visitors, and liaisons) to have a clear understanding of child abuse and AfricAid's Child Protection Policy.'' Veronica Kilala (Read more about the role of our social worker.)
Binti Shupavu Assistant Manager
''I am expecting to see all of my mentees, regardless of class level, improve academically and be ready to share the knowledge and skills they get out of the program.  This will help them to remember what they have learned. With my support, I also expect to see Mentors I supervise meeting program expectations and growing professionally." Mary Maika, Binti Shupavu Assistant Manager
Binti Shupavu Manager
''All of the Form Two Binti Scholars to perform better in their national exams and see the Mentors growing career-wise.'' Chiku Mkuya, Arusha Binti Shupavu Project Manager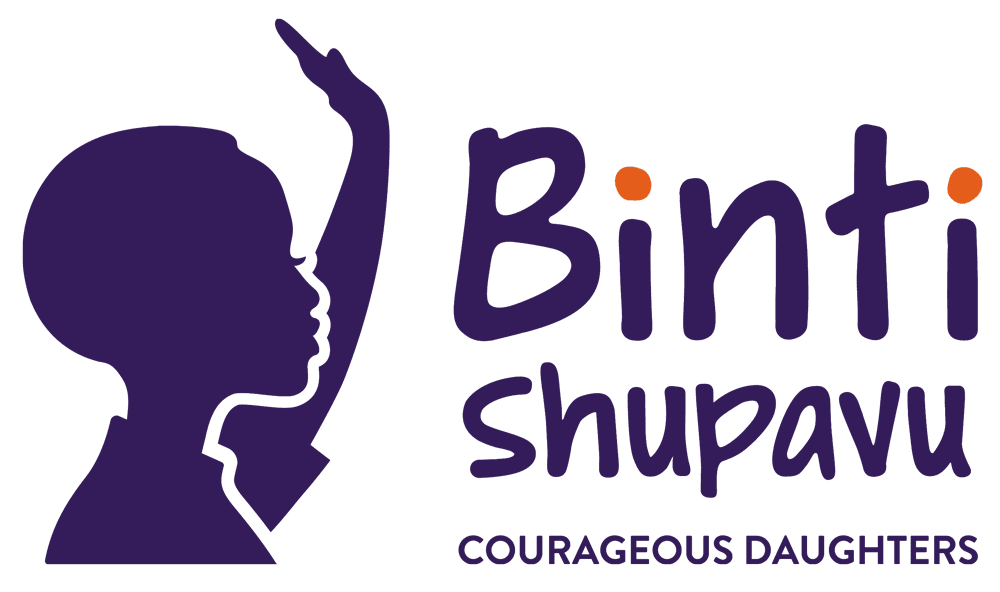 Binti Shupavu is a four-year life skills course for lower secondary school girls covering topics such as study skills, personal leadership, health and self-confidence with the goal of increasing graduation rates for vulnerable girls.
You can support a girl to receive this transformative experience for $125/year.
[vc_row row_type="row" text_align="left" css_animation=""][vc_column][vc_empty_space height="16px"][ult_buttons btn_title="Donate Now" btn_link="url:http%3A%2F%2Fafricaid.org%2Fdonate||target:%20_blank|" btn_align="ubtn-center" btn_size="ubtn-custom" btn_width="250″ btn_height="30″ btn_padding_left="10″ btn_padding_top="10″ btn_title_color="#ffffff" btn_bg_color="#331c59″ btn_bg_color_hover="#e45d1b" btn_title_color_hover="#fab344″ icon_size="32″ btn_icon_pos="ubtn-sep-icon-at-left" btn_font_size="24″][/vc_column][/vc_row][vc_row row_type="row" text_align="left" css_animation=""][/vc_row][vc_column][/vc_column][vc_column_text]