Today, I have extra energy and passion for my work as a Kisa Mentor with AfricAid!  It starts from the time I wake up, continues at the office, and I bring it with me right into the classroom in the afternoon.  It's because I know I am going to teach my favorite lesson from the Kisa Curriculum, "Influential Leaders."  I want you to experience this lesson too.  Come along as I teach a group of Year Two Kisa Scholars at Msangeni Secondary School.
Preparation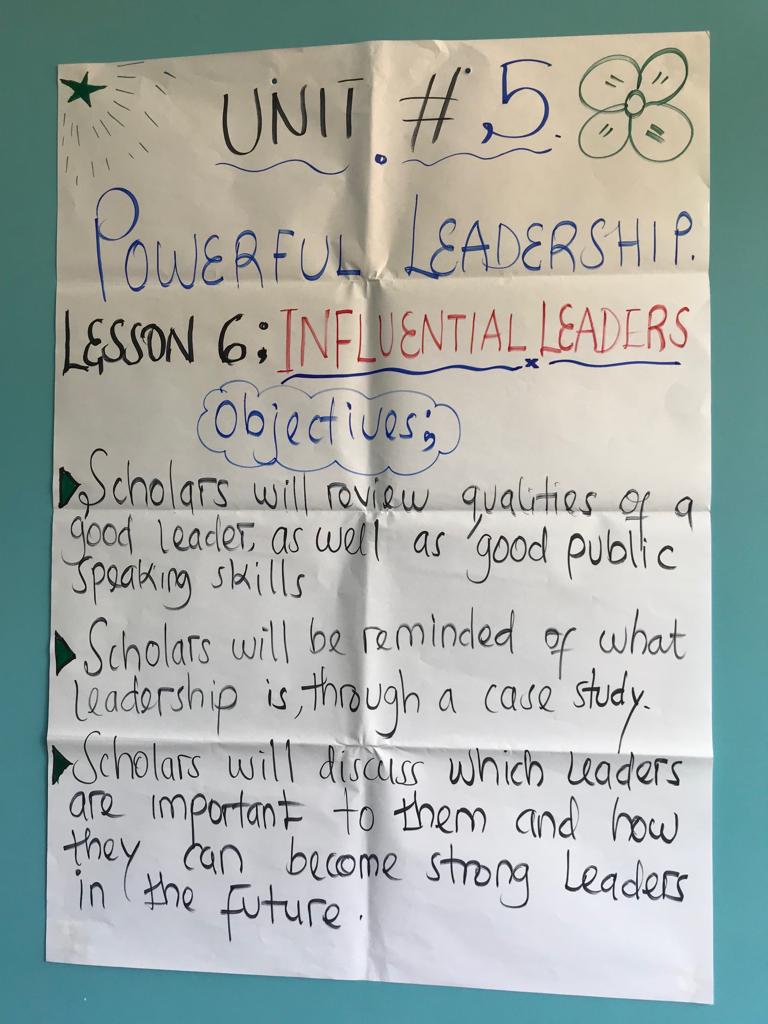 I start by reviewing the objectives of the lesson before heading to the Partner School.  These are to identify the qualities of a good leader, consider which leaders are important, and review leadership through the context of a case study.  We also discuss how Kisa Scholars can become strong leaders in the future.  As part of the class, the girls practice and improve their public speaking skills.
Each question that I will ask the Scholars, I also ask myself first – not only to be prepared for the lesson, but to remind myself what leadership is.  It seems that I always come up with new and different answers.  I get myself into a leadership mindset and wonder, for instance:  What would happen if leadership is only about controlling others?  What would the world look like as a result of that and how would people react?
Part 1:  What are the characteristics of a good leader?
The Scholars have arrived in the classroom at the end of their regular school day.  I allow their minds to wander as we dive into the topic.  They animatedly shout out ideas for a list of the qualities of a good leader. Here's what the girls come up with.
We decide a leader is "a person who motivates others, who sees challenges and works tirelessly to solve those challenges so as to bring positive impact."
Part 2:  What influential leaders can you name?
Moving on, I ask the Scholars to name some influential leaders in the world.  For example, can they list 5 World Cup winners, or 10 people who won the Nobel Peace Prize, or the 5 wealthiest people in the world?  They were able to come up with a few names…
World leaders, such as Nelson Mandela and Barack Obama.
Tanzanian leaders, such as:
Mwalimu Julius Nyerere, the first President of independent Tanzania.
Samia Suluhu, Tanzania's first ever female Vice-President.
Jokate Mwegelo, 32 year old entrepreneur, media personality, and most recently, politician (she is a District Commissioner), named to Forbes' "30 under 30 in Africa" in 2017. The girls admire her extreme confidence!
Wangari Maathai, a Kenya social, environmental, and political activist, and the first African woman to win the Nobel Peace Prize.  She founded the Green Belt Movement, which since 1977 has planted over 51 million trees to restore Kenyan watersheds and ecosystems.  I was pleased with this one since the Scholars remembered her from the Kisa  lesson on "Visionary Leadership" from their Year One classes the previous year!
In general, though, the girls struggle with this part of the lesson, saying "Madam, this is too hard!"  So, I shift the discussion again.
Part 3:  Bringing it closer to home…
I offered a new set of questions:  Could they list a few teachers who aided their journey through school?  Name 5 people who taught them something important or 3 friends who helped then through a difficult time.  Now, they got it!  The activity became easy and the Scholars were able to come up with answers and also recognize that the people who make a difference in the world are not only the ones with big awards, but those who care.
We continued with the lesson and Scholars identified their parents, teachers, siblings, and even themselves.
A highlight of the day for me is when Kisa Scholar, Rehema, went the extra mile by identifying herself as a good leader. She said, "I am a Head Girl at my school. I believe I am a good leader since I have qualities such as confidence, motivating others in a positive way, and I have convincing power."
My fellow Kisa Mentor, Aikande Muro, agrees that this lesson is one of the most worthwhile.  She says, "It teaches Scholars that we don't have to wait until we are successful to influence other people.  It all depends on how you relate to people now."  (Meet Aikande)
Part 4:  Case Study
As part of Kisa, we like to expose Scholars to people and ideas they might not have heard of before.  So, like the Year One leadership lesson where we introduced Wangari Maathai, this lesson included a case study on Muhammad Yunus, who is the founder of Grameen Bank and pioneered the concept of microfinance (i.e. credit for entrepreneurs too poor to access the traditional banking system).  For this work, he is another Nobel Peace Prize winner.  The girls learned how Yunus "finds solutions by listening to the poor and learning from the poor."
Part 5:  Scholar Presentations
The lesson ended with an assignment to create a presentation of 2-3 minutes on someone who is a leader and what makes them a good leader.  The Scholars would research the person's background and how they have demonstrated they are a leader.  And, most importantly, why the Scholar believes the person is a leader.  The leadership discussion will continue in a future class with the Scholars teaching each other… in fact, the topic is never-ending in the Kisa Project!
Why is this my favorite lesson?
For two main reasons – it has had a personal impact on me and I love to see my Scholars practice what they learned.
This lesson gives me the opportunity to asses myself on leadership characteristics and make sure that I am that kind of leader to my Scholars.  Witnessing the Scholars engage in this topic brings joy to my heart and makes me work even harder at being a great Mentor with the leadership characteristics that they mentioned in the classroom.
The Muhammad Yunus case study also had an impact me personally.  It made me realize that if you take a leadership course, but don't apply it to the people around you or your community, it is a wasted effort.  When you care for the people around you, you can practice your leadership skills.
By profession, I am an economist and I have thought about staying in that field to make a difference in policies. But, now that I am a Mentor, I come to realize that I am in a great position to share what I have gained through my own education, as well as what I've learned in the Kisa classroom.  This includes entrepreneurial skills, project planning, and problem analysis. From this lesson about Influential leaders, I know I want to continue being someone who cares.
Kisa Project is a two-year leadership course that prepares girls in their last two years of secondary school to attend university and create positive social change in their communities.
Would you like to help create the next generation of female leaders in Tanzania? Consider sponsoring a Kisa Scholar!
[vc_row row_type="row" text_align="left" css_animation=""][vc_column][vc_empty_space height="16px"][ult_buttons btn_title="Donate Now" btn_link="url:http%3A%2F%2Fafricaid.org%2Fdonate||target:%20_blank|" btn_align="ubtn-center" btn_size="ubtn-custom" btn_width="250″ btn_height="30″ btn_padding_left="10″ btn_padding_top="10″ btn_title_color="#ffffff" btn_bg_color="#331c59″ btn_bg_color_hover="#e45d1b" btn_title_color_hover="#fab344″ icon_size="32″ btn_icon_pos="ubtn-sep-icon-at-left" btn_font_size="24″][/vc_column][/vc_row][vc_row row_type="row" text_align="left" css_animation=""][vc_column][vc_column_text]