To the outside observer, AfricAid appears to be a well-oiled machine.  Vans come and go everyday shuttling Kisa Project and Binti Shupavu Mentors to their classes at secondary schools spread throughout the Arusha and Kilimanjaro Regions.  Large events such as Career Day, Health Symposiums, and Parent Engagement Meetings are organized and executed smoothly.  Hundreds of Scholars' End of Year One Presentations are delivered and judged and 2 Day Challenge projects are completed each year.  At the center of all this productivity, there is one person:  AfricAid's Director of Operations, Monica Swai.
[vc_video link="https://www.youtube.com/watch?v=kE5IutW0zm4″ align="center"]
In this Q&A, we are pleased to let Monica introduce herself and provide an understanding of her critical role.
What does the Director of Operations for AfricAid do?  Why do you like your job?
When you look at the definition of a Director of Operations, I do all of that.  I make sure that everyday activities run smoothly, from managing the budget to fixing a leaking tap in the restroom. I basically do everything else that does not fall under anyone else's job description. At AfricAid, I am the first person people go to when things go wrong. I make sure that everyone can do their jobs without difficulties.  I love it because it is never boring and I have grown a lot during my 7 years with AfricAid. The job has taught me (and keeps teaching me) how to be patient.  It teaches me creativity in coming up with solutions, and especially, how to relate to different kinds of people.
What special skills or characteristics does someone need to be an Operations Director for a non-profit organization?
The first attribute is flexibility.  Most non-profits cannot afford to employ different people for each task or position. One employee might have to wear more than one hat at the office and most of the time this kind of situation falls on the Operations Director or Manager. And since her main duty is to make sure the day-today activities happen without a glitch, being able to prioritize and adapt to situations quickly is also very, very important. But also, she has to learn to relate and deal with different personalities in a patient and calm manner. At the office, employees will be coming to you daily looking for a solution to their problems.  And, at the same time, you will be dealing with different kinds of people externally looking to solve their issues. You must be creative to ensure that daily tasks are completed effectively, despite limited time and resources.  Finally, it is also important to learn to effectively delegate!
It's clear that what top management has to say about Monica is entirely in sync with how she views her position!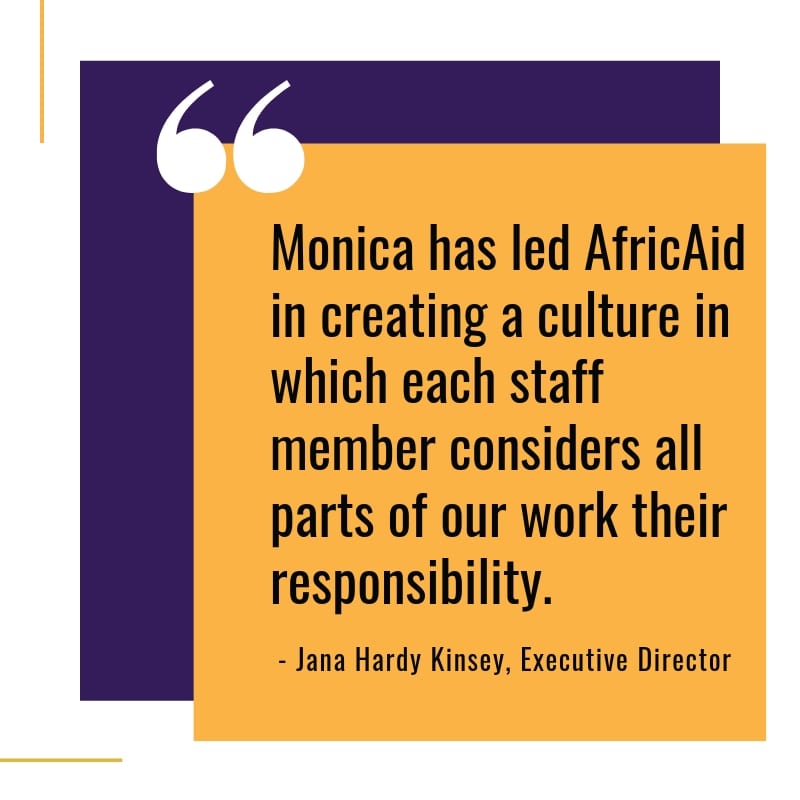 "Monica started working with AfricAid in 2012 as a part-time bookkeeper. From that position, she did what any smart, ambitious person should do; she made herself indispensable. In the seven years she's been part of the team, she's taken every opportunity to grow her skills and contribute to the organization. She's been our accountant, led our logistics and procurement, served as a substitute Mentor, and managed our drivers and office support staff. Most importantly, she has led AfricAid in creating a culture in which each staff member considers all parts of our work their responsibility." – Jana Hardy Kinsey, Executive Director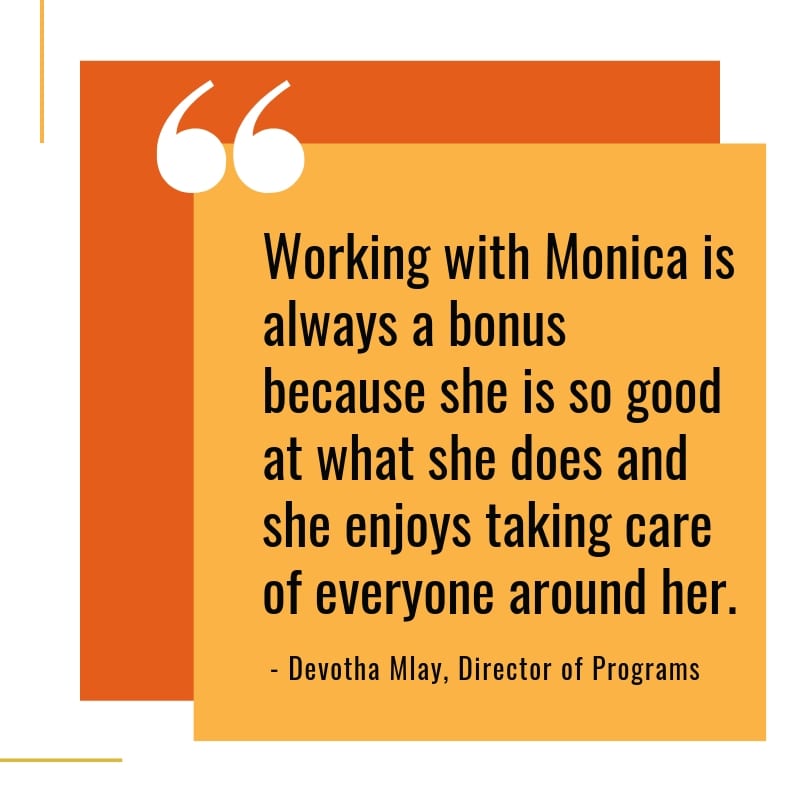 "Working with Monica is always a bonus because she is so good at what she does and she enjoys taking care of everyone around her.  If you have a problem, she will make sure she helps you as much as she can, even using her personal time.  She makes sure we have everything from a working internet, to fancy sticky notes, to food in our stomachs.  With Monica at the office, everyone gets spoiled."  – Devotha Mlay, Director of Programs
What did you dream of becoming when you were a girl?  How does what you are doing today compare to that dream?
I never dreamed of a fancy job or a job with a title like a doctor or an engineer. I think since I was raised to believe that I can be anything, I didn't really want to be just one thing. In the schools I went to, I was given opportunities to be a leader. I was a prefect in primary school, a head girl in secondary school, and a minister on my university's student organization board. In all these positions, what I enjoyed the most is the look on someone's face when I helped them to solve a problem, no matter how small the effort was on my part. So, this is what I wanted in life, to always to be in a position whereby I can help improve someone else's position – to always be a part of the reason someone has a smile on their face.
I am so grateful that even though my dream was more of a wish, what am doing now is fulfilling that wish:  I am part of a great organization (that is really like a family) that works hard together every day to make the dreams of Tanzanian girls a reality and to bring a smile to their faces. It is such a blessing!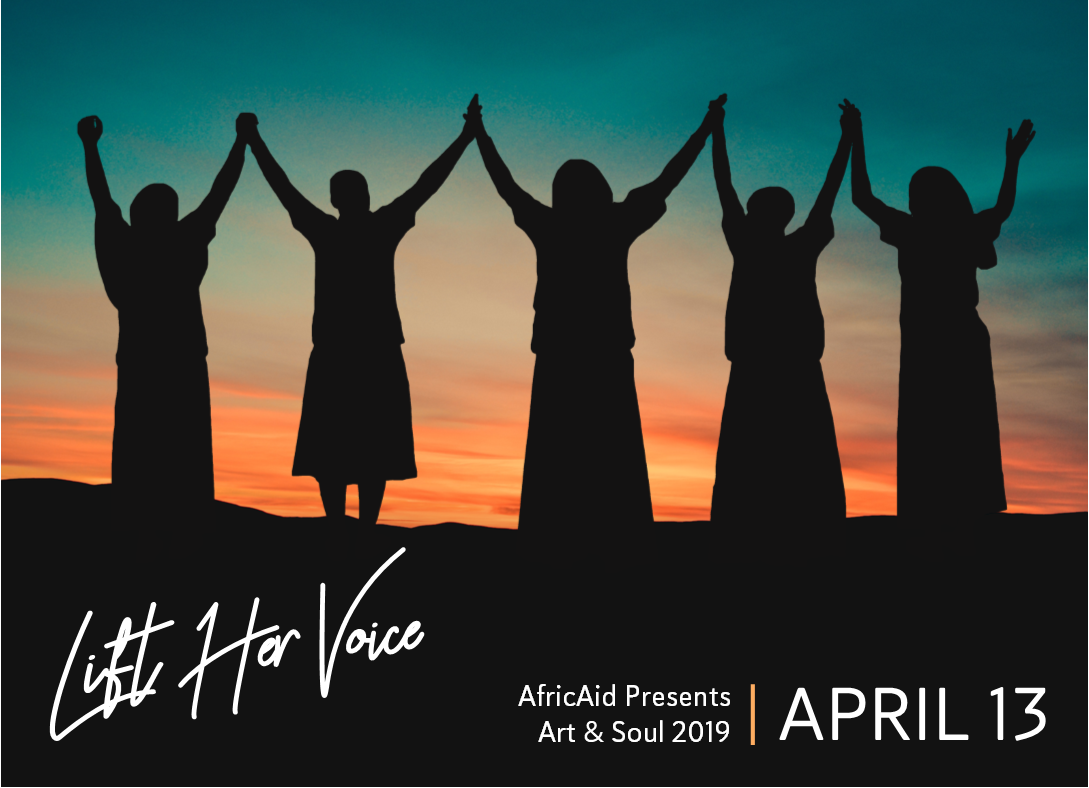 The 2019 theme for the Art & Soul event is "Life Her Voice."  Why it is important for a girl in Tanzania to have the opportunity to lift her voice and how does AfricAid support girls to do that? 
When I hear the phrase "Lift Her Voice," it makes me think of what we do at AfricAid. We lift our girls' voices and spread their stories to be heard beyond the walls of their minds and the walls of their bedrooms so that their parents, siblings, teachers, community, and the entire country can know what's within their hearts… to know their dreams, passion, and abilities…to really know them!  We create a platform for a girl's voice and her story to be heard. By doing so, we lift not only her, but every other girl behind her and show how capable and powerful a girl can be if we just listen!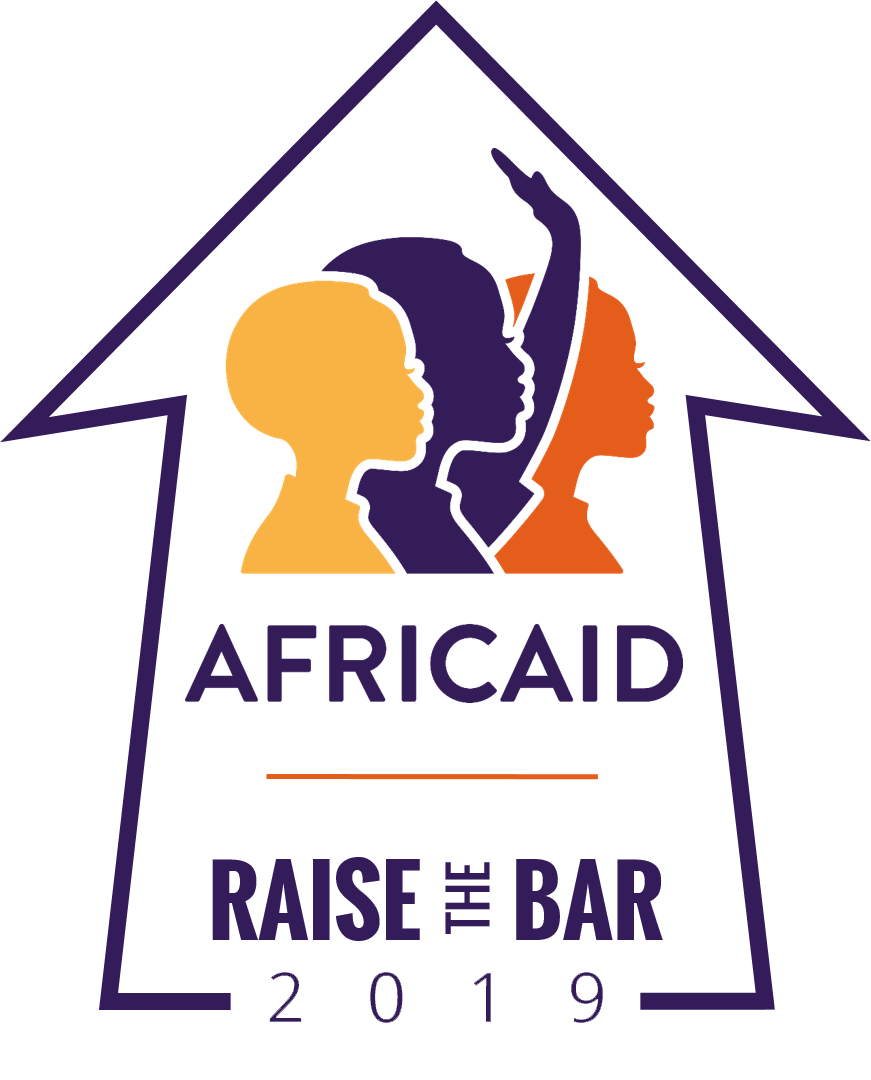 AfricAid's $1 Million Campaign theme is "Raise the Bar." What does this mean to you?
"Raise the Bar" to me means raising society's expectations with regard to girls' and women's strength and capabilities. For it to be widely accepted that we are of so much more value than just being mothers and housewives. Our society needs to raise the standard that it has put on girls because we are capable of so much more than the boundaries that they have put around us. I was lucky to be raised by a family that valued, believed, and pushed me to do and be better. I use the opportunity at AfricAid to give the same support to either colleagues or Scholars that need that extra push or a hand to reach their goals.
What are your proudest moments?
I started at AfricAid fresh from college as a part-time accountant as a means to support my three- year- old as a single mom.  One year later, I was given a full-time job and was trusted to manage the office.  I have earned several other promotions and am very proud of myself professionally.  Sometimes when I walk in town, I get recognized and greeted by Kisa Scholars and Alumnae and some see me as their role model. It feels really good to know that I have touched and added value to their lives even though I was not their direct Mentor.
Outside my job, every milestone that my son (now 10) achieves, makes me proud. Early this year, he was accepted to join an International School.  When he passed the interview exams, I shed tears since I wanted this opportunity so much for him. I actually have tears in my eyes every time I talk about him and the cool things he does. I am a proud mom!
Please share some memories from your childhood. 
I was a dad's girl (and I still am) and a big tomboy. I went with my dad everywhere and he liked to take me everywhere.  I liked to play soccer with my brother and his friends and did not know how to behave while wearing a skirt or dress. My parents believed in equality and treated my brothers and I the same. We all learned how to cook and clean, but also how to change a blown fuse in a circuit, which is a skill that am so grateful to have now that I am a single mom living alone.
Did you enjoy school as a girl?  What was your favorite subject? 
I went to my local school, Kaloleni Primary School, where everything except for the English subject was taught in Swahili. I then went to Arusha Meru for my secondary education. My favorite subjects were math, economics, and geography. I believe I was able to do well in secondary school despite my Swahili primary background because of my dad's work ethic. He encouraged me to read novels with a dictionary beside me and made sure I sat with him every day to watch half an hour of BBC News and Deutsche Welle. We also went through my math test books together before classes to make sure I knew the topics before they were taught. I loved this time with my dad.
Do you have a mentor?
Since my youth, I have looked up to my parents for guidance and they have always been there to advise and train me. I wouldn't be where I am now without them.  Another person I look up to is my boss, Jana Hardy Kinsey. From the time Jana joined AfricAid, I have been learning a lot from her simply by watching her. She has taught me to trust people and believe in their abilities by the way she trusts and believes in me with my job. She also has this easy going, "nothing is ever impossible" kind of attitude, which is very necessary for a leader. If you stay close enough to her for a while, you also acquire this outlook.
What do you enjoy doing in your free time?
I enjoy spending my free time at home with my son, Sean (10), and my dog, Kira (1), playing indoor games, such as cards and darts, watching soccer and animated movies, reading, trying out new recipes found on YouTube, eating, and best of them all, sleeping.
Why do you think it is important for women and girls to be empowered and leaders in society?
There is something about a female and the love she has for her people. In Africa, they tell men to be careful when they get married because their wife will use their funds to help her own family first before the man's family. Now, imagine giving her opportunities and capacity while she is still young, imagine believing in her, guiding her, and supporting her.  What changes she can ignite in her family, his family, and all of society if given a chance. All she needs is the support.
What are you most looking forward to seeing or doing when you visit the US?
I am excited to meet the people who, even without knowing us, give their time, advice, and money so that the girls in Tanzania will have a stronger voice and a better future. I am looking forward to sharing my story and the stories of the girls they support so that they can know how much of a difference they make to all of us. Also, I am looking forward to having a cultural exchange at the organizational and personal level in order to learn from the differences and similarities. Not to forget the food! I love food so I am going to try and eat every possible strange food in the US and report back to my younger brother and fellow foodie, Joel.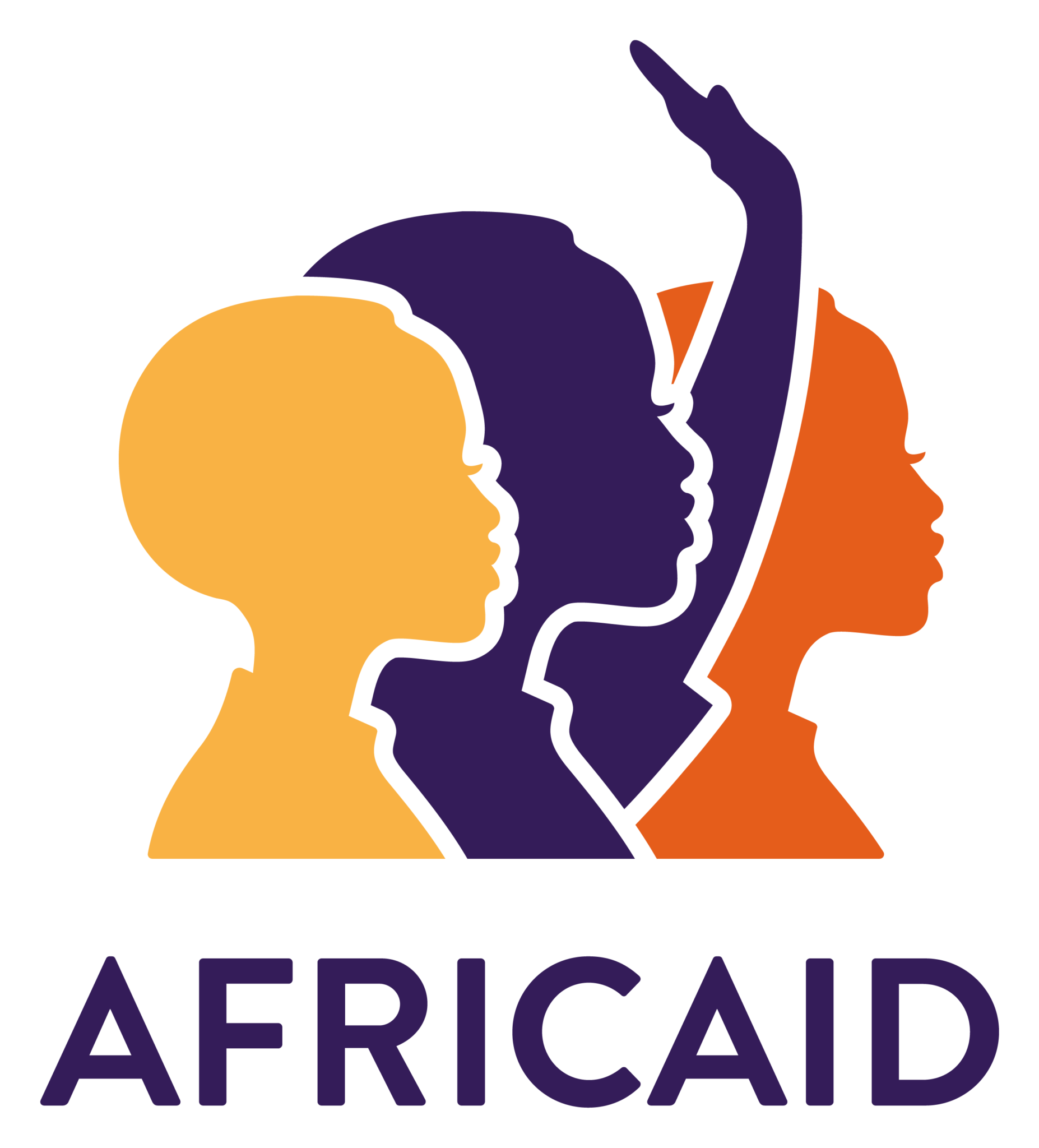 AfricAid mentors secondary school girls in Tanzania to complete their education, develop into confident leaders, and transform their own lives and their communities.  We equip girls to overcome challenges and reach their full potential because educated girls create lasting positive change.  The outcome is proactive, resilient, and socially-responsible girls who secure better jobs, raise healthier families and increase the standing of women in society.
[vc_row row_type="row" text_align="left" css_animation=""][vc_column][vc_empty_space height="16px"][ult_buttons btn_title="Donate Now" btn_link="url:http%3A%2F%2Fafricaid.org%2Fdonate||target:%20_blank|" btn_align="ubtn-center" btn_size="ubtn-custom" btn_width="250″ btn_height="30″ btn_padding_left="10″ btn_padding_top="10″ btn_title_color="#ffffff" btn_bg_color="#331c59″ btn_bg_color_hover="#e45d1b" btn_title_color_hover="#fab344″ icon_size="32″ btn_icon_pos="ubtn-sep-icon-at-left" btn_font_size="24″][/vc_column][/vc_row][vc_row row_type="row" text_align="left" css_animation=""][vc_column][vc_column_text]