When you first meet Stumai Simba, who goes by Mai, she seems younger than her years.  With the exception of the colorful scarf wrapped around her head and the stiletto heels that, combined, add 6" of height to her slight frame, she appears very youthful.  But when she begins to speak, in a poised and assertive way, you know immediately that she is actually a sophisticated marketer and seasoned entrepreneur.  Her ideas for new businesses and products come rushing out at a fast clip.  She is bursting with pride about her accomplishments and has big ideas for the future.
Clearly, Mai has a natural aptitude for entrepreneurship, but where did she learn to turn her ideas into reality?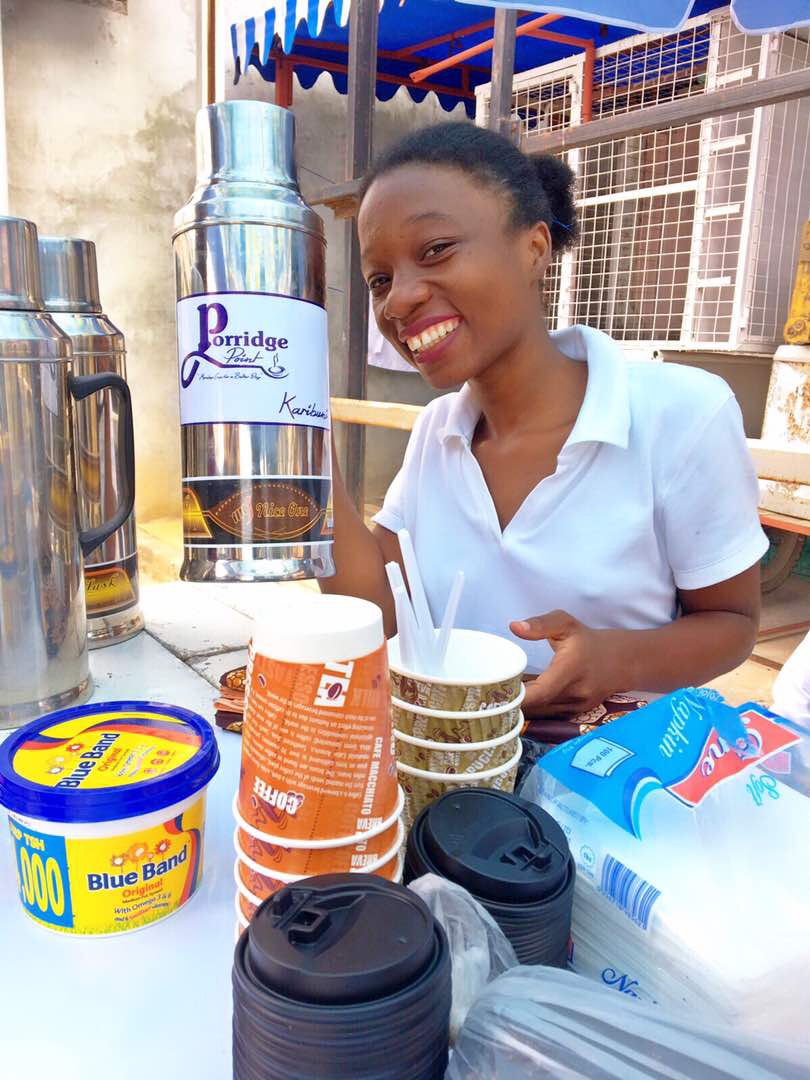 AfricAid's* Kisa Project.  Mai is a 2013 alumna of Arusha Secondary School and also one of the first graduates of Kisa, a two-year extra-curricular leadership program started by AfricAid in 2010.  Through Kisa she learned the hard skills of budgeting and planning and, at the same time, gained soft skills that include persistence and public speaking. Her Mentors Anande and Devotha gave Mai encouragement, which built her confidence every step of the way.  Mai is the sort of leader that the program develops.
Mai's story is one of resilience.  She grew up in the Ilala Boma section of Dar es Salaam and lost both her mother and father when she was very young.  Her older sister, Jamila, supported her, and made sure the bright girl continued to secondary school.  Sadly, Jamila also died, leaving Mai to raise her 2 month old son.  Mai continues to care for her nephew, who is now four years old, as if he were her own son.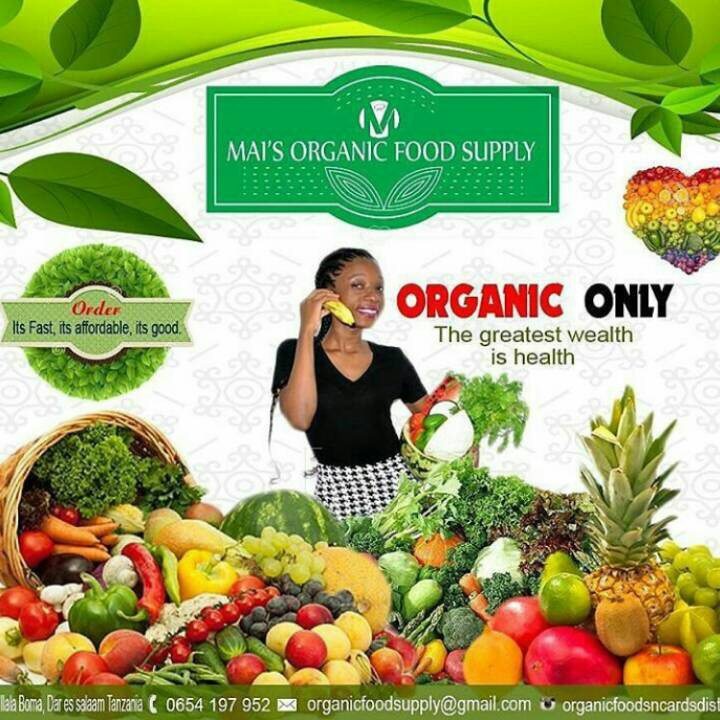 Mai's Organic Food Supply
Mai's first business idea was to connect the farmer to the supermarket in order to provide the freshest, healthiest possible vegetables to the consumer.  She buys the veggies directly from the farmer and delivers them to the supermarket by motorcycle taxi; the retailers order the product by texting her on WhatsApp.  She completed her bachelor's degree in Accounts and Finance from the Institute of Finance Management (IFM) in 2016 while running this enterprise, and it continues today even though she has branched out to bigger ideas.
Porridge Point
Porridge is the go-to breakfast meal for East Africans.  Mai is taking advantage of this tradition by bringing porridge TO the people!  She and three employees offer busy career people in Dar es Salaam a nourishing breakfast from a street corner stand.  Although the business has only been operational since September, Mai has been serving no less than 70 customers per day from the stand as she tracks her sales and sets a target each week.  Seeing how the product became an instant hit amongst morning commuters, she quickly expanded by acquiring two mobile carts.  Mai says, "Soon, porridge will be everywhere, just like Coca Cola!"  The business has grown by word of mouth, but she also has an Instagram page to generate buzz.
Mai shared her plans for the Porridge Point empire:
Branding is important to build loyalty and a reputation for quality. Not only do the carts have Porridge Point signs, but she has sourced a branded cup with a lid.
Staying affordable. She charges just 1,000 Tanzanian shillings per cup (which is less than $0.50).
New flavors. She currently offers 4 types of porridge:  rice, cassava, millet and sweet potato.  The rice is particularly delicious with coconut and vanilla added.  She plans to add other flavor options, as well as fortified porridge for kids and people that are HIV+.
Delivery to offices and hospitals. In Africa, one must bring food into the hospital for a relative when they are a patient.  So, it makes sense to set up the mobile cart near a hospital.
Expand to another part of day and serve vegetable soup for lunch.
But, perhaps Mai's most innovative idea is her desire to hire disabled people. She knows that someone whose legs do not work could still sit at one of her stands and serve customers.  Serving your community is one of the tenets of the Kisa Project.  "Our society thinks that disabled people cannot work.  I want to change people's perceptions as they pass by."
She would like to see Porridge Point carts someday in New York City!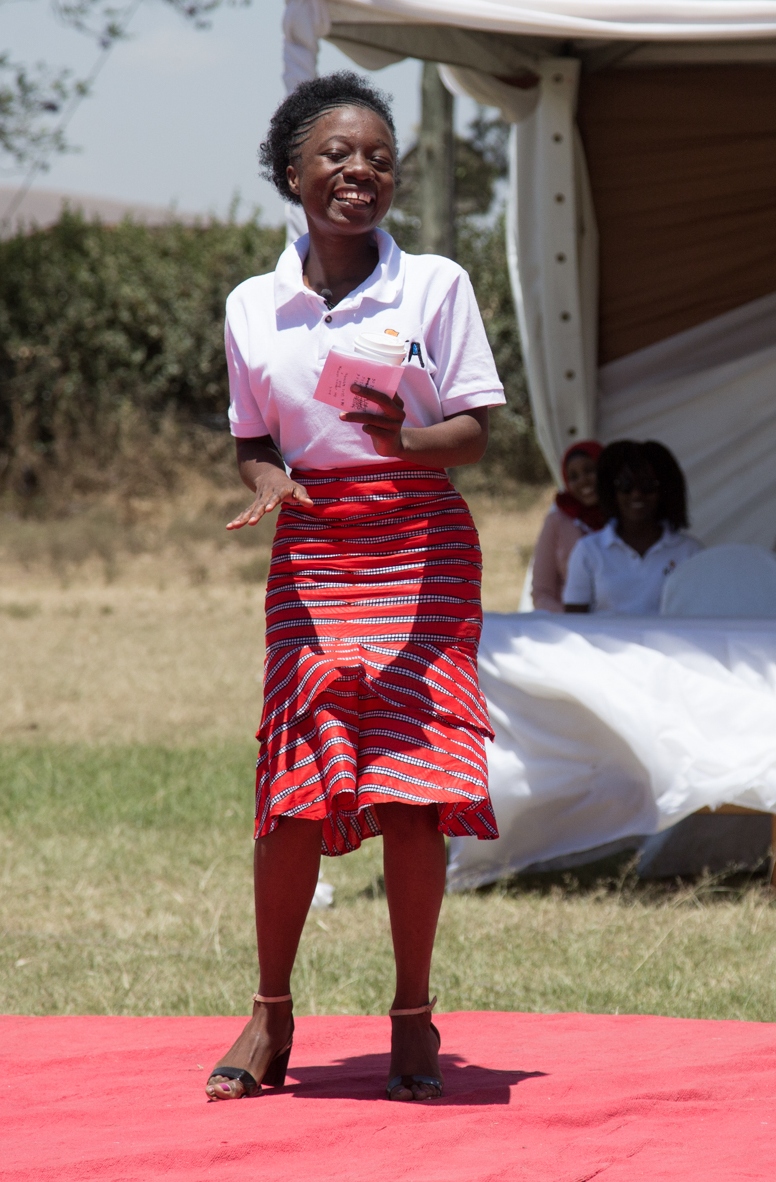 Uptown Girl Collection
Mai's true love is fashion design and the proceeds from the other businesses allow her to pursue this interest.  Most of the clothes she wears, she creates herself – from an elegant gold silk top and matching headscarf to on-trend dresses and skirts made from authentic local fabric.  Her number of fashion customers is steadily increasing and she has many orders to fill this Christmas season.  She also designs and sells wedding invitations through this business.  You might think that Mai gets worn out keeping so many balls in the air at once.  This is not the case at all – she gains energy through the excitement of seeing her dreams come to fruition.  "I do things I love so I never tire of them."
Career Day 2017 Speaker (Moshi and Arusha)
For the first time this year, one of the guest speakers was a Kisa graduate!  When developing the program, Kisa Project Managers Devotha Mlay and Hadija Hassan immediately thought that Mai would be the perfect person.  She is an excellent role model, motivating the Scholars with her success story, AND she is entirely relatable.  After all, she was in their spot just four years earlier.  It was an excellent decision.  She spoke energetically to the huge group in Swahili telling them "Everything is possible!" and "Stand on your line."  This means "stay focused."   For example, she focuses on porridge as a product instead of serving all types of food out of her carts.
The nearly 1,000 Kisa Scholars in attendance at both Career Days thought Mai was a rock star!  They cheered loudly for her and many chose to attend her afternoon break-out sessions to find out exactly how she achieved her business success and ask personal questions.
AfricAid is proud to have Stumai Simba represent our organization as a Kisa Alumna.  We know that because of our proven and sought after empowerment curriculum, there are many more success stories, and leaders like Mai, in the making!

AfricAid* supports girls' education in Africa in order to provide them with the opportunity to transform their own lives and the futures of their communities.  In 2018, 4,000 girls in Tanzania will be empowered through AfricAid's two programs.  Binti Shupavu is a needs-driven training and mentoring program that gives vulnerable younger adolescent girls the knowledge, skills and support they need to stay in and complete secondary school.  The Kisa Project delivers leadership and life skills training and mentoring to girls in their last two years of high school.  As a result, 98% of these young women enter university. Through the End of Year One Presentation and the 2 Day Challenge, Kisa Scholars identify problems in their communities and recommend solutions.  An active Kisa Alumnae Network enables graduates of the program to continue to learn from and support each other.
[vc_row row_type="row" text_align="left" css_animation=""][vc_column][ult_buttons btn_title="Donate Now" btn_link="url:http%3A%2F%2Fafricaid.org%2Fdonate||target:%20_blank|" btn_align="ubtn-right" btn_size="ubtn-custom" btn_width="250″ btn_height="30″ btn_padding_left="10″ btn_padding_top="10″ btn_bg_color="#ffffff" btn_hover="ubtn-top-bg" btn_bg_color_hover="#ffce5b" icon_size="32″ btn_icon_pos="ubtn-sep-icon-at-left" btn_border_style="solid" btn_color_border="#bf2026″ btn_border_size="3″ btn_radius="3″ btn_font_size="25″][/vc_column][/vc_row]