The Kisa Project broadens minds while building practical skills.  Without a program like Kisa, a Tanzanian school girl may not be able to picture a successful future for herself.  With the stimulating weekly curriculum, the special events such as Career Day and Health Symposium, the growth experiences such as Year One Presentations and the 2 Day Challenge, and the professional Mentors who are role models and confidantes, a young woman develops the confidence to set a big goal and the self-awareness to dream.
Three recent Kisa Alumnae share their big dreams and explain how Kisa equipped them to take steps toward them.  All three of these young women started businesses to pay their way through university.  Earning a degree was their goal, but their dreams extend way beyond that.
---
Philipina Lengise
Mwika High School, Kisa Class of 2016-18
University of Dar es Salaam (PR and Advertising)
Philipina's Dream:  To own her own car.
Philipina runs a successful business upscaling and reselling recycled slippers, shoes, handbags, and other items. 
Before Kisa, I was not able to stand and express myself.  I became confident as a Kisa person and gave the best presentations.  It was the entrepreneurship classes in Kisa that really brought out my personality.
I was in a remote area and had no funds to start a business.  I picked up slippers in bad areas that were thrown away.  I washed them and put on materials so they could be fancier and re-used.  I find my clients by word of mouth, which works especially well in a university setting.  They are happy and excited to see the before and after.
Now that I am in Dar es Salaam, I sell to all kinds of people and they think my products are so innovative.  I am able to sell my products all around Tanzania – when someone places an order, I ship it to them on public transport.  I've even sold to people from abroad.  A company employed me to create Kitenge and African print phone cases.  They are classy and sell for a higher price.  A phone case takes less than an hour to make.  When I get a job after university, I plan to continue with this side business.
Kisa changed my life for good! It helped me understand that by starting a business I can support myself.  I was not sure my father would pay to send me to university.  Not only does the money I earn help pay my university fees, I was able to buy myself a car.  My dad is extremely proud of me now and even wants to join my business.
Hear Philipina talk about her business and what she learned from Kisa!
---
Ruth Shayo
@lohis_cakes
Mawenzi Secondary School, Kisa Class of 2015-17
Moshi Cooperative University (Accounting and Finance)
Ruth's Dream: To open a bakery shop – and once it is established, to use the space to train other girls how to bake cakes and become entrepreneurs.
Ruth started a business baking custom cakes while in university and is on track to open her own store soon.  
Lohi, another Kisa Scholar, was my best friend.  Together, we started a cake baking business.  We had two more years to finish our degrees and then we planned to open a business in Moshi.  At holidays, I told her what I knew and she told me what she knew.  We started the business just like that.  My first cake was actually horrible.  I didn't know how to use the tools.  My mom supports me thinking big and she asked a friend to give me a lesson.
Our friends and family were our clients at first.  We posted on WhatsApp and Instagram and customers came to us!  As the business grew and it was challenging to balance class work with the orders.  It was either decline orders or work extra time – we worked extra!
But then Lohi died in early 2021 in a car accident.  I am honoring her by still opening a bakery and I will call it "Lohi's Cakes."  I have found a great location in a high traffic place.
Kisa made me.  Kisa taught me how to learn in university and how to continue to learn in daily life.  My Kisa Mentors built an entrepreneurial spirit in me that anything is possible.  Through lessons like the Mandela leadership principles, I learned that being a leader means letting people feel their opinion matters.  This directly relates to my business and my interaction with my customers.  I make them feel important and involved.  I listen very intently as I want to give them what they really wish to get.
I have a calling to inspire other young girls to do more, to go beyond, to try anything – anything – to learn new skills.  I want to tell girls what I learned in Kisa and what I am learning in life.  I want them to know the sky is the limit so they can do something great with their lives.  I have a childhood friend who got pregnant and didn't finish her studies – I am teaching her baking now.
"When Ruth was a Kisa Scholar, she asked so many questions about university.  When she was at university, she came back to her secondary school, Mawenzi, to speak about life at university.  That day, I remember she was dressed gorgeous.  She said she remembered the lesson on Mandela's Leadership Principles and that one of her own principles is 'appearance matters!'  After the death of her friend Lohi, she was really sad.  But I am so proud of her for having the courage to keep on going.  She has even come to the GLAMI office to get customers for her cakes."
Magdalena Kitinya, Ruth's Kisa Mentor
---
Mhelepu Shillingi
@mhelepushillingi_arts
Mkuu High School, Kisa Class of 2016-18
Institute of Finance Management (Social Protection)
Mhelepu's Dream: To open an art studio and help other girls see that art can be a professional job and a good source of income.
Mhelepu is an award winning and internationally known self-taught artist who takes commissions for her realism portraits.
I am so passionate about art and enjoy it so much.  When you have a unique talent, you don't have to do it for free!  Kisa gave me the idea to start a business selling my artwork.
I use Instagram and WhatsApp to advertise my art and find clients and I have been in exhibitions. I have also partnered with a local sit-down restaurant in Dar es Salaam.  They allow me to set up there and do live portraits.  In March, 2021, I received an award from a Member of Parliament for this creative idea.  I was also recently featured on a UN Women webinar.
From Kisa, I learned so many important skills that have helped me in my business.  These include time management (managing school and my art), decision making, budgeting, and public speaking.  Career Day also was very inspiring and motivating to me.
The 2 Day Challenge that we do at the end of our time in Kisa taught me the value of teamwork and networking.  In the 2DC, you come up with a community improvement idea, figure out how to implement it, and then do it together as a class.  Putting on an exhibition or workshop with fellow artists is a common goal and requires we work together – it's the same thing!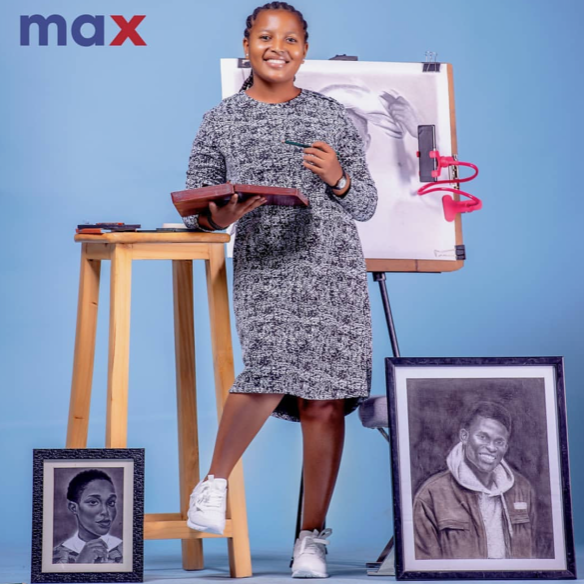 My class was the first at my school to have Kisa.  I joined because I needed a guideline to help me achieve my goals and meet my dreams – and it is happening.
I want to study art and learn other types of art (painting and animation, for example) while encouraging other girls meet their artistic goals.  When you are a beginner, it is challenging because people don't value art or see it as a professional job.  I want to change mindsets so everyone will see art as a source of income.
"Mhelepu was one of my Kisa Scholars – she had a bright smile and was so creative!  I admire so many things about her.  She keeps on pushing herself, does not give up on her dreams, and is always ready to work and support others with kindness.  I have seen her confidence continue to develop and grow in the way she has finessed her arts since secondary school."
Mary Maika, Mhelepu's Kisa Mentor
---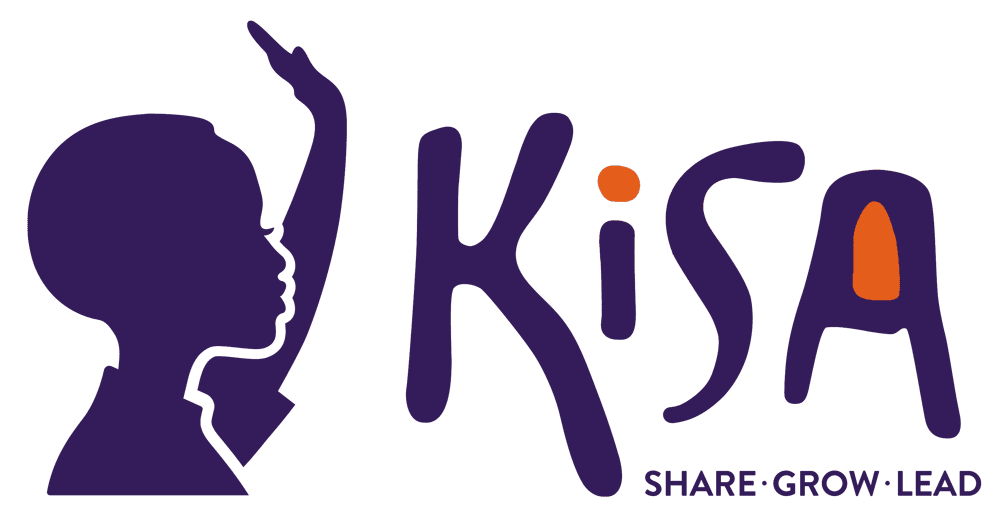 Kisa Project is a two-year leadership course that prepares girls in their last two years of secondary school to attend university and create positive social change in their communities.