Binti Shupavu Mentors have extra wide smiles of joy and pride on their faces right now.  Why?  2018 Tanzanian National Exam results were released earlier in 2019.  In November, Binti Shupavu Scholars sat for these exams for the first time since joining the life skills program at its inception in 2017. Their increased pass rate is tangible and reaffirming evidence that the program is aiding girls in advancing through secondary school.
Like teenagers the world over, Tanzanian students suffer from exam stress.  While annual exams at school are demanding, the National Examinations administered at the end of Forms Two and Four (midway and at the end of Ordinary Level) can be the cause of actual panic.  This is because these exams mark huge academic milestones and are truly make-or-break moments in a young person's academic career.  The Form Two test outcome predicts who can proceed to upper classes, or if they might need to repeat that grade.  Due to the shame of seeing her peers go on without her to higher classes, a girl is more likely to drop out of school at this time.
Form Four scores are even more critical as they determine whether a student will continue to Advanced Level (Forms 5 and 6) and possibly on to university.  They also identify the three subject "combination" she will study.  Students who fail the Form Four exam are at the end of their educational career.  Only students who have a strong showing will finish high school, the below average girls will have limited career choices and may pursue some type of vocational training instead.
When so much is at stake, no wonder there is anxiety and panic, which actually works to defeat a girl's chances for success.  Binti Shupavu, therefore, puts a big emphasis on taking the mystique out of these major exams so that the girls will prepare well and approach the process more calmly.  We encourage all girls to aim higher and reach their goals of completing their studies.
Success is in the Numbers!
In addition to working on general study habits all year long, Binti Shupavu Mentors help Scholars know what to expect during exams.  Using prior years' exams, they acquaint the girls with the instructions, format and special terminology.  Remember that up until this time, classroom instruction has been predominantly in their national language, Kiswahili.  But, the exams are in English!  Many students fail the exam not because they do not know the answers, but because they don't understand the terminology.  Since this is one of the key challenges for Scholars, Mentors focus on helping them understand various English words.
How did our Binti Shupavu Scholars do in 2018?
Form Two Result: 350 Binti Shupavu Scholars in the Kilimanjaro and Arusha Regions took the exam and 97% of them passed.  This is a 7% higher pass rate than other girls in the same schools.
Form Four Result: 336 Binti Shupavu Scholars in the Kilimanjaro Region took the exam and 88% of them passed.  This is a 10% higher pass rate than other students in the same schools in that region.  (Note:  in 2018 the program was only in one region.)
Understanding how student academic performance has much to do with further opportunities, we go extra mile to create alternative approaches to enhance our Scholars chances of success. For example, in Arusha schools where there were only Year One Scholars in 2018, the team took the initiative to follow up on Scholars' annual school examination results in those locations.  Scholars who are already doing better academically can be paired with the ones who are struggling and help each other as together they prepare for their Form Two National Exams in November, 2019.
Parents Play an Important Role
Waiting for the publication of exam results is an apprehensive time, not only for students, but for parents, teachers and everyone who is connected to the student taking the examinations.  Results are generally uncertain and people prepare themselves for possible disappointment.  Despite the fact that students are primarily responsible for their own examination results, teachers, parents, schools, and government resources play huge part as well.  Unfortunately, many parents are unsupportive to their daughter's further educational opportunities due to her poor Form Four National Examination results.  It is through Parent Engagement Meetings that we create awareness about how parents and guardians must play their part too and how they should continue being supportive even at times of academic disappointment.
Scholars say Asante Sana!
This is how Mentors know the results are in: their phones start buzzing!  Binti Shupavu Scholars and Alumnae who performed well on their exams call to happily share their academic achievements.  We also chat with them before or after class.  This makes all the Mentors so excited as we see the fruits of what we planted.  Binti Shupavu Mentor, Flora Meena, says that Scholars "testified that study skills lessons played a positive role in giving them direction on why, how, when and where they should study. The knowledge we are spreading is changing our Scholars lives by helping them reach their academic and life goals."
Scholars who did not fare so well reach out also.  Alumnae who had poor performance feel frustrated at being stuck and seek guidance from their Mentors.  We actually felt reassured that even at times of disappointment, they still remember to use one of the skills delivered during Binti Shupavu Classes, which is "how to seek help during hard times.''  AfricAid's social worker sought out seven Form Two Scholars who did not pass their National Examinations.  Despite all the support she gave, only three agreed to repeat Form Two classes and, sadly, four chose to drop out of school.
"I am overwhelmed with the Binti Shupavu Scholars' results and I am proud of their achievement. Some of them texted, thanking me for giving them hope that they can do better and believe in themselves. It makes my heart tingle knowing I had some small part in their achievement. Some of them are not so happy with their results and they are consulting me for help and sisterly advice.  I am trying my level best to be there for them because I still believe they can achieve more and develop their dreams." Evaline Saitoti, Binti Shupavu Mentor
''Binti Shupavu has helped me in my academic life. During my practice exams I got a Division 3.23 (see below for how to interpret this result) and my parents and teachers were not happy with me.  I cried so much and felt I was dumb.  But I went to Binti Shupavu class and was taught the lesson about Creating a Timetable.  I created one and wrote on it encouraging words to myself.  I improved my performance to Division 2.18 and did not fail any of my subjects.  From Binti Shupavu, I learned that I CAN."   Doreen, Year 3 Binti Shupavu Scholar, Langasani Secondary School (Year 2 in 2018)
"The knowledge I acquired from Binti Shupavu makes me proud.  I performed very well (Division 2.21) on my Form Four National Examination in 2018 because of words of encouragement from my Mentor.   We had many challenges at my school that risked our performing poorly and I wanted to prove that girls can do better. Before, I struggled with forgetting what I studied and how to prioritize my studying timetable. Binti Shupavu helped me understand the studying skills that work best for me and stay committed. I am now proactive, strong, and confident.  I will encourage other girls at school to participate in Binti Shupavu.'' Sylvia, Binti Shupavu Alumna from TPC Secondary School (Year 4 in 2018)
The 2018 National Exam results reinforce what we thought to be true.  Academic performance is improved by helping girls with study skills strategies and coaching them on what to expect during National Exams, while encouraging parents to play their part.  AfricAid would like to give even more academic support to our thousands of Binti Shupavu Scholars, especially at exam time, to increase their chance of developing their potential.
Understanding National Exam Results
Students in Form Two and Four are tested in seven Ordinary Level subject areas.  These are:  Mathematics, Biology, Chemistry, Physics, Geography, English, and Kiswahili.  The better they score in a particular subject, the lower the number of points assigned in determining their Division.  Therefore, a perfect outcome is a 7 (and this would be extraordinary).  Doreen, quoted above, moved up one Division, from Good to Very Good.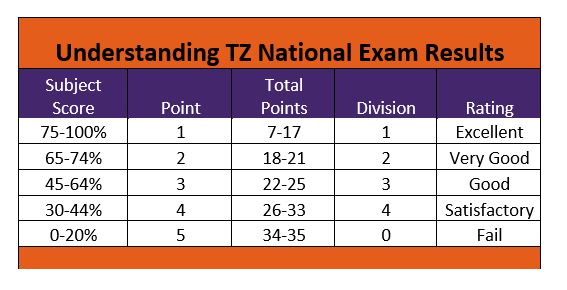 For more insight into the Tanzanian school system, read these blogs from 2018:
What is it like to go to school in Tanzania?
The Journey from Academics to a Profession
Binti Shupavu is a four-year life skills course for lower secondary school girls covering topics such as study skills, personal leadership, health and self-confidence with the goal of increasing graduation rates for vulnerable girls.