That means Good bye and Thank you!
AfricAid has been incredibly fortunate to have Dr. Ngaire McCubben, an international and community development professional on board in Tanzania for the last three years, thanks to the Australian Volunteers for International Development program, an Australian Government initiative. Without a doubt, Ngaire's legacy is Binti Shupavu. Along with Project Managers Eligrania Lema and Asimwe Suedi, she spearheaded the research behind and implementation of the pilot of this beneficial project, which is already improving the futures of hundreds of Tanzanian girls and is poised for major expansion.
Now that it is time for her to return to her home in Australia, Ngaire herself explains how she came to work at AfricAid and we get to know her in this Q&A.[vc_row row_type="row" text_align="left" css_animation=""][vc_column][vc_separator type="normal" color="#ffce5b"][vc_column_text]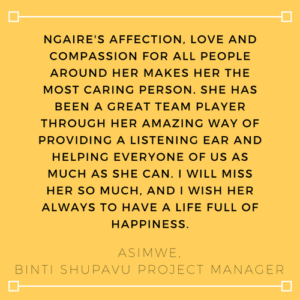 My volunteer assignments with AfricAid are part of the Australian Volunteers for International Development (AVID) program, an Australian Government initiative, which is similar to the United States' Peace Corps. The Australian Government has suppor
ted international volunteering for more than 60 years and has mobilized volunteers to 40 countries. The AVID program is delivered in Tanzania by AVI, which is in the business of connecting people to share skills and experience to help achieve change across the world. AVI and the AVID program are both committed to locally driven change, shared expertise and innovative partnerships.
I have personally experienced that "connection" and love my work! I get great satisfaction from seeing positive change take place, whether at the level of the individual or community. I love the positive changes that have happened to me, through expanding my skill set, being immersed in a culture different from the one I grew up in, and making so many great friends through my work.
My first volunteer assignment with AfricAid, in 2014, focused on fundraising and communication. My work related to AfricAid's grants program and in early 2016, we were awarded a grant through the AVI Community Grants Scheme. The funding supported the community service component of the Kisa Project, known as the Two Day Challenge.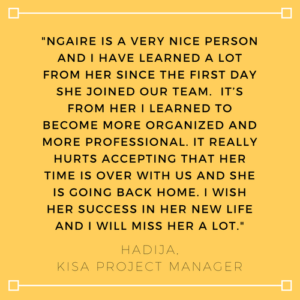 In February 2016, I started a new volunteer assignment in the role of Program Development Coordinator to assist AfricAid in expanding its reach and impact. I worked closely with my Tanzanian colleagues, including Project Managers Eligrania Lema and Asimwe Suedi, to research and develop Binti Shupavu (Courageous Daughter). This program is aimed at younger, more rural, and hence more vulnerable, adolescent girls. I was really excited when we commenced a pilot serving 800 girls in 10 partner schools in January, 2017. Even better, we recruited four Kisa Project Alumnae to deliver the Binti Shupavu Life Skills and Personal Leadership Course.
What drew you to volunteering with in the international development field?
My background is in tourism, and I have a PhD in Cultural Studies. I worked in community development in Australia and then had the opportunity to work for 12 months for another NGO in Tanzania. I had a strong yearning to go back to Tanzania when I learned about the opportunity to volunteer through AVI. My work with AfricAid, along with a Masters in International Community Development that I earned while here, has really expanded my knowledge of and interest in this field.
Why are you passionate about girls' education?
Women and girls around the world are marginalized and discriminated against and don't have anywhere near the opportunities they should have to develop their potential and be the best they can be. They are disproportionately affected by poverty. I am interested in reducing inequalities of all kinds and working to support disadvantaged groups. It feels empowering to be part of positive change.
What did you like the most about living in Tanzania?
I like the relaxed pace of life and the way Tanzanians make a lot of time for each other, their families and their communities. Relationships are so important and here we are able to focus more onthem without many of the material distractions and stresses of the Western world. I loved being immersed in a new culture and working on improving my Swahili. Also, the weather is fantastic! In winter, it rarely goes below 18 degrees Celsius (64 degrees Fahrenheit), and in summer, it doesn't usually get much hotter than 32 (90 degrees Fahrenheit).
What was the biggest challenge you faced while working in Tanzania?
I have lived and worked in Tanzania for 4 ½ years (3 most recently with AfricAid) and the biggest challenge for me during that time was being so far away from family. It is hard to miss out on family activities and milestones! My sister and some friends did come to visit.
Frustrations such as power cuts and spotty internet did not bother me too much – I had to learn to go with the flow because getting upset doesn't help.
What other countries have you visited in Africa, what parts of Tanzania did you explore?
I mainly used my leave each year to go home to Australia to visit family. However, I did have the opportunity to travel to Rwanda, Kenya and Ethiopia. The language, cultural and ethnic differences of Ethiopia are striking. I also went to the southern and western parts of Tanzania, along with the coast. There are still places in this country I would like to see though, so I will definitely be coming back to visit!
What roles did you have during your time at AfricAid?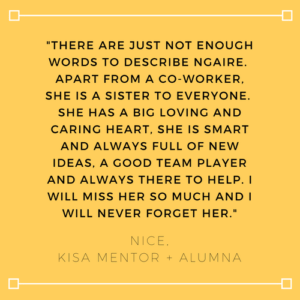 I am currently finishing my second volunteer assignment with AfricAid. The first assignment was for 1 ½ years and I worked on fundraising and communications and spent a lot of time grant writing. I really love this type of writing and am really proud of our success rate for obtaining grant funds!
For the most recent 1 ½ years, I was the Project Development Coordinator and worked on a number of development activities, including for the new Binti Shupavu program, which aims to reduce the number of adolescent girls who drop out of school. I worked on every aspect of the program to launch its pilot year (2017): research, testing, curriculum development, communicating, designing an evaluation system, recruiting and looking for multi-year funding. It was a fantastic experience in every way – I learned so much and loved every minute of it! I am so proud of the impact it is having and that there are plans in place for its continued growth.
What are your fondest memories of your assignment with AfricAid?
My most wonderful memories will always be about the strengths of the relationships in AfricAid's Tanzania offices. The staff care about and support each other. There is genuine love and concern, and a sense of community that I have not found in a Western workplace. I will miss seeing my wonderful colleagues every day, but we will stay in touch and I will definitely be back for a visit!
I will also miss my Swahili lessons with Kaka Oscar (AfricAid's driver, who gets the staff safely to the Partner Schools and appointments). He is so kind, patient and encouraging, and corrected me gently as I learned new words and phrases during the morning drives.
Finally, I will really miss AfricAid's cook, Dada Lillian, and her food! My favorite dish she made was wali nyama, which is a meat stew with rice.
What are your future plans?
I have very exciting news on that front! I will soon be starting a new job as Trusts and Foundations Coordinator for a large well-known charity in Australia. I am excited to be writing grants for them and continuing my career with meaningful work that creates a better society.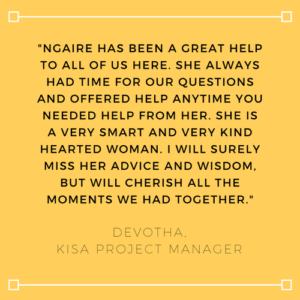 Who was your role model/inspiration?
I draw bits and pieces of inspiration from a whole range of people. My two grandmothers, neither of whom I knew, lived quite difficult lives. So, in tribute to them, I try my best to make the most of the opportunities I've got.
What do you like to do for fun?
I go to the gym regularly, but spending time with friends is definitely my favorite thing to do. Devotha (one of AfricAid's Kisa Project Managers) recently held a farewell party for me at her home. It was a full house of singing, dancing and laughing. We had a lot of fun! And last week, the entire office went to Arusha National Park for a day trip (here we are in the photo above).[/vc_column_text][/vc_column][/vc_row][vc_row row_type="row" text_align="left" css_animation=""][vc_column][vc_separator type="normal" color="#ffce5b"][vc_column_text]
Ngaire's favorite:
Pastime – Cooking
Book – Fiction, especially the authors Richard Flanagan, Khaled Hosseini and Chimamanda Ngozi Adichie
Movie – I don't have a particular favorite movie, but I enjoy going to the cinema while in Australia. In Tanzania, I often watched movies on my laptop.
Food – Roast chicken and chocolate!
Holiday – Christmas, because it is family time, people are nicer to each other and in Australia its summer![/vc_column_text][/vc_column][/vc_row][vc_row row_type="row" text_align="left" css_animation=""][vc_column][vc_empty_space][vc_column_text]
[/vc_column_text][/vc_column][/vc_row]