Courage is the enforcing virtue, the one that makes possible all the other virtues common to exceptional leaders:  honesty, integrity, confidence, compassion, and humility.  Senator John McCain
Meet Francisca, one of my courageous mentees.  She is "Head Girl" (i.e. Student Body President) of Machame Girls' Secondary School in Kilimanjaro, Tanzania.  Being a Kisa Scholar gave her the courage, and all the other associated virtues, to compete for and win this influential role at her school.  (She is shown second from right in the photo of the group of Kisa Scholars at the top.)
Before joining Kisa, Francisca did not know the importance of being a leader.  She never had a dream, nor did she know the difference between a goal and a vision.  Through the Kisa Project, Francisca learned that leadership is about having confidence during setbacks, stepping back so that others can step up, and leading changes.  She learned that leaders do not just do things, but change them.  They listen with the goals of learning, encouraging others, and maintaining a focus on the future.
Francisca's Story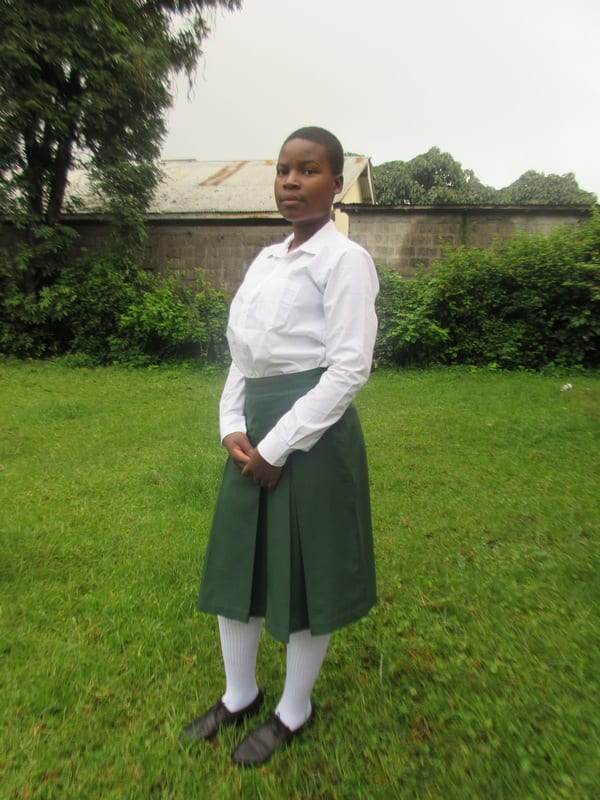 My name is Francisca.  I am 19 years old, in Form Five and a Year One Kisa Scholar at Machame Girls' Secondary School.  I come from Mbeya, a region and city in the southern highlands of Tanzania.  The distance from my home to my school is 777 kilometers – they are on entirely opposite ends of the country.  I am the third born in my family of six children, which includes two brothers, one sister, and two cousins living with us.
I used the skills I gained from Kisa, especially public speaking and self-confidence, during my campaign for Head Girl.  I believe they gave me more credibility with both teachers and students, and enabled me to win the election.  Kisa also taught me how to assess my school and find the challenges, such as poor toilets and sewage systems, or damaged floors in the classrooms and dormitories.  I presented these challenges during my campaign and promised my fellow students I would deal with them once I was elected to run student government. 
Thanks to the Kisa Project and my Mentor, I gained a lot of life skills.  These include time management in my daily life routine, self-esteem, and self-awareness.  Kisa is essentially a program to develop leaders – and it does!  Kisa has helped me understand leadership work styles (my own and others), my strengths and weaknesses as a leader, how to deal with different personalities, and how to find possible win-win solutions.
 A common theme is visionary leadership, which means solving community problems together and helping those in need.  This is actually a pillar of my position as Head Girl.  In this role, I have faced challenges of irresponsibility in my fellow leaders.  I arranged a meeting with them so that I could share some of the Kisa lessons (for instance, visionary leadership, leadership styles, and being proactive).  This changed them and they have become more responsible leaders.  This made me especially proud of being a Kisa Scholar.
All the Kisa classes are really marvelous, but my favorite lessons are the series called "Big Hairy, Audacious Goals and Networking."  These are the lessons that have really taught me how to implement my goals and make them a reality by forming positive relationships and building social networks. 
My future goal is to own my own international catering company – baking cakes, providing buffet services, and managing cocktail parties.  I dream of becoming a food supplier to different schools, hotels and motels, and would like to study to become a dietician.  This plan supports my vision of one day also opening an orphanage, which would provide proper nutrition and other basic needs to disadvantaged children.  The Kisa lessons in entrepreneurship, including risk management and creativity, are going to help me achieve these goals. 
I could not do all of this if it was not for Kisa.  It has made me who I am today – strong and confident, and able to dream big while realizing my potential and abilities.  It has laid a great foundation for a successful future.
Francisca can now see the importance of being a leader.  She is enjoying the journey of transformation, individually, at her school, and in her community at large.  We can't wait to order one of her cakes or attend one of her parties!
Kisa Project is a two-year leadership course that prepares girls in their last two years of secondary school to attend university and create positive social change in their communities.