When trying to think of a girl to interview for this story, my mind went straight to Helen (not her real name).  I have mentored many Kisa Scholars, but few are as confident, bright and articulate as this young woman.   Last year, Helen was awarded "Top Kisa Student" for her school, because she loved to really get involved in the class, and made lots of effort with the take home exercises. The content of our Curriculum seemed to be relevant to her, and during classes she would always give us such good examples from real life.
As I approached Helen, she giggled and smiled.  As the conversation continued, she portrayed much charm, and a positive vibe emanated from her.  At 21 years old, she is one of the older girls in her class at Ashira Girls Secondary School. In previous years, many Tanzanian girls would start school at an older age, so this is not unusual. She is in the last year of school, and has started her second year with the Kisa Project. At school, she pursues the CBG combination (Chemistry, Biology and Geography).
I appreciate that Helen took the time to talk with me.  I am sure that this young woman will be a very good ambassador for the Kisa Project, and will carry this legacy on to other aspects of her life.  As with most people around her, I have been delighted with Helen's stories and her company.  I know that AfricAid's supporters will also enjoy getting to know this standout Scholar through this video and interview.
[vc_video link="https://www.youtube.com/watch?v=WDdth-CLz4o" align="center"]
Helen's Interview
What do you enjoy most about your school?
I love my school because it's quiet, peaceful and very green and lush, which makes it very conducive for studying.  Furthermore, my teachers are accountable and they make sure that each and every one of us understands in class.
How will your classmates remember you?
(She giggled at first and had a reflective smile). Well, they will definitely remember me as the funniest girl in class with the amazing stories that I have up in my sleeves.
Which teacher had the greatest influence on you?
Mr. George, our chemistry teacher. He has been there for me through thick and thin, advising me not only in academs, but even different issues about life. He has pushed me and made me study more and I have gotten really good in chemistry.
What are your best memories from school? And the worst?
Ooh gosh, the moment I got awarded the best Kisa Scholar, I was ecstatic and overjoyed and I couldn't believe my eyes or ears.  The worst moment was when my Dad died while I was in school. It was the worst time for me and very unforgettable.
What are your proudest moments (inside and outside of school)?
My most proud moments are when I help my friends while I am in school. I feel so happy and proud that I have touched someone's life. And outside school, it's when I received my Form Four results. My Mum was so happy she couldn't help herself, she was crying continuously.
How has your life been different than what you'd imagined?
To be honest, I never imagined my life without my Dad but I have been able to cope very well.
What does your future hold?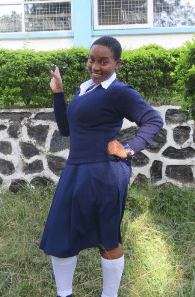 I want to be a business woman.  I see myself as an inspiring and innovative business woman
What words of wisdom would you want to pass on to your great grandchildren many years from now?
Life is ever-changing – things change and you need to cope with the changes in life. No one is born a failure. It's just upon you if you choose to fail.  You change to be what you want.
What are the 2 most important things you have learned by being part of Kisa?
I have learned how to be confident and how to help the community to address various challenges that they face.
What was your favorite lesson and why?
My favorite lesson was business planning because I learned how to plan, budget, and manage my business. Since I love business, I really enjoyed my time in class.
Have you shared any of the lessons with family or friends at home? Which ones and what did you tell them?
I taught my Mum and sisters about how to budget and how to grow your business.
Has Kisa helped you to overcome a particular challenge?
Before I joined Kisa, I had low-level of confidence in all the areas of my life. When my Dad died it was one of the most stressful challenges that I encountered but Kisa helped me to know that I can stand on my own and have the inner confidence to face any challenge.  I know he is proud of me wherever he is.
How do you think Kisa will affect your life and many years from now?
I will be a good ambassador and tell people about Kisa and its benefits. Furthermore, my confidence level will grow more and more. The knowledge that I got I will trickle down to my next generation.