Have a look at one young woman's responses on a recent survey of Kisa Alumnae:
"I think about the needs and issues facing my community."
"Always"
"I consider the Kisa Alumnae Network to be an important resource."
"Yes"
"What are you doing to improve your community?"
"We have started a foundation called 'New Victory Youth,' which has a variety of members, including other Kisa Alumnae."
These answers came from Rosemary Wolfgang, a 2018 Kisa Project graduate from Mkuu Secondary School, who is currently pursuing a degree in public relations and marketing at St. Augustine University (SAUT) in Mwanza, Tanzania.  (She is shown at far left in the picture above.)  AfricAid's Monitoring, Evaluation, and Learning Assistant, Maryrehema Mkumbo, was intrigued by Rose's survey responses and recently interviewed the program alumna to learn more about her ambitious community outreach.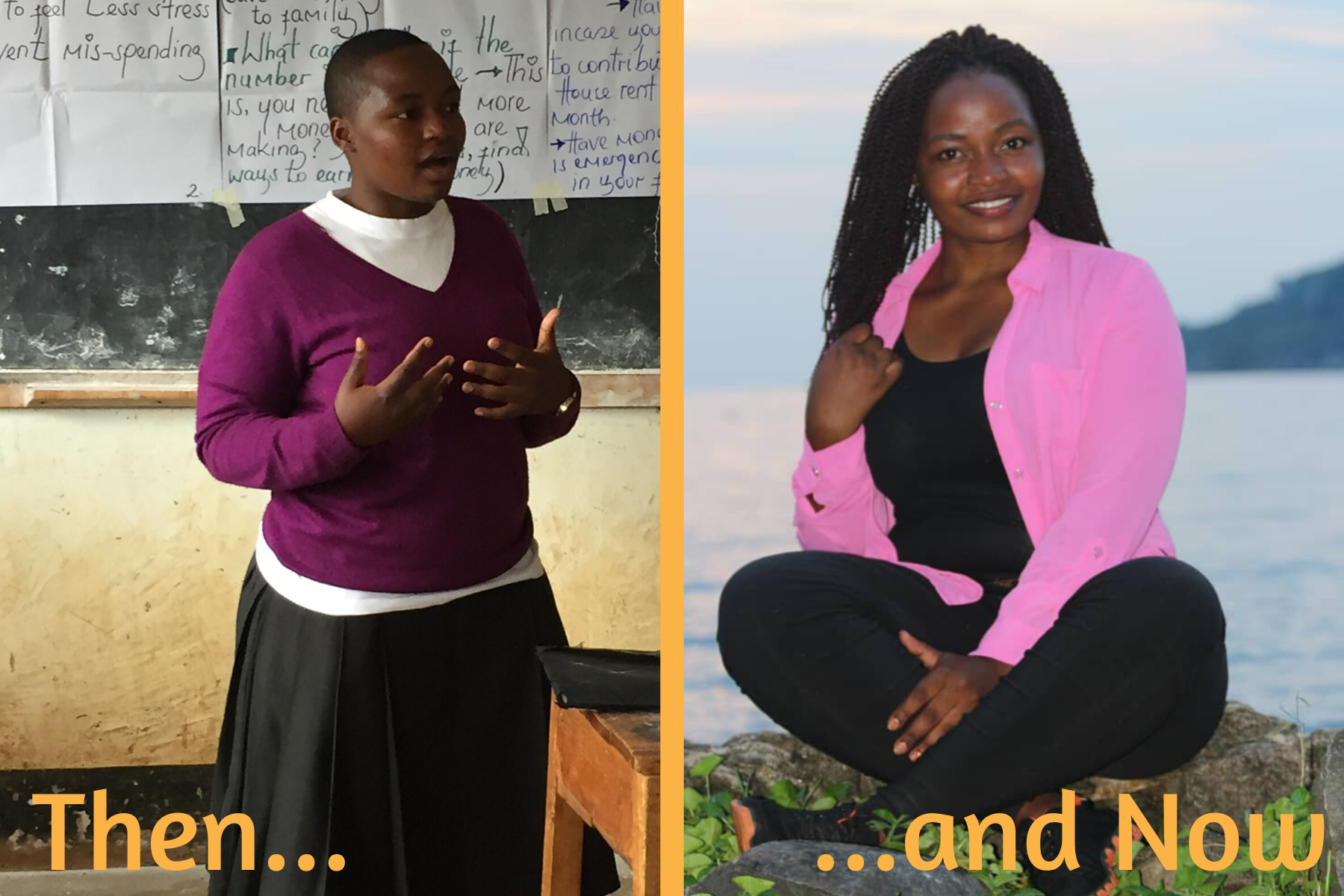 The focus of our foundation, New Victory Youth, is to build entrepreneurship skills in the youth around Mwanza, a city in northwest Tanzania, on the shores of Lake Victoria.  We visit and teach at existing local institutions, such as youth centers, orphanages, and even prisons.
Here's how New Victory Youth works:  university students and young professionals who would like to join pay a membership fee and purchase a t-shirt.  The money from these two income streams helps us travel to the locations close to SAUT that we serve.  There is no set schedule for the visits as this allows us to be flexible with our school obligations and to always be looking for new groups that could benefit from their knowledge.
Every four months, we evaluate our finances, and it may be necessary to make extra contributions.  We also invite other people to join us on our visits, and these special guests help raise money and awareness.  My main short-term goal is to find avenues for financial resources and locate an office from which the organization can operate.  My long-term goal is to partner with another NGO that builds self-sufficiency among youth.
When I and other members of New Victory Youth first went to speak to the head of the local prison to tell him about the mission of our foundation, I was very surprised that he agreed to let us teach there.  I felt so lucky.  We started by just speaking with the prisoners, then moved on to teaching them some entrepreneurship skills.  We also brought them some small toiletries.
Our work at the orphanage, Upendo Daima, of course is a bit different.  We talk to the kids about unlocking their potential and talents and exploring ways that they can achieve their dreams.  We try to inspire them to look beyond their current circumstance.
Kisa is not just a club, but a sisterhood.  I know there are more Kisa Alumnae girls out there who would want to be involved in this type of project.  I do not plan to confine my efforts only to Mwanza, but to recruit Kisa Alumnae friends at Bugando University and University of Dodoma to start their own initiatives.
My passion for this work definitely stems from my time as a Kisa Scholar.  During my two years, I had two Kisa Mentors, Mary Maika and Magdalena Kitinya.  They inspired me to give back to my community, wherever I am.  When I got to university, I immediately started to think about what I could do for this community.  New Victory Youth is how I decided to act.
Mary Maika remembers Rose's initiative and enthusiasm from her time as a Kisa Scholar:
"Rose was a Kisa Class Captain during her 2 years in the program.  She made my mentorship easy as she was helpful in organizing others during the Kisa sessions.  She supported her fellow Kisa Scholars through a bracelet business that they started.  I am so proud that she continues her leadership at university and has taken such a big step to start something for her community. 
I loved the courage she had in calling me to ask if I could advise her and her team with their foundation.  I traveled out to Mwanza for the first time in my life and Rose came to pick me up from the bus station and showed me all around town.  After meeting the team members, I am impressed with what they are doing and hope to go back in 2020!"
We are impressed and extremely proud of Rose's efforts post-Kisa.  She is demonstrating the vast leadership capabilities of educated girls and we can't wait to see what she does next!
Related Stories:
Learn about the bracelet business started by one of Rose's Kisa classmates at Mkuu, Lupakisyo Kabulunge.
Violeth Shayo, Kisa Alumna and former Binti Shupavu Mentor, is also working in the Mwanza Region.  This blog gives more detail about this rural area and the challenges faced by youth there.
Contributed by:  Maryrehema Mkumbo, Monitoring, Evaluation, and Learning (MEL) Assistant at AfricAid.  Maryrehema ensures that the information we collect from Scholars and Alumnae through surveys, focus groups, and other MEL tools is properly collected and entered into our systems so we can measure, evaluate and learn from our programs.  She is also a Kisa Alumna herself.
Regarding the survey that Rose participated in:  A 2019 survey of Kisa Alumnae provided a layer of understanding as to how Alumnae use the skills and knowledge gained through Kisa in later life. Due to the dispersion of Alumnae around the country, a random, anonymous sample was not possible for this survey. Instead, we strived to reach Alumnae from as many different regions and graduating classes as possible to obtain a representative sample. We received 129 responses from from Alumnae who graduated in years 2012-18, representing 8% of all Kisa Alumnae.