"The Arts are an essential element of education, just like reading, writing, and arithmetic… music, dance, painting and theater are all keys that unlock profound human understanding and accomplishment."
William Bennett, Former US Secretary of Education
The Tanzanian education system allows room for students to engage in extracurricular activities after school. Most of the students seem to enjoy these activities, which include sports, environmental, health, or art clubs.   The school club schedule is full as each day of the week is assigned to different clubs. Many students are members of multiple clubs.  At most of AfricAid's Partner Schools, the Kisa Project and Binti Shupavu are considered clubs because they are activities that take place outside of the usual school day.
Fostering talents, expanding minds and the opportunity to explore are the benefits that students get from these clubs. Many of the clubs can prepare youth for employment after they leave school. Others foster body fitness and health. Clubs like the Kisa Project and Binti Shupavu on leadership and life skills for young women. Subject specific based groups such as Geography, Civics or Biology Clubs are joined by students who are enthusiastic about those areas, so that they can extend their knowledge about the subject beyond what is taught in school.  All of the clubs have similar goals of making the students better citizens of their country.
In August, 2018, some of AfricAid's Kisa Scholars and Mentors attended a "Club Day" exposition organized by the Malihai Club, which is an environmental and conservation club, at Nanja Secondary School. They were joined by students from three neighboring schools on this joyous and long-awaited day. The weather was ideal and the students were excited to meet each other and showcase their talents. Any opportunity for people with similar interests to get together is always welcomed. In the end, the results were phenomenal.
One of the Kisa Scholars participating in Club Day said, "Through these groups I have been able to change a lot of things and they have made me more competent in various parts of my life."
In addition to Malihai, some of the clubs that participated included Roots and Shoots, which is another club focused on the environment, Pastoral Women's Council, Anti-Corruption Club (PCCB), English Club, Scouts (the troop from Nanja Secondary School is shown above), and our own Kisa and Binti Shupavu Programs.
Rachel, a Binti Shupavu Mentor who attended the event, was surprised to see such a wide range of clubs that were new to her and enjoyed the chance to see what other schools are doing.  She explained, "I never got the chance to join clubs during my school days. The presenters were so competent and they spoke so well of the activities they were doing. I was really inspired by them. I want to personally encourage each student to become involved in at least one club."
Apart from the club members entertaining the audience with what they have learned, there was an earnest discussion about the importance of engaging in different extracurricular activities while in school.  How can students utilize the knowledge they have attained through clubs and apply it when they are out of secondary school at university or in the workforce?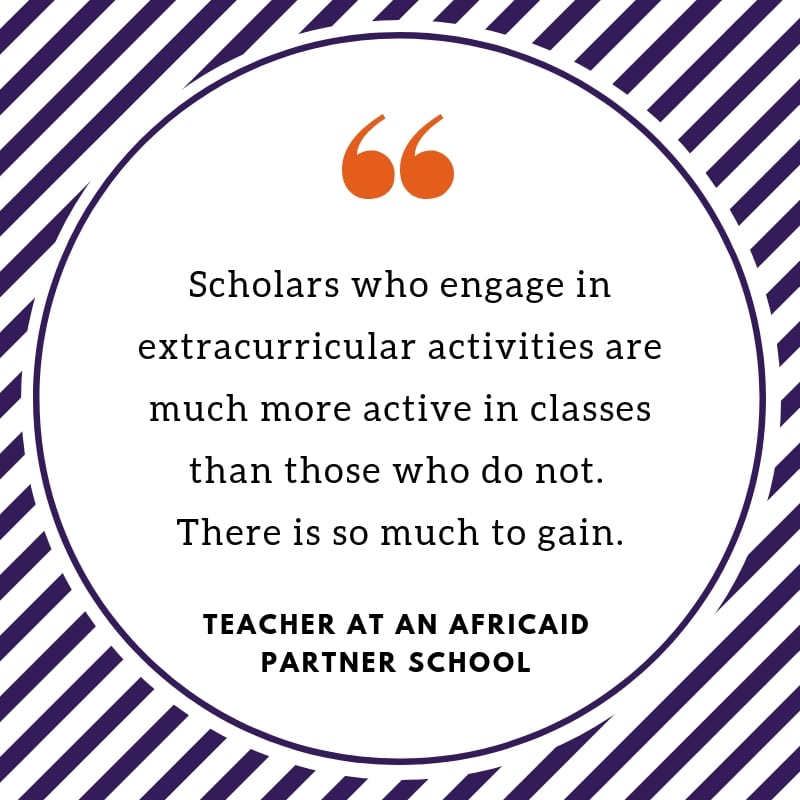 Chausiku Mkuya, Binti Shupavu Project Manager in the Arusha Region, was also present at Club Day and commented on how important clubs can be to the future employment prospects of kids who are involved in them.  "I value the contribution of clubs to students' success. Through participating in clubs, students have been able to develop their passion regarding the career they would like to pursue when they grow up. It can make their CVs stronger, adding credibility. Some of them can even employ themselves after graduating with the knowledge they acquired from participating in the club."
As awareness grows among teachers who notice the positive changes clubs can bring to behavior in the classroom and academic outcomes, AfricAid will find even greater support within schools for its programs.
Club Day was a very worthwhile display of talent, creativity and an occasion for advocating the positive impact of extracurricular activities. We are proud of our Kisa and Binti Scholars for representing AfricAid in such a positive way!
"People who use time wisely spend it on activities that advance their overall purpose in life."
 John C. Maxwell