We are pleased and proud to bring you the story of one remarkable Binti Shupavu Scholar.
In Binti Shupavu Class, she is one of the most active and engaged Scholars at the school by sharing her experiences and showing curiosity in learning new things.  She is an empathetic day student who devotes time to knowing what is happening in her community. 
At the beginning of this year, she passionately shared with us how she has involved herself with other vulnerable girls in her neighborhood.  She takes what she has learned in class each week and teaches it to others at home.  This young woman faces many challenges in her quest to mentor less fortunate girls – people discourage her from spending time in this way and she is lacking in time and materials.  But, she is resilient and persistent in her mission to share her knowledge. 
Her current Mentor, Agatha Chaima, thought that this Scholar's efforts should be recognized through a blog post and translated her story from Swahili.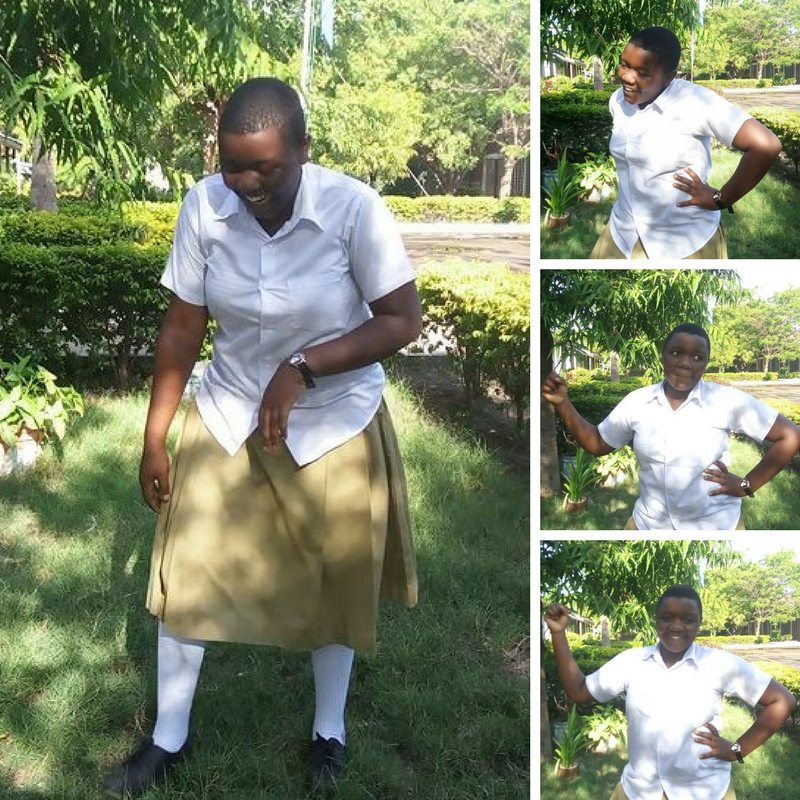 My name is Scolastica.  I was born in Kilimanjaro and have lived here all my life.  I am 14 years old.   I am the second child among the three children in my family. I live with my aunties and grandmother. My tribe is Nyiramba from Singida Tanzania. I like playing netball. I received my primary education at Dr.Omary Juma Primary School. Currently, I am a Form Two student at Langasani Secondary School, and have been a Binti Shupavu scholar since 2017.   My dream career is to become a policewoman.
We were taught the Binti Shupavu program by Madam Violeth. She is so kind and ready to listen to all the student's concerns. She is my role model. After getting knowledge from the Binti Shupavu program I decided to share what I learned with my community by forming a group of young girls at home and mentoring them. I love mentoring and I like to educate other young girls who do not have the chance to be in Binti Shupavu.
It was not an easy task to convince someone to join my team. It took a month for me to find the students and in the end I got only five girls. Among the five girls, three were not in school (house girls) and two were students – one was in Primary Class Seven and other was in Secondary Form Two.
I photocopied and shared my Binti Shupavu notes for my girls. We had lack of material like paper and pens for doing assignments. To overcome this challenge, I used my own money that I was keeping in a personal money saving box and bought the necessary supplies.  I asked them questions out of what I taught them, and to motivate them I gave a writing pad as a gift to whoever got the answers right.
I am learning a lot through the many challenges I have faced in this project.  Some days the girls do not cooperate because I am younger than them, but I am able to manage them. Lack of enough time to mentor them was also a problem because the students had to do school assignments and they all have domestic chores. I do not see all of the girls regularly, which only makes me want to find others to mentor.  Some people used to make me lose hope by telling me I cannot really do much to change the future for these girls. Others told me that I was a busybody or that I will perform poorly at school if I continue mentoring my group. But I ignored them because I knew what I was doing.
Sometimes I can help the girls and sometimes I cannot – and this is discouraging.  One young girl I helped with her studies for her final exam. She had a poor home life with an alcoholic father who never cared about his children.  Since her family did not take care of her there were some days I took her home to eat with my family because there was no food in her house. I plaited her hair and tried to be there for her when she has problems. The ending did not please me as I came to hear that she got married and her father was given only 10,000 TZ shillings (4 US dollars) as an advance for her dowry.  Now she stays at her husband's home and people who wanted to support her in her further studies cannot do so anymore.  I could not do anything as her father had agreed to the marriage. I don't see her now, and this has given me pain.
But, I am so happy with what I am doing in general because I believe that sharing is caring.  (Scolastica, we could not have said it better!) I would like these girls to reach their goals, and I would like to reach my own goals of supporting my community, not only in Moshi but the whole Country of Tanzania. (Scolastica, we hope all of your dreams come true!)
I give much thanks to Africaid, Madam Violeth and Madam Asimwe for their support.  (You're very welcome, Scolastica!)           Read more about Violeth.
"I am very happy about what Scolastica is doing," says Binti Shupavu Project Manager Asimwe Suedi.  "I am especially proud that she sees the knowledge that she has gained from Binti Shupavu as something of value and that she wants to share it.  We have other Scholars who do this for their classmates who are not in the program, and others confidently and proudly share information with their parents and friends in the village.  This encourages all of us and is a true sign of the success of Binti Shupavu.  The Scholars feel knowledgeable and that they have abilities.  They see themselves as being part of the change and are ready to act as role models to other girls."
Agatha Chaima joined AfricAid as a Binti Shupavu Mentor in January, 2018.  She is a graduate of St. Augustine University with a degree in Mass Communications.  She was interested in this role because she likes to help others and to be part of positive change in other people's lives.  She is happy to be on the AfricAid team because she says she can polish her skills and it's a lovely workplace with caring people.