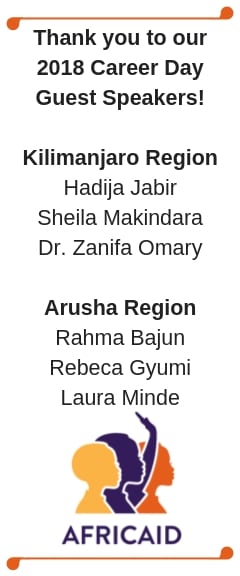 What are the elements of a memorable Career Day?  The gathering of all our Scholars at a place outside of school, a fun talent show with the Scholars, a sense of community with everyone wearing the same T-shirts, recognizing people's contributions with gifts, music and good food – these are some of the ingredients for a successful Career Day. Collectively, these make the day one of the best learning days of a girl's entire Kisa experience and the event is always eagerly awaited by Kisa Scholars every year.
Sharing real life stories for the purpose of growing and developing leadership is one of the cornerstones of AfricAid's culture.  Therefore, a key aspect of the off-site gathering is for Scholars to spend time with many people who share their journeys to success so that they can understand that the path is not always straight or easy.  Guest speakers share their backgrounds, challenges and how they have jumped hurdles to reach where they are today.  Through interaction with the Scholars, these visitors have a positive and often profound impact on our girls.  After every speech, Scholars were invited to ask questions. Some were so excited, they raised their hands just to thank the speakers for sharing.  Others were affected emotionally as their experiences were similar to some of the speakers.
I spent time during Career Day asking our Scholars what they thought of our guest speakers' presentations. Salma, a Kisa Year 1 Scholar from Moringe made this encouraging comment:
"I feel like my inner strength has been refueled today and I really needed this."
Stella, a Kisa Year 1 Scholar from Arusha Girls Secondary School expressed what she found to be the most inspiring idea of the day:
"I have been impacted with many things I heard on Career Day. The greatest one is never to give up or doubt my abilities, for my dreams can possibly come true." 
Rahma Bujun – named one of "30 Most Promising Entrepreneurs in Africa" by Forbes Magazine.
Rahma Bajun was raised by a single mom after her father died when she was 3 years old. She attended government primary and secondary school and, while in college, she used a government loan to start a small business that earned school fees for her younger siblings.  She was greatly encouraged by the song: I know I can be what I want to be, If I work hard each day I will be where I want to be. Despite all her responsibilities, Rahma graduated with good grades. She won a scholarship to pursue a masters in policy and research, graduating First Class with Honors.
Rahma is now a Program Officer at the East African NGO, Twaweza (which means "we can make it happen" in Swahili).  This organization focuses on enabling children to learn, promoting citizens to exercise agency and the government to be more open and responsive. In addition to her activist career, Rahma is passionate about cultural fashion. Driven by her love for African print products, Rahma started a popular Afrocentric brand, MnM Clothing Line, that produces clothes, wallets and other fashion accessories for men and women using Kitenge fabrics. It now has 7 full-time employees.  In 2018, she was recognized by Forbes Magazine as one of the 30 most promising entrepreneurs in Africa. As she was speaking, her emphasis to the girls was discipline, hard work and doing what you love to do.
Catherine, a Kisa Year 2 Scholar from Ikrisongo Girls Secondary School was inspired by Rahma and her speech struck a personal chord:
"I was always discouraged by my parents about my fashion design passion. Today I have heard Rahma`s story and my candle of hope has been lit again and this time I won`t let anyone turn it off."
Victoria, another Kisa Year 1 Scholar from Moringe was also impressed by Rahma's story and this was her take home lesson:
"I have learned that you don`t let challenges stop you from being the best and luck always meets people who have worked hard to deserve it, just like how Rahma earned her masters scholarship."
Rebeca Gyumi – lawyer who petitioned the High Court of Tanzania to increase minimum marriage age.
Rebeca Gyumi started her story this way.  "As a kid I was disturbed by child rights violations. I would go to my friends' places to play with them when they weren`t allowed to leave their homes." This seed kept growing as she kept practicing standing up for children's rights to the point of challenging the government.  A lawyer by profession, Rebeca pursued a landmark case in 2016 regarding child marriages. She filed a petition to the High Court of Tanzania to challenge the Tanzania Marriage Act (1971), which allowed girls as young as 14 to get married. The outcome was to raise the minimum age of marriage to 18 years. She has worked with youths in activist platforms for over 8 years and is the founder and Executive Director of Msichana Initiative, a local NGO which operates through clubs at schools.  It empowers girls by promoting education and addressing key challenges which limit girls' access to education. For these many achievements, Rebeca has won several international and local awards, including the UNICEF global goals award in 2016 for her work in advancing girls' rights in Tanzania.
Charity, a Kisa Alumna who was volunteering at the event that day, learned a powerful lesson from Rebeca:
"Hearing experiences of cases lost by some lawyers had tempted me to doubt whether I would make a good lawyer. It is very hard for even very smart lawyers to win all cases. From Rebeca I have learned that even if sometimes I don`t win it all, at least I would be among the ones who tried to make a difference and others would start from where I ended. I just have to start and be positive."
Namnyack, a Kisa Year 1 Scholar who attends Enaboishu responded in a way that is very reflective of the type of thought process the curriculum tries to encourage:
"Rebeca has taught me to take responsibly for the challenges facing my country and use the knowledge and resources I have to help liberate others that are in need of help.  That is true leadership."
Small Groups
After the main speakers' session and eating a delicious lunch, the girls had another chance to be inspired by our visitors during the small group sessions. The Scholars were split into careers they wish to pursue and met with corresponding panel of professionals.
Linda who is also a Kisa Year 1 Scholar from Enaboishu has always wanted to be a teacher and was discouraged as many of her peers no longer consider it to be a noble profession. Linda was reassured after speaking with teachers dedicated to their careers:
"I met teachers who reminded me how significant this profession is. All other professions depend on us to educate them. We are therefore a mother of all other careers!"
Catherine, a Year 1 Kisa Scholar from Cornerstone Leadership Academy also received very good career advice:
"I had always heard of a judge and a lawyer, but never knew the difference – and I never knew about advocates. All I ever knew was I want to work in court. Meeting these professionals today have opened my eyes and now I have clear understanding of what specifically I want to be."
Awards
After 2 hours of panels, all people returned to the conference grounds for gifts and announcements. It was one of the most fun moments of the day, as everyone was eager to know who would be receiving prizes. Awards were made to the School Liaisons, class captains, and best Scholars from each school, and three winners were announced for the talent show. Guest speakers and the excellent emcee, Vaileth Mmbando (a Kisa Alumna who is currently a Binti Shupavu Mentor in the Kilimanjaro Region) were thanked and acknowledged for their valuable time and energy in the role they each played.
Career Day was finally over for 2018 and everyone who participated knew it was a wonderful success. Mary, a Kisa Alumna told me she didn`t want the day to end.  Halima, a Year 1 Scholar from Enaboishu suggested we should have at least two Career Days per year. Finally, Nuru, a Year 2 student who won a prize for best Kisa Scholar from Arusha Secondary School, was so inspired by the guest speakers she now has a dream to be one!
"I never knew my commitment and struggle to build confidence was observed. This really came as a surprise and I am so happy that I got recognized. I will work hard so that one day I can be a guest speaker at Career Day."
Read how AfricAid's Tanzanian staff prepared for Career Day 2018 in this blog by Kisa Mentor Subira Manyama.