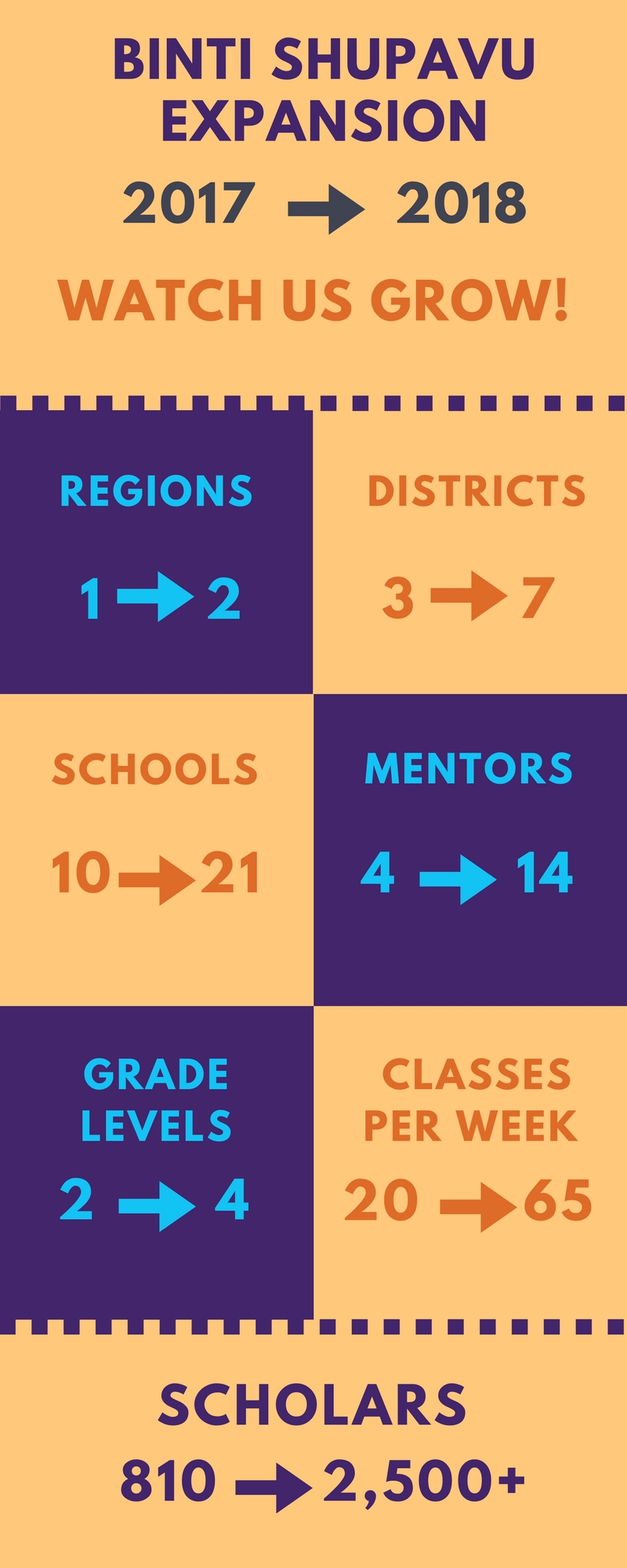 "Is AfricAid planning to reach many more regions of Tanzania through its Binti Shupavu program?"
New Binti Shupavu Mentors had just completed the Curriculum section of orientation when one of them, Ndiini Nasira, asked this question.  Ndiini is not alone in wondering this.  Anyone who is passionate about girls' education always wishes that Binti Shupavu could reach more Tanzanian girls once they understand the powerful skills that are provided through the program.
We currently operate in regions that are within our capability, but we hope that continued positive results will propel us toward our long-term goal of making the Binti Shupavu Curriculum accessible to all Tanzanian secondary school girls.  The first big step is a major expansion of the program in 2018.
This planned expansion is the cause of a flurry of activity and excitement in both AfricAid offices in Tanzania.  The program will now operate in two Regions and 7 Districts in Tanzania, has doubled the number of schools it serves and provides this unique growth opportunity for three times the number of adolescent girls.  The number of Mentors to teach, coach and support them increased from 4 to 14.  They were drawn from a pool of talented Kisa Project Alumnae.
"The Binti Shupavu Program has gone very well to date and it's encouraging and motivating to see that it is expanding just in its second year of implementation. We are half way through the pilot of the program and it is very promising to see all the positive changes."  Asimwe Suedi, Binti Shupavu Project Manager, Kilimanjaro Office
With this expansion comes new challenges that have required us to be flexible to the needs of Partner Schools, but the lessons that have been learned during the 2017 phase of the pilot allowed us to plan and manage such a large expansion in such a short time.   Expansion has occurred in both the Arusha and Kilimanjaro offices, but in different ways.
Arusha Region
Binti Shupavu is an entirely new program for the Arusha office in 2018, and is being launched to 10 new Partner Schools in 3 Districts. This means that the staff in the Arusha office had lots of preparatory work to introduce the program to students and school administrations who have not had experience with it before.
882 new Scholars were recruited, which was higher than the target number due to a huge demand for the program by one of the Partner Schools.  That school has three Year One Classes instead of the usual two, resulting in 21 Classes held per week through the Arusha office.
Former Kisa Project Mentor, Chausiku Mkuya is the new Project Manager for this office.  5 new Binti Shupavu Mentors were hired.
"I am excited that Binti Shupavu is expanding into the Arusha Region as more girls are going to be able to have the opportunity to learn new things that are going to transform their lives.  Girls from different parts of the country will not be able to participate and share different values that will enable them to realize the importance of education."  Chausiku Mkuya, Binti Shupavu Project Manager, Arusha Office
Kilimanjaro Region
Expansion of Binti Shupavu for the Kilimanjaro office has mostly occurred by introducing new Classes within the Partner Schools where we already work.  In 2017, Classes were taught to Forms 1 and 3, and in 2018, classes will be offered to Forms 1 through 4.  As more grades levels are added, a lot of preparation goes into the transition.
The original plan was to recruit new students only for Year One.  However, we noticed some attrition from last year and we addressed this by recruiting additional students for Year Three.  This was a creative solution by our staff, and ended up with an even better result than planned.  There are four extra classes, which means the Kilimanjaro staff is always on the move going out to teach 44 classes per week.
Nine new Binti Shupavu Mentors were hired and former Kisa Project Mentor and Alumna, Mary Maika, became the new Assistant Manager in this office.  Mary has the unique perspective of having been involved in both of AfricAid's programs.
"I feel very lucky to be on the Binti team right now. Imagine being able to see girls develop from O Level secondary school as Binti Scholars to A Level Kisa Scholars.  I can't wait for the day when I meet a Scholar from Binti Shupavu who has become part of the Kisa Project!  That day is coming!"  Mary Maika, Binti Shupavu Assistant Manager
Both Regions
Binti Shupavu management in both offices has been busily engaged in a variety of important activities.  In particular, the managers have taken a lot of time to guide new staff members and get them off to a positive start.
Hiring and training staff.
Moving into new offices/rearranging space.
Running orientation programs.
Recruiting Binti Shupavu Scholars.
Meeting school administration.
Building quality relationships with new stake holders.
Quality maintenance.
"During AfricAid orientation, I learned a lot about the programs, AfricAid's culture, and time management.  The counseling training is especially going to help me with my Scholars.  I learned what is – and what is not – counseling.  I will give my full support to AfricAid's vision and mission in order to support girls in reaching their goals.  I expect to learn so much and grow career wise."  Lightness Godwin, new Binti Shupavu Mentor and Kisa Alumna
The rest of 2018 will see us consolidate our gains, as the new team and our Binti Shupavu Scholars settle into their new working relationships. It is very encouraging to see that more secondary school girls will have the opportunity to be positively impacted by the Binti Shupavu program.   Stay tuned for more news about Parent engagement events, as well as what the girls themselves have to say about Binti Shupavu!
Are you excited about providing even more Tanzanian girls the Binti Shupavu advantage?        Join us!
[vc_row row_type="row" text_align="left" css_animation=""][vc_column][ult_buttons btn_title="Donate Now" btn_link="url:http%3A%2F%2Fafricaid.org%2Fdonate||target:%20_blank|" btn_align="ubtn-right" btn_size="ubtn-custom" btn_width="250″ btn_height="30″ btn_padding_left="10″ btn_padding_top="10″ btn_bg_color="#ffffff" btn_hover="ubtn-top-bg" btn_bg_color_hover="#ffce5b" icon_size="32″ btn_icon_pos="ubtn-sep-icon-at-left" btn_border_style="solid" btn_color_border="#bf2026″ btn_border_size="3″ btn_radius="3″ btn_font_size="25″][/vc_column][/vc_row]