What makes AfricAid's Binti Shupavu project unique and captivating?
Binti Shupavu is an innovative program designed for Ordinary Level (Forms 1-4) girls enrolled in government schools in Tanzania. Mentors meet with a group of Scholars after formal classes one afternoon a week in each Partner School. Sessions are held in classrooms or outside under trees while sitting on the grass. Binti Shupavu delivers its curriculum through an experiential process.  This approach is quite different from the usual classes in Tanzania, which tend to be more traditional and didactic. The Binti Shupavu program is designed to engage and challenge the thinking of its participants.
Good relationships and trust between Scholars and Mentors, fun games, motivational songs, dancing sessions, group projects, sharing life stories, jokes, daily updates from social media, a seminar for each unit, and a year-end celebration for classes that complete the curriculum, are unique things found in our classes. This makes Binti Shupavu classes come alive, and more fun, interesting, and memorable to our Scholars.
I set out to speak to some Scholars to hear their views on what makes Binti Shupavu classes special and different from their normal school classes.  You will see a common thread in that they all talk about the openness of the environment, which promotes exchanging ideas and learning from each other.
I first met Doreen, a recent Form Four graduate from Langasani Secondary School in Kilimanjaro.  She talked about how the program has focused her to continue the next step in her education:
"I am interested in the Binti Shupavu program because the topics are quite different from other normal classes. The weekly Binti Shupavu class has helped me learn and understand a lot of things about personal leadership, which will help me stay focused and reach my goals. Doreen continued, "What I really like and enjoy most in Binti Shupavu class is the moment of sharing and exchanging ideas, giving out advice on decision making and learning practically through interesting games and videos.   Also, the seminar introduces the new topic and gives us the direction of the lessons – this makes the topics simpler and more impactful to us."
My journey continued and I met Juliana, a Scholar from Mabogini Secondary School. She shared her excitement about Binti Shupavu classes:
"I find Binti Shupavu classes more interesting and special, since I have learned different life skills and knowledge which I couldn't get elsewhere. This knowledge helps me to survive in my daily life and gives me strength and confidence to overcome challenges and obstacles.  In short, I have developed inner strength through the Binti Shupavu lessons. What I am most proud of in Binti Shupavu class is that everyone is free to talk and share any life stories and experience that she has. This gives everyone room to participate, develop confidence, build trust and long-term relationships. I also appreciate positive reinforcements like little gifts, compliments from our Mentors, and provision of an emergency fund".
Finally, I met a Year One Scholar, Janeth, from Einoth Secondary School in the Arusha Region. She explained her happiness and pride being in Binti Shupavu program:
"In Binti Shupavu classes, we are free to learn a lot of things which are relevant to our daily life, such as health and hygiene, moral behaviors, fighting for our rights, how to overcome challenges, and how to deal with gender stereotypes in our culture. Now, I believe that women are capable and they can be independent in many ways. I will never forget the moments of discussion in small groups and role play activities in classes because through those I discovered my potential and talent. Also, the day of celebrating completing Year One by cutting a cake, singing some songs, and dancing was so much fun!"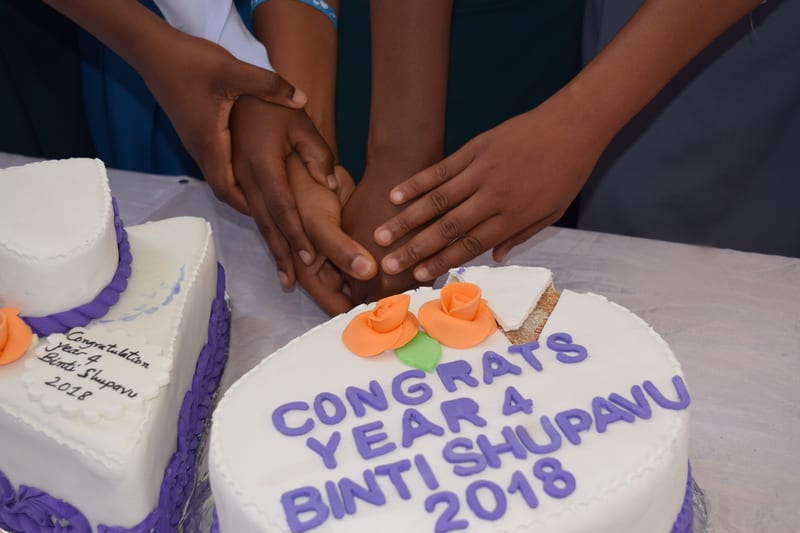 Though the journey was long and had its share of ups and downs, the Binti Shupavu team is very happy and excited to have successfully completed delivery of the curriculum to 2,585 girls in 2018.  There were five schools for Year One and Year Three Scholars in the Kilimanjaro Region and the program was launched in six schools in the Arusha Region for Year One Scholars.  At the year-end celebration at each school, Scholars cut cake to congratulate each other for the unity, cooperation, commitment to the program, and to appreciate their Mentors' and Liaisons' efforts.
A year's worth of special moments in classes have left precious and unforgettable memories in our Scholars' minds. Binti Shupavu transforms communities by fostering strong, creative, focused, and determined girls. Through Binti Shupavu classes, thousands of girls have gained life skills, strengthened their resilience, and developed decision making. These motivated girls are now capable of dealing with any situation they face in their life.