It all starts in the early afternoon when you see everyone around the office busy finalizing their preparations for Kisa and Binti Shupavu classes that start around 3pm. Some Mentors have already left for far-flung schools, while others have a day where they can leave the office ten minutes before their classes start.  From Monday through Saturday, Mentors travel to different secondary schools scattered around the Arusha and Kilimanjaro Regions. In this blog I am going to give you an idea of the large geographical area where AfricAid works from the Moshi office.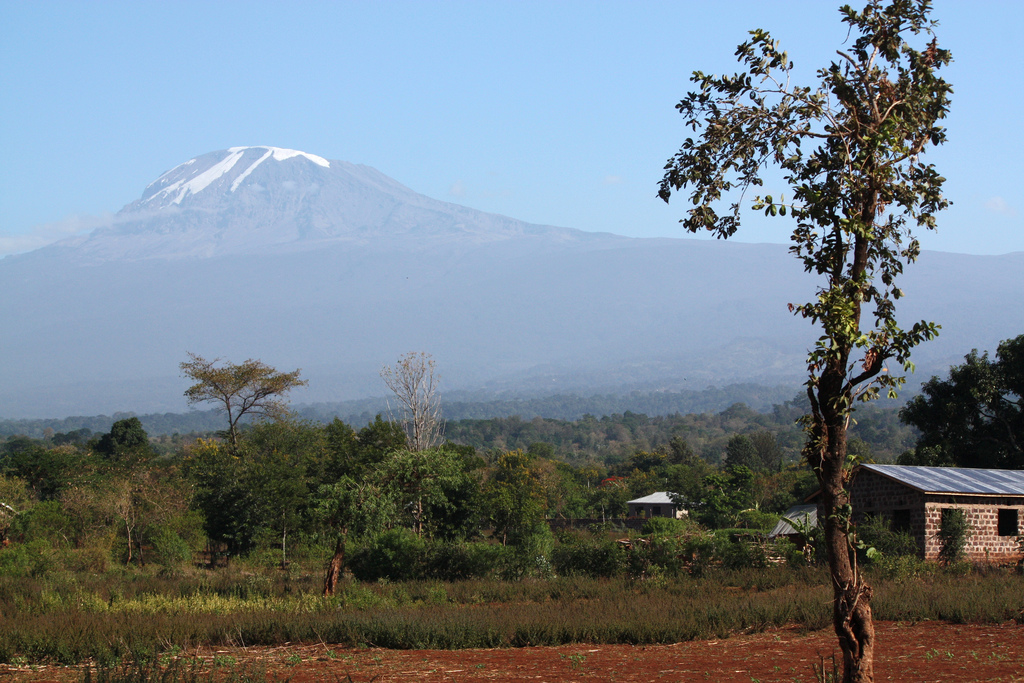 The Kilimanjaro Region borrows its name from the tallest mountain in Africa, Mount Kilimanjaro (19,341 feet, referred to as the continent's "roof"). For us working in this region, we are always in the shadow of its ice covered peak and travel in its foothills and on its slopes. On clear days, it hovers high above, viewed from many miles away and from different angles.
There are seven Districts within this Region and six of them are reached by AfricAid projects. There are some areas that have very poor roads. For instance, the trip to Magadini and Oshara schools has about 20 kilometers of rough road.  During summer they are passable but bumpy, and during the rainy season the mud makes the road slippery and sometimes impassable.  On those days, both we and our Scholars are disappointed that we can't make it.
We use different means of transportation to get to school depending on the distance and the number of Mentors going to that area. To support the Moshi office, we have an eight-seater van that can take a group of Kisa and Binti Shupavu Mentors to one school, drop them off and then continue down the road to another school to deliver another group of Mentors. For those working in neighboring schools in the Moshi urban area, the Mentors share a local private taxi.
I talked to one of AfricAid's drivers, Mr Asantaeli Robert, and he shared with me details about the longest safaris he drives bringing Mentors from the office to schools.  You may get a certain image in your mind with the word "safari," but in Swahili it simply means "a journey."
"There are three long distance schools we commute to: Tarakea in Rombo District, Magadini in Siha District, and Msangeni in Mwanga District. The schedules on these three days are different because Mentors have to leave from the office at 12:30pm since it takes 2 to 2 ½ hours to get there. The average one-way driving time for other schools is 1 to 1 ½ hours. We have challenges when we are on our way to schools. Most of the time, we are stopped by traffic police for checking of our papers, and sometimes there are long traffic jams on the road.  But, I manage to go through them and get the Mentors to schools on time."
Asantaeli Robert – Africaid Driver, Kilimanjaro Region
Asanaeli, affectionally referred to as Santa, also shared with me why he values his job.
"I love driving Mentors to schools because I also get an opportunity to know how they mentor these young girls to solve the different kind of challenges that they are going through on the way to fulfilling their dreams. Apart from that, I also get a chance to have fun and listen to the radio and music."
Lots of good moments happen during the Mentors' journey to the schools. We discuss lessons, tell stories, listen to the radio and music tapes. I spoke with Ndiini Nasira Kidoko, who like almost all Mentors is a Kisa Alumna and currently teaches Scholars at the furthest away Partner School, Tarakea Secondary School, which is practically in Kenya.  She shared her experience when she's in the car on the way to the school: "My favorite activity that I always do is telling stories to my fellow Mentors so we can all be awake and alert when we get to school," says Ndiini with a big smile on her face.
Lightness Ngoye Godwin, another Kisa Alumna and Mentor, told me how she spends her commuting time: "I love to read story books and sometimes I visit social media so that I have something new to share with my Scholars when I get to my schools. They don't get a chance to use the internet very much and they get excited to see what I have found for them."
The Mentors' return journey to the Moshi office generally involves sharing stories based on what happened in class that day. We find commonalities and differences in what Kisa and Binti Shupavu Scholars have said and how they reacted to the content and activities.  It is a good time to reflect together and ask questions. But often on the way back we are tired, so we put on music for refreshment, have fun and look out the window at the beautiful passing countryside.
I myself go on four long trips a week, and have one class at the local high school in Moshi. Most of our Mentors have similar travel schedules. In the end, we see a lot of the countryside and travel many miles. Traveling to these isolated schools can be problematic, but is so important for us to make these journeys because these girls have less opportunities than urban girls. They love us very much coming to their schools and bringing new ideas and interesting activities.