Kisa means "story" in Swahili.  Each Kisa Scholar has her own unique story of how she joined AfricAid's program.  Once they become Kisa Scholars, many girls open up to the Mentors about their struggles to be in school in the first place.  Janeth is one such student.
As Janeth's Mentor, I would like to share her inspiring story to continue to increase awareness for the importance of educating girls.  I know that people will learn about bravery and persistence from her.  This is Janeth's story in her own words.
My name is Janeth and I come from one of the villages in Ngorongoro District. I am 19 years old, a Kisa Year Two Scholar (Form 6) who likes playing netball and singing. I live in a single parent family after my father passed away when I was in Form 2. I have been through different challenges and one of them was being forced to get married to an old man. 
In my primary school, there were 130 students in my class.  Only 20 students passed our leaving exam well enough to manage to join secondary education.  I was one of them. In my society, girls are not sent to school, especially secondary education. I have experienced this as my father's relatives did not want me to join secondary school. They wanted me to get married to a 45-year-old man who already had three wives.  My mother got married as the fourth of five wives when she was 12 years old.  She does not want to see her daughters face the same thing.
I fought for my right because I was not ready to get married at that time.  I ran away to a nearby village and found Sister MJ who I had met in the hospital. She knew about me and I thank God she supported me to continue school for Ordinary Level studies. When I was in Form 1, my younger sister, Alice, and I met with Ngorongoro District Commissioner to ask for help. He wrote a letter to an organization that might help me, but I did not get any help from that organization. Therefore, Sister MJ decided to support me.
Despite the fact that her relatives continued to be unsupportive, Janeth managed to finish Form 4 and was able to join Advanced Level. Her mother was very happy about her achievements, but her relatives were always against her.  As a Mentor, I am very proud of Janeth too.  She is only the second girl in her community to reach high school and the first was 21 years ago. It was a long and isolating journey in her life because during holidays she was not able to go back home since her relatives were not ready to see her continue with studies. She was saddened to miss moments with her mother.
Janeth was to call upon her inner strength when she had to stand up against her community for the rights of her young 12-year-old sister, Alice. Last year, Alice was forced to get married to the same old man whom she was supposed to marry.  Janeth didn't accept this and she tried her best to make sure her young sister would go to school and reach her goals. During Easter holiday, she went home and ran away with Alice without letting anyone know.  She took her young sister to the place in Kilimanjaro Region where she stayed during her holidays when she was in primary school.
When her relatives realized that Janeth was the one who took Alice to an unknown place, her mother got in trouble with some members of her community. Her mother was beaten and threatened by her in-laws and was told they would kill her if she did not say where her daughters were hiding.   But her mother was strong and courageous woman. She did not allow her daughters to get married and fought for their right to an education. Janeth's mother prayed hard to find strength to stand by her decisions.
In June this year, I met with a social worker from Arusha Region concerning the issue of my younger sister and me. I also I told my mother to go to the Ward Council to ask for help. One of the leaders held a meeting with the community and said "If you don't want your child to get an education, deal only with your own child and leave other children in the hands of their parents." Due to this, my mother was left in peace to some extent and my father's relative were a little bit quieter.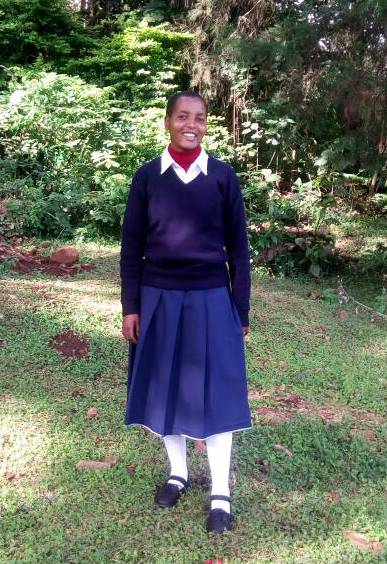 It wasn't easy for Janeth to face all those challenges, but she was strong. She talked to the people who supported her through her secondary education and, with their help, has been able to enroll Alice in secondary education. This has been one of the biggest goals in her life thus far.
I can stand with full confidence and say I am proud being one of the Kisa Scholars.  My Kisa Mentor gave me confidence and belief in myself that I can fight for my rights and the rights of others like I did for my young sister. Despite challenges, people have to be strong and never lose hope no matter how bad the situation is. I believe girls can do something big and achievable. Girls are change makers!
I feel very happy to be one of the many people that have helped Janeth on her way. I know she will be a great inspirational leader one day.