And they treasure him.
People describe me as hardworking, focused, determined, respectful, open minded, goal oriented, and well organized.  Today I am going to reveal the secret behind all these qualities.  It's my father. Yes, my father! I learned most of my behaviors from him.
My dad was smart enough to know the necessity of molding his five daughters with strong characters. He was never stopped by the bullying he experienced from the community by having only daughters. Instead, that spurred him to invest more in our education.
Khalifa Hassan was born in a village called Haubi located in Dodoma Region into a family with six children.  He did not have the chance to go to school, rather he spent most of his time helping his parents with farming activities.  At age 18 he decided to move to town, aiming to get a job that could help to change his life and that of his family back in the village. Those characteristics listed above are the same ones that helped him as he arrived in town.
Like other members in his village and family, at first he didn't believe in the value of a girl child.  They all thought that the biggest responsibility of a girl/woman is to be married, give birth, and take care of a family – and that, therefore, educating girls is a waste of money. I am thankful that his mindset changed once he experienced a new culture in town.  There he saw some families treating their daughters differently, taking them to schools and not marrying them by force.
When his first born arrived, and as we kept coming, he already knew what he most wanted for all of us. He was not educated and that was not what he wanted for his daughters.  My dad was very strict when it came to our education. I remember my sisters and I being very down at the end of school term when we realized we did not do well in our exams and we would be punished. I recall my sister explaining herself to my dad while crying even before handing over the report, "I am not in the top 10, I already know my mistakes, I have been playing a lot, please forgive me, I promise to study hard and pass well in the coming exams."
Back then, no one knew why he was so strict and we even thought he didn't love us.  As we grew, we realized it was quite the opposite and we now commend him for making us understand the importance of education, especially for a girl child.
My father kept telling us, "I wish I were you and got this chance to go to school. I see myself being far from where I am if only I was educated." During our primary school years, my sisters and I used to teach my dad how to write and read. We did this every evening after my dad was back from work until he was capable of writing his name and reading. My dad is a businessman, and although he did not go to school, surprisingly he would never be cheated in the whole process of buying and selling!
Despite his firmness regarding school, my dad is a very loving man. He is that way to his wife, relatives, friends, neighbors, and even more to his daughters. While we were in Standard One and Two, my dad would wake us up early in the morning and help us get prepared for school.  He also to helped us wash our clothes and still does his own laundry today. It was our family culture to do the general house cleaning on Sunday, and my dad would help us wash the windows and pull out grasses around the house. My dad never felt it was beneath him to help his daughters and wife with home activities. This is most unusual for an African man – most fathers believe these responsibilities are for women only.
During the December holiday, all family members meet at my father's house. We sit in the living room in the evening and remind each other of our past stories, while laughing hard and telling our mother "you are so lucky to have a husband with a unique character!"
My dad never stopped supporting his family in the village despite all the bullying he got from them for giving birth to girls only and for sending them to school. He even took us to the village with him and kept insisting that we visit there even after we grew up.
While writing this narration, I had a few questions that I wanted to ask my dad:
Why did you insist your daughters visit your home place?
I did not want them to develop any hatred for their relatives for how they treated me. I insisted they visit more after they grew up because I wanted to prove the community and my family wrong regarding the negative beliefs they had about a girl child. I wanted my daughters to act as role models to them.
Why do you help your family and daughters with home activities when many males in your community don't do this?
I always believe in the distribution of work, especially when I am home and have enough time. And I do not have any good reason for leaving all home activities to my family. We should understand that home chores are not for women only; we should develop the habit of helping our families when we are at home, even with one or two activities.
Why were you strict with your daughters' education?
With the life experiences that I had, I wished I could have gone to school to make my life easier. I knew education is everything and I promised myself to go through all the struggles for my daughters to go to school. It's only education that will bring them all the respect they deserve from anyone.
What challenges did you face while raising your daughters?
The main issue was not being respected by my relatives for giving birth to only girls. Most people used to tell me all of my daughters will get pregnant before completing their education and others said I will not benefit at all since they will join another clan right after getting married. I had to stay focused on my wish to educate you and your sisters and not listen to all the negative voices. I also had to struggle and work very hard to get enough money for the family needs and my daughters' education. I am glad I had a supportive wife who also used to work hard.  She used her cooking skills to generate an income that added a lot to the family.
Can you share great memories that you remember while raising your daughters?
I thank God my daughters were very disciplined – I never experienced many parenting struggles, especially during their teenage years, which was the biggest fear I had. I remember walking with my girls during weekends to expose them to different environments and new people, and teaching them life skills, such as how to cross the roads. I felt joy seeing my daughters standing outside the house in the evening waiting for me; they would all run to me as I came around the corner towards the house. That gave me hope and reasons to keep working hard.
How do you feel now seeing your daughters' achievements?
I feel happiness and joy! I always thank God and pray for them to have a long life. I am currently seeing the fruits of all my struggles. I was sick last year and it was incredible how my daughters organized and coordinated all things related to my operation at the hospital.  I cried seeing my girls fighting for my life and I never felt the absence of a boy child.
What advice do you have for your fellow fathers as we are celebrating Father's Day?
According to my experience having daughters only, we should not underestimate the power of a girl child. All children are equal and we should treat them equally. We should keep playing a very huge part in the upbringing of our children.  Let's invest in our families with love and care and we will definitely get that back as we grow older.
Hadija wrote a tribute to her mom too!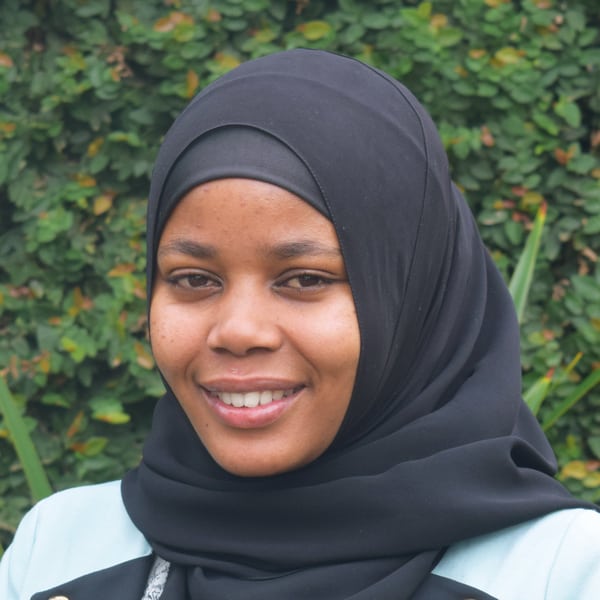 Hadija Hassan, joined AfricAid TZ (now Girls Livlihood and Mentorship Initiative, or GLAMI) in 2014 as a Kisa Mentor and was promoted to Kisa Project Manager in 2016.   The Kisa Project is a two-year leadership course that prepares girls in their last two years of secondary school to attend university and create positive social change in their communities.  Hadija holds a bachelor's degree in sociology from University of Dodoma.  Meet Hadija!