As 2017 comes to a close, we also conclude the first year of the pilot phase for AfricAid's new Binti Shupavu program.  It was a year of successes, as well as valuable learning, and Binti Shupavu is scaling up in 2018 by adding classes in Form Two and Four at current Partner Schools and expanding to new schools in AfricAid's Arusha region. Hundreds more Tanzanian girls will be exposed to the ideas and concrete strategies in this very practical Curriculum.
The Rationale for Binti Shupavu
Binti Shupavu, which means "Courageous Daughters" in Swahili builds the capabilities of Tanzania's most vulnerable adolescent girls.  Life skills and personal leadership development are provided through a highly supportive and intensive after school program in Lower Secondary Schools (Ordinary Level).  By experiencing the Binti Shupavu Curriculum, which focuses on key life skills, girls are more likely to continue in school, live healthier lives and make confident and positive choices.  With the support of their Mentors, the Scholars develop personal strategies so they can realize their potential.
AfricAid's flagship program, the Kisa Project, is aimed at Upper Secondary School (Advanced Level) girls, who are in their last two years of high school. AfricAid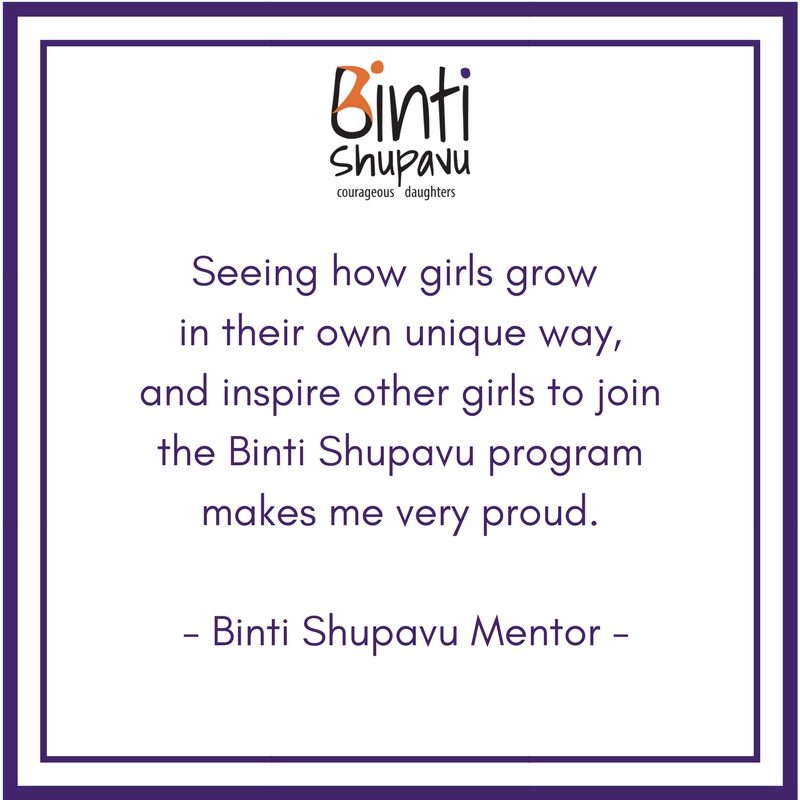 realized work needed to be done to get more girls to Advanced Level because in Tanzania many girls drop out of school before finishing Ordinary Level.  Furthermore, a girl's earning potential increases up to 25% for each year of secondary school completed. (Source:  World Bank)
Related blogs:
Helping Girls Stay in School, 1/26/17
Is Binti Shupavu Working?  8/29/17
Program Successes in 2017 –
Breadth & Depth and Relationship Building
Successes this year included:  the enormous number of girls impacted and high retention rate, supportive school administration, a Liaison meeting and seven Parent Engagement events.  In addition, a few Binti Shupavu Scholars with serious financial challenges to staying in school were aided financially by AfricAid's emergency fund in 2017.
AfricAid partnered with ten Secondary Schools in the Kilimanjaro Region to pilot Binti Shupavu.  The goal was to enroll 800 girls, 80 at each Partner School (2 classes of 40 girls each).  The year started with 810 girls and by year end, 727 girls remained in the program for an overall retention rate of 84% – the figure rises to 90% if we add in 46 girls who joined as referrals from their friends who were participating in the program.
The stories of those girls who very much wanted to be part of Binti Shupavu and persisted until they were admitted are inspiring.  As are accounts of Scholars who took the information they gained each week and taught it to siblings and neighbors at home.
The classes are taught to two different grade levels (Form One and Three — 2018 will expand to include Form Two and Four), with the same topics being addressed in greater depth for the older girls.  AfricAid's four newly hired Binti Shupavu Mentors, all Kisa Alumnae, were constantly on the move in 2017, with 20 classes running per week!
The Binti Shupavu Curriculum involves a mix of weekly classes and seminars.  For each seminar by the Project Manager introducing the topic, there are five specific lessons delivered by the Mentors.  Thus, each Scholar attends 30 Binti Shupavu Classes per year.
School administration supported AfricAid by providing a Binti Shupavu Liaison, learning spaces to run the program and recruitment of students.  Binti Shupavu Project Manager Asimwe Suedi said, "This level of support was a surprise to us and reflected the schools' understanding of how important this work is to the girls' welfare."  Some schools recommended particular students who would benefit from the program, and one Partner School even made the program compulsory for every girl.
Due to the busy after-school environment and the younger age of the Scholars, AfricAid depends on the support of school Liaisons to deal with class distractions, Scholars' regular attendance, and any school activities that might negatively impact Binti Shupavu Classes.  An annual meeting with Binti Shupavu Liaisons was held on 4/1/17 and 8 out of 10 were able to attend.  Liaisons' recommendations for how to overcome some of the program's challenges were very helpful and we noticed immediate improvements.
The support of a committed and engaged parent is also critical to the success of Binti Shupavu. To that end, seven annual Parent Engagement events were held between April and July with 245 participants from all ten schools in attendance.  The main topics of discussion were parental responsibilities and the motivating factors at home and at school that can encourage a secondary school girl to study and pursue her dreams.
Related blogs: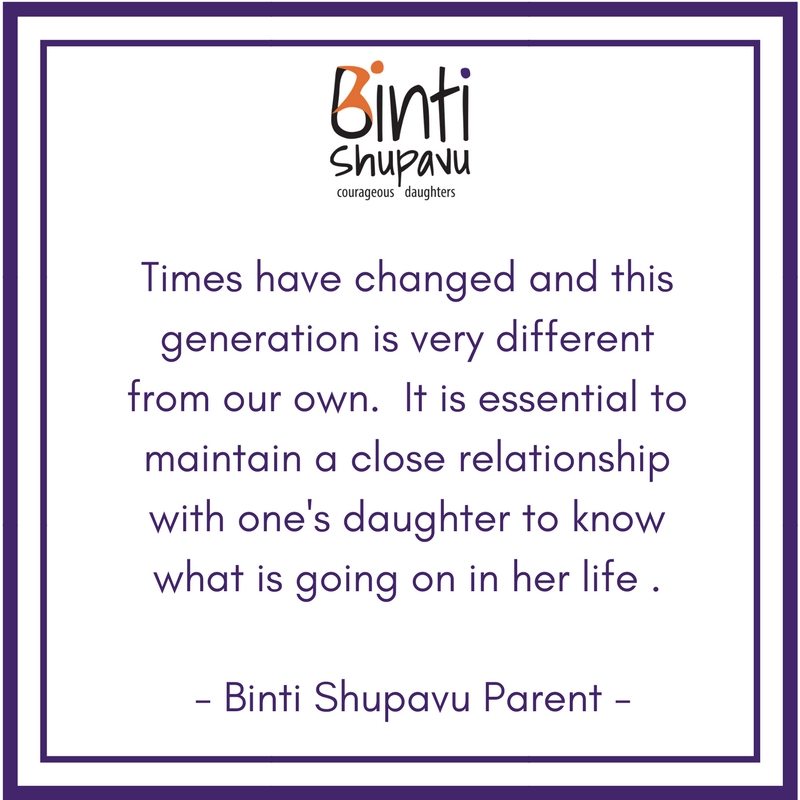 Binti Shupavu in Action, 2/28/17
Meet Binti Shupavu Mentor Violeth, 3/27/17
Parent Engagement Meetings, 6/1/17
Meet Binti Shupvau Project Manager Asimwe, 6/30/17
Binti Shupavu Liaisons Meeting, 7/14/17
Binti Shupavu Seminars, 11/28/18
Challenges and Lessons Learned
The challenges faced in this new program reflect the obstacles that girls in general face staying in school in Tanzania.  As an after school program it challenges the social norm that daughters must return home straight after school in order to assist with the household.  There were both absenteeism and drop outs for a variety of reasons:  truancy, parents' refusal to let their daughter stay after school and the long walk home (this can take hours, particularly during the rainy season), needing to attend remedial classes, sickness, pregnancy and switching schools.  Other challenges include:
Some teachers are not aware of Binti Shupavu or its purpose and thus schedule other activities that conflict with classes. Schools sometimes scheduled only one hour instead of the necessary hour and a half for the class.
In crowded schools, including mixed gender schools, there can be external distractions, including a lot of noise, outside the Binti Shupavu classroom.
Some Liaisons were assigned the task by the Head of School and were not willing to take on extra responsibility.
Scholars often misplaced the paperwork they had completed throughout the year.
Completing the first pilot year of Binti Shupavu has been a great milestone and allowed staff to assess these challenges, solicit feedback, and formulate solutions to overcome obstacles for the future.
Looking Forward to 2018 and Beyond
Binti Shupavu will triple the number of Scholars to 2,400.  The program will continuously improve based on observation and constructive feedback during 2017.  These enhancements include:
Introducing the program with a presentation by AfricAid to ALL staff at the Partner Schools.
Annual Parent Engagement Events will take place early in the school year (and parents will be assured they will not be asked for additional money.)
Recognition for the most proactive Liaisons.
Small prizes for the most committed Scholars.
Fostering relationships between Mentors and Scholars outside of class.
Providing Scholars with a folder to collect materials that will help them stay organized.
As always, the best way to understand how a program like Binti Shupavu can change the trajectory of a girl's life and transform her community is to hear about her experience in her own words. The posts below all include quotes and stories from Scholars themselves. Thank you for being a part of a successful pilot year for Binti Shupavu and supporting girls to reach their full potential!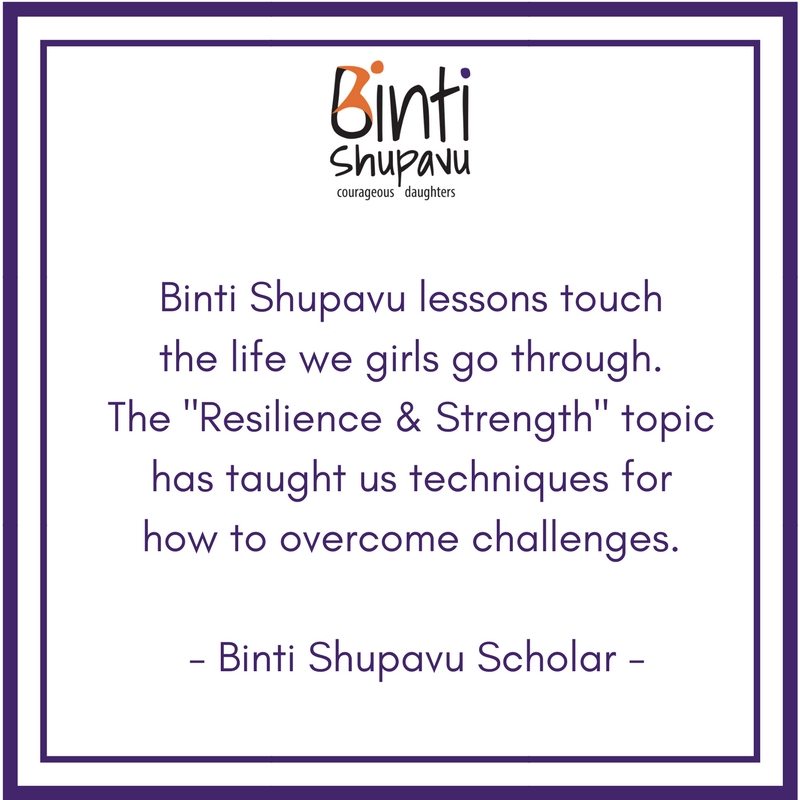 Related blogs:
The Benefits of Binti Shupavu…in Their Own Words, 5/25/17
Scholars Share what they've Learned in Binti Shupavu, 9/28/17
A Binti Shupavu Scholar's Story, 11/1/17